Main content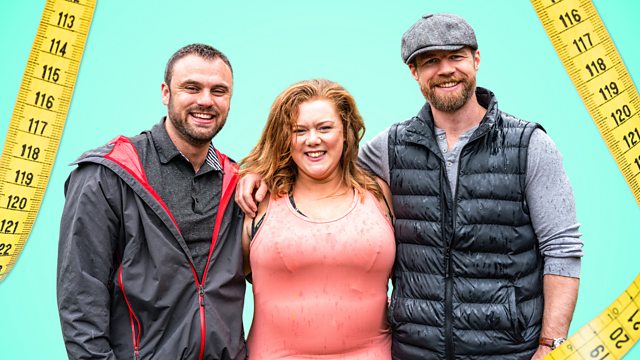 Pilot
In this undercover body transformation programme, personal trainers Rab and Stephen help a make-up artist from Aberdeen and a singing cabbie from Dundee achieve their goals.
In this undercover body transformation programme, lifestyle and fitness experts Rab and Stephen team up with Ashley, a 30-year-old make-up artist from Aberdeen and Wayne, a 52-year-old singing cabbie from Dundee, to help them shape up and achieve their personal goals.
Rab and Stephen have helped thousands of people transform their bodies in the past fifteen years. But they've never asked their clients to keep their efforts secret from friends and family – until now.
In addition to providing Ashley and Wayne with a 12-week nutrition and fitness plan, they've also lined up two of the UK's finest costume fabricators to create made-to-measure body suits that will help them to keep their secret. Based on exact measurements taken at the start of Ashley and Wayne's journey, the suits will be worn every single day, to ensure they both look the same the entire way through the process.
At the end of the 12 weeks, Ashley's target is to be fit enough to join her dad on a mountain climb – something she's never been able to do before because of her weight. And after forgoing his love of singing due to the impact of weight on his lung capacity, Wayne wants to be fit enough to be back on stage performing.
But is it really possible to go about your normal life, interacting with the people who love and know you best, while keeping an ever-changing body under wraps? And is 12 weeks really long enough to take two people who've spent years shunning exercise in favour of eating and drinking what they want and make them mountain and stage ready?
Find out when, after their stint with Rab and Stephen, Ashley and Wayne stand before their friends and family, shed their body suit like a second skin and step out to reveal their secret bodies. Will they have dropped weight and toned up and more importantly, will Wayne be fit enough to belt out a tune and can Ashley really make it to the top of a mountain?
Broadcasts
BBC One

Scotland & Scotland HD only
Featured in...
Geting Your Year Off, to the Right Start!

A collection of programmes looking at our amazing bodies