Main content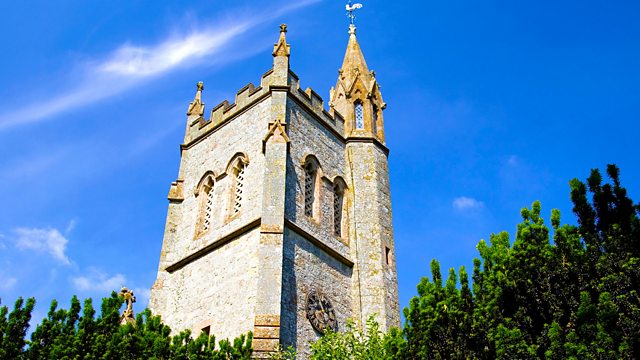 Breaking Down Barriers
A live service from Highfields church, Cardiff, led by the Revd Jonathan Reeves. The preacher is Revd David Gobbett, and the Director of Music Jeffrey Howard.
In a complex world, we've long wrestled with the notion of a wall of hostility which divides humanity, and the imperative to demolish it: St Paul tackled this very issue in his letter to the Ephesians two thousand years ago.
Revd Jonathan Reeves leads a live service from Highfields church, Cardiff, in which Revd David Gobbett considers what we might do to address the barriers that divide us today, and how unity can be found in the love of God. The Director of music is Jeffrey Howard, and music includes: All Creatures of our God and King; My hope is built on nothing less (Cornerstone); Beneath the cross of Jesus; Here is love vast as the ocean; The church's one foundation. Producer: Dominic Jewel.
Last on

Script:
PLEASE NOTE: This script cannot exactly reflect the transmission, as it was prepared before the service was broadcast. It may include editorial notes prepared by the producer, and minor spelling and other errors that were corrected before the radio broadcast.It may contain gaps to be filled in at the time so that prayers may reflect the needs of the world, and changes may also be made at the last minute for timing reasons, or to reflect current events
Announcement from continuity:
Now on BBC Radio 4 it's time for this week's Sunday Worship, which comes live from Highfields Church in Cardiff. The preacher is the Revd Dave Gobbett, and the service is led by Revd Jon Reeves.
ITEM 1: Welcome (Jon)
Good Morning (Bore Da). A warm welcome to you from the Welsh Capital, it's lovely that you could join us. We are a busy city centre church made up of believers from many different backgrounds and countries all convinced that the Bible's message of salvation and hope is as relevant today as it has always been, as we spread a passion for Jesus.  As we look around at our fractured society, our divided nation and our broken world, we can wonder where on earth unity can be found or even if it is at all possible. 
Well this morning, we're considering the hope for our divided world which is offered by the unity that is available to us through the gospel of Jesus Christ.
We begin our time together with some words from Psalm 148. 
ITEM 2: Psalm (Pauline)
Praise the LORD.Praise the LORD from the heavens;     praise him in the heights above. Praise him, sun and moon;     praise him, all you shining stars.  Let them praise the name of the LORD,     for at his command they were created, and he established them for ever and ever— Let them praise the name of the LORD. Our first song, which is based on this Psalm, summons us to join together with the whole world in praising the Lord.   ITEM 3: Song 1: All creatures of our God and King  
ITEM 4: Prayer of praise (Jon) Father God, we thank you for the chance this morning to be reminded that you are a great God and are worthy of our praise. 
We're sorry for the ways in which we question your ways for our life, and for the times we have felt distant from your heart. Thank you that because of the cross and resurrection of Jesus the power of sin has been defeated and that Jesus is king and reigns over all.  Thank you for the daily mercies you give us, and the way you delight in us even when we try to find our delight in other things. We thank you for the way in which you remain faithful to us even when we are faithless towards you.  Lord we ask you to help us this morning, to hear your word so we may know that regardless of our background, ethnicity or experience that the gospel of Jesus is relevant and applicable to us all.
And we thank you that by trusting in Jesus we are not only united to you by an unbreakable tie, but are united to one another. Help us to build our lives, our confidence, our hope and our church on nothing other than the foundation of Jesus Christ. And we pray all this in his precious name. Amen. 
ITEM 5: Song 2: My hope is built on nothing less (Cornerstone)   ITEM 6: Link (Jon) Our reading this morning comes from the letter written by the Apostle Paul to the church at Ephesus, to remind them of God's plan -  to bring in to unity all things under Christ. The Reading is taken from Ephesians chapter 2.
ITEM 7: Reading: Ephesians 2:11-22 (Andrinne)  11 Therefore, remember that formerly you who are Gentiles by birth and called "uncircumcised" by those who call themselves "the circumcision" (which is done in the body by human hands)— 12 remember that at that time you were separate from Christ, excluded from citizenship in Israel and foreigners to the covenants of the promise, without hope and without God in the world. 13 But now in Christ Jesus you who once were far away have been brought near by the blood of Christ. 14 For he himself is our peace, who has made the two groups one and has destroyed the barrier, the dividing wall of hostility, 15 by setting aside in his flesh the law with its commands and regulations. His purpose was to create in himself one new humanity out of the two, thus making peace, 16 and in one body to reconcile both of them to God through the cross, by which he put to death their hostility. 17 He came and preached peace to you who were far away and peace to those who were near. 18 For through him we both have access to the Father by one Spirit. 19 Consequently, you are no longer foreigners and strangers, but fellow citizens with God's people and also members of his household, 20 built on the foundation of the apostles and prophets, with Christ Jesus himself as the chief cornerstone. 21 In him the whole building is joined together and rises to become a holy temple in the Lord. 22 And in him you too are being built together to become a dwelling in which God lives by his Spirit. 
ITEM 8: Link (Jon) In that reading Paul describes the wonderful outworking of God's grace in his church. In a moment, Dave Gobbett will preach, after our next song which reminds us that our calling to love one another is based on the fact that Jesus first loved us. It's the wonderful Welsh Hymn, "Dyma Gariad Fel y Moroedd", Here is love vast as the ocean. ITEM 9: Song 3: Here is love vast as the ocean

ITEM 10: Message (Dave Gobbett) Well it's been a busy few weeks, hasn't it? In the space of just days, we've commemorated the sacrifices of the first and second world wars, including the 75th year since D day, and the Fall of the Berlin wall. Huge anniversaries that remember the privilege and cost of living at peace. Yet in 21st Century Britain, it feels we live in increasingly divided times. Debates over Brexit rage on, and the fault lines of political rivalry run deep in the build-up to December's General Election. And all that is not to mention the rugby(!). A case of so near and yet so far for the home nations at the Rugby World Cup.  As an English rugby fan ministering here in Wales, I knew not to expect much sympathy from my Welsh friends after the heart-breaking defeat to South Africa. I suppose I've grown accustomed to such English-Welsh banter, and besides we give as good as we get. That kind of sporting rivalry is par for the course; part of the fun.  But once every four years, for British & Irish Rugby fans, everything's different. English & Welsh loyalties (and Scottish and Irish ones too) are replaced by a higher cause, as home nations rugby shirts are exchanged for the pride of the Lions jersey. Players that once tore each other apart, now stand shoulder to shoulder. Fans that once jostled for bragging rights now sing in harmony in support of former rivals. The English Roses hail Alun Wynn Jones as the hero that he is, whilst the Welsh Dragons roar for Maro Itoje like he's one of their own.
And in two years' time, our combined forces as the Lions will attempt to succeed against the Springboks, on the 2021 tour of South Africa, where this time, both Wales and England failed. Because when the Lions shirt is on, all tribal loyalties take second place. As General Election campaigning continues to hot up, our ideological divisions seem more and more pronounced. One friend recently remarked that he used to enjoy reading political or social analyses that he disagreed with, but he reads those same posts today and struggles even to understand them. Increasingly people with different viewpoints seem to be living in different worlds. We caricature each other. We smear each other. We talk past each other. We assume the worst of each other. In these challenging times, I believe we could all do with pulling on a metaphorical Lions shirt. If only there was some higher cause, some overarching passion that was greater than the sum of our tribal parts, that could capture our hearts and minds and pull us together. Earlier we heard from Paul's letter to the Ephesians.  It was written at a time when every church had two rival communities that struggled to know what do with each other. The passage describes a symbolic barrier that ran between the two groups, a 'dividing wall of hostility'. On one side of the wall were the Gentiles. That was the catch-all term for people from non-Jewish nations, whether from ancient Greece, Rome, Turkey and so on. On the other side of the wall were the Jews, the historical people of Israel—the children of Fathers Abraham, Isaac & Jacob, and according to the Jewish apostle Paul, the heirs of incredible spiritual privilege. But trying to do church with an enormous Berlin Wall-like barrier running down the middle of it, like trying to do family, or community, or country with an enormous wall running down the middle of it, is a tragic falling-short of God's best for his world. But the wonderful promise of Ephesians chapter 2 is that God is in the business of pulling down walls. In evocative words that can't help but conjure up images of German sledgehammers getting to work at the Brandenburg Gate, 30 years ago this week, we read in v14: Christ himself is our peace, who has made the two groups one and has destroyed the barrier, the dividing wall of hostility. The one foretold by advent prophecies as the Prince of Peace, is the one who uniquely brings people together. Which means that since the coming of Jesus Christ, there need be no more of the ancient rivalries; no more religious people this side, irreligious people that side; the old this side, the young that side; Black this side, white this side; English this side, Welsh that side; Remainers this side, Leavers that side. A new claim on all of our loyalties is here.
A new higher cause, a new overarching passion, a spiritual Lions jersey (so to speak), has come to capture our primary allegiance over our various tribes. Jesus uniquely brings people together because Jesus uniquely brings people to God. The Apostle Paul spells it out for us in v15: God's purpose was to create in himself one new humanity out of the two, thus making peace, 16 and in one body to reconcile both of them to God through the cross… The logic is that all of humanity's default setting is to be out of friendship with God, with our backs turned quite deliberately to heaven. And that all of our horizontal fractured-ness – with each other – is merely an outworking of that more fundamental vertical fractured-ness – with God – that plagues us all. But the wonderful message of Christianity is that at the first Easter, having lived the life we should have lived, Jesus took our blame and died the death we should have died, before three days later rising in victory, brokering forgiveness and friendship with God. So now if you on your side of the wall, and I on mine, turn to become friends with God, then we can't help but be drawn together. Here's how American author Jonathan Leeman puts it: A church is not made up of natural friends, but enemies. What binds us together is not common education, race, income levels, politics, nationality, accents or jobs. We come together because we have been saved by Jesus and owe him a common allegiance. And wonderfully that is precisely the experience of so many believers across the world, including, most of the time, in our own Christian community—we're a church of young and old, people from Cardiff, Wales and the world, students, families, singles and empty nesters, leavers and remainers, Welsh rugby fans and English rugby fans, even Brits and South Africans. 
Now that doesn't mean we suddenly lose all our distinctiveness at church, like Neapolitan ice-cream that's been mixed together into a messy sludge (as my son is prone to do!).  Yes, we might occasionally disagree about politics or preferred styles of worship music. We might even have had the odd run-in about sport! But more fundamentally, we've been brought together by Jesus, to spread a passion for him.
I pray that we all may know the unifying power of Jesus Christ, the new higher cause & overarching passion that is knowing Him, as a spiritual Lion's jersey, in these tribal and fractured days. For Beneath the Cross of Jesus, his family is my own. Amen.    

ITEM 11: Song 4: Beneath the cross of Jesus
ITEM 12: Prayers of petition (Elspeth) Let us pray. 
Our loving heavenly Father, we thank you so much that Jesus through his death and resurrection has broken the barriers that separated us from you and from each other.  
Thank you that in him we have been made into one new people so that we can praise you and make you known in the world.  Help us to grasp more and more how wide and long and high and deep the love of Christ is and to reflect that in our lives with each other. 
We are so aware that we are living in times of upheaval and fracture, that many shout rather than listen, and hate rather than love.  We often feel at a loss, and acknowledge our own tendency to participate in these things rather than pray.  Help each of us to love our enemies and do good to those who hate us, as Jesus called us to.  Help us to be those who desire and work for peace in the contexts in which you place us. 
We pray for our country as we prepare for a general election.  As differing viewpoints and visions are expressed, please grant us an ability to listen well and to choose wisely.  We pray for those who will be elected. Grant them wisdom to serve faithfully and courage to do what is right. And in these troubled times, may our country continue to be a place where we can live peaceful and quiet lives.
We pray too for our world in all its beauty and brokenness.  Where there are disasters, natural or manmade, please strengthen those who care for the vulnerable.  Where there is war or violence or oppression, in your kindness raise up leaders who will seek peace and enable their countries to flourish.  
And for your people worldwide we pray for opportunities to share with others the hope of reconciliation and peace found in Christ.
On this World Day of Remembrance for Road Traffic Victims, we remember those who have lost their lives in road crashes, we pray for those injured and bereaved, and we give thanks and pray for all those in the emergency services who respond and treat people with dignity and care.
We ask all these prayers in the name of him who is the prince of peace and the lord of all, who taught us when we pray to say: 
Our Father in heaven,hallowed be your name,your kingdom come,your will be done,on earth as in heaven.Give us today our daily bread.Forgive us our sinsas we forgive those who sin against us.Lead us not into temptationbut deliver us from evil.For the kingdom, the power,and the glory are yoursnow and for ever, Amen.

ITEM 13: Link (Jon) As we draw our service to a close this morning we're reminded in the words of our final hymn that when the Christ who tears down every barrier is the bedrock on which we build, we need no longer see ourselves as separate tribes but be united in his love and saving power. 
The church's one foundation is Jesus Christ, her Lord.

ITEM 14: Song 5 PART ONE: The church's one foundation  ITEM 15: Benediction (Jon) 1. Now to him who is able to do immeasurably more than all we ask or imagine, according to his power that is at work within us, to him be glory in the church and in Christ Jesus throughout all generations, for ever and ever! Amen.

ITEM 16: Song 5 PART TWO/PLAYOUT: The church's one foundationINSTRUMENTAL


Closing Announcement:
The band and congregation of Highfields Church in Cardiff bringing this morning's live Sunday Worship to a close with "The Church's One Foundation." The Director of Music was Jeffrey Howard, the service was led by the Revd Jon Reeves, and the preacher was the Revd Dave Gobbett. The producer was Dominic Jewel.
In next week's Sunday Worship, students from Cranmer Hall in Durham reflect on their calling to serve those around them.


Broadcast

Sunday Worship: Dr Rowan Williams