Main content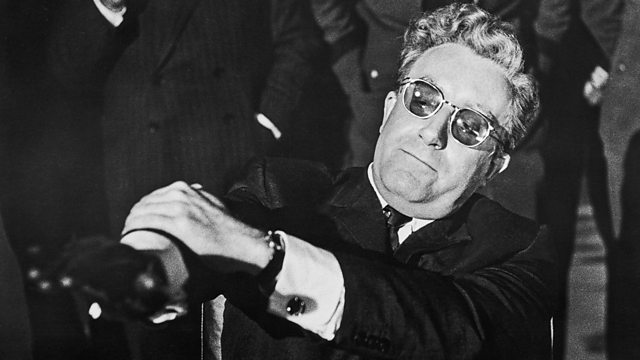 Dr Strangelove or: How I Learned to Stop Worrying and Love the Bomb
Dystopian film comedy. When General Jack D Ripper becomes impotent, he blames his affliction on the Soviets and dispatches a squadron of B52s to bomb Moscow. Introduced by Steve Coogan.
To mark twenty years since the death in 1999 of one of cinema's visionary filmmakers, British actor and producer Steve Coogan, whose own credits include Stan & Ollie, Philomena, and Night at the Museum, introduces Stanley Kubrick's film Dr Strangelove or: How I Learned to Stop Worrying and Love the Bomb.
In the firm belief that his impotence is the result of a Soviet plot to poison the water supply of the 'free world', Brigadier General Jack D Ripper dispatches a squadron of nuclear-armed B52s to bomb Moscow. It is the task of President Muffley, hidden deep in the Pentagon War Room, to sort out this little problem.
Stanley Kubrick's masterful 'nightmare comedy' mixes laughter with the most chilling of crises.
Music Played
Timings (where shown) are from the start of the programme in hours and minutes
BBB iPlayer - Dr Strangelove Or: How I Learned To Stop Worrying And Love the Bomb
This programme is only on BBC iPlayer for 7 days after broadcast, and cannot be downloaded, only streamed. We always aim to offer our programmes to stream and download for 30 days; however for a number of reasons including technical problems, legal or contractual issues this isn't always possible.
Credits
| Role | Contributor |
| --- | --- |
| Group Captain Lionel Mandrake | Peter Sellers |
| President Merkin Muffley | Peter Sellers |
| Dr Strangelove | Peter Sellers |
| General Buck Turgidson | George C Scott |
| Brigadier General Jack D Ripper | Sterling Hayden |
| Colonel Bat Guano | Keenan Wynn |
| Producer | Stanley Kubrick |
| Director | Stanley Kubrick |