Main content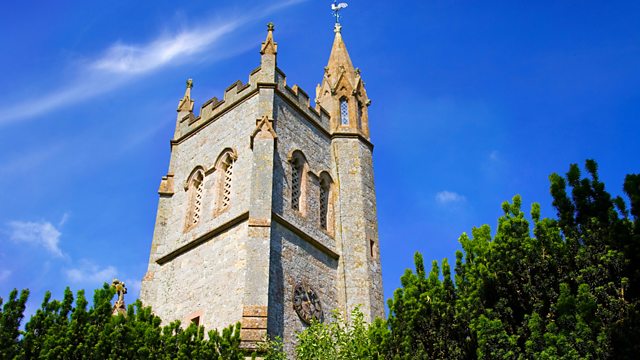 A Tale of Two Cities
This Remembrance-tide, Sunday Worship visits two cities profoundly affected by war in the last century, Coventry and Berlin.
This Remembrance-tide, Sunday Worship visits two cities profoundly affected by war in the last century, Coventry and Berlin.
Today's service focuses on reconciliation and is led, from Coventry Cathedral, by the Dean, the Very Reverend John Witcombe, with contributions from Christians in Berlin reflecting both on the World Wars and on the 30th anniversary of the fall of the Berlin Wall.
Coventry Cathedral Choir leads the congregation in music of Remembrance and hymns including: Dear Lord and Father of Mankind (Repton), God! As with silent hearts we bring to mind (Supreme Sacrifice) and Abide with me (Eventide). Director of Music: Kerry Beaumont. Organist: Corinne Hepburn.
Producer: Alexa Good.
Sunday Worship
Please Note:
This script cannot exactly reflect the transmission, as it was prepared before the service was broadcast. It may include editorial notes prepared by the producer, and minor spelling and other errors that were corrected before the radio broadcast.It may contain gaps to be filled in at the time so that prayers may reflect the needs of the world, and changes may also be made at the last minute for timing reasons, or to reflect current events.
Opening announcement from Continuity: 
BBC Radio 4.  At ten past eight Sunday Worship, this Remembrance Sunday visits two cities profoundly affected by war in the last century, Coventry and Berlin.  The service is led by the Dean of Coventry, the Very Reverend John Witcombe. "A tale of two cities."
PRES: The Very Reverend John Witcombe Good morning and, on this Remembrance Sunday, welcome to Coventry Cathedral, known across the world for its ministry of reconciliation, reflecting the passion of God for us to be friends with him and with one another.
A few days after Remembrance Sunday in 1940, Coventry Cathedral – which had only been consecreated a cathedral 22 years earlier, became a heap of smoking ruins. November 14th is etched into the history books as the night on which Coventry endured a bombing raid called 'Operation Moonlight Sonata' which killed many of her people and destroyed much of the city.
On Christmas Day later that year, Provost Dick Howard spoke from the ruins of the Cathedral and his words were broadcast across the world.
ARCHIVE - Provost, Dick Howard:"I'm looking now at the heaped up ruins and the long line of outer walls, scarred and windowless, yet even now the ruined cathedral keeps much of its former majesty and beauty unconquered by destruction…So is the spirit of Christ, unconquerable. He suffers alongside of us, just as this cathedral suffered the same fate as the city… what we want to tell the world is this, that with Christ, born again in our hearts today, we're trying hard as it may be, to banish all thoughts of revenge, we are bracing ourselves to finish this tremendous job of saving the world from tyranny and cruelty.  We're going to try to make a kinder, simpler, a more Christ child like sort of word in the days beyond this strike." 

PRES: The Very Reverend John Witcombe Much of what Provost Dick Howard dreamt has become a reality –as we shall hear a little later from some of those who are joining us in worship today from Germany on following the 30th anniversary of the fall of the Berlin Wall yesterday.
Our opening hymn invites God to be at work within us and help us to build the kinder, more Christ-child-like world which Provost Howard looked forward to. 
It's 'Dear Lord and Father of mankind'.
MUSIC (HYMN 1): Dear Lord and Father of mankind
Dear Lord and Father of mankind,forgive our foolish ways;re-clothe us in our rightful mind,in purer lives thy service find,in deeper reverence praise.
Drop thy still dews of quietness,till all our strivings cease;take from our souls the strain and stress,and let our ordered lives confessthe beauty of thy peace.
Breathe through the heats of our desirethy coolness and thy balm;let sense be dumb, let flesh retire;speak through the earthquake, wind, and fire,O still small voice of calm.
Words by John Greenleaf Whittier (1807-1892)Tune CP 411 Repton arranged from the oratorio Judith by C.H.H. Parry (1848-1918)
PRES: The Very Reverend John WitcombeIn the days that followed the bombing of Coventry Cathedral in 1940, two enduring symbols emerged from the rubble. Two charred roof-beams which had fallen in the shape of a cross were bound together and placed at the site of the rubble altar,and three medieval roof nails were also formed into a cross, which became the original Cross of Nails, now located at the High Altar in the new Cathedral. Inspired by the Coventry story of destruction, rebuilding and renewal, the Community of the Cross of Nails brings together almost 235 churches, charities, peace building centres and educational organisations around the world. One of our partners is the Chapel of Reconciliation in Berlin, which has been part of the Community since 1999. That was the year when, ten years after the fall of the Berlin Wall, the then Bishops of London and Berlin Brandenburg signed an agreement in Berlin Cathedral creating a formal partnership between their two dioceses. They committed their churches to deepen their unity in Christ through prayer, witness and service and by exchange visits between them.  Here 30 years since the Fall of the Berlin Wall Dr Christof Theilemann, Director of the Berlin Mission, explains…"Well I grew up as a Pastor's son the south of East Germany.  It was a hard life for Christians in East Germany.  When I was a young child and went to school the first few years were quite tough because the class teacher used to send me to the corner of the room and question me about my Christian faith and then also poke fun at Christian faith - at the end of the day that made me stronger. And what I learned from that is I want Christian young people to have this kind of exchange, being among people who are part of the worldwide family of Christians is a is a very important emotional thing for me and I think we have a great responsibility for keeping the peace in the world. I strongly believe that the church is about reconciliation in the first place. It's about reconciliation between God and human beings.  God's done all the work and now it's for us, to carry on the work and reconcile human beings with other human beings. I think we all have to learn not to make the same mistakes again." 

MUSIC (ANTHEM 1):  Say to them of a fearful heart; Be strong, fear not, behold your God,he will come and save you.Even God, he will come and save you.from Isaiah 35.4Music by S.S. Wesley (1810-1876) arranged by Harrison Oxley (1933-2009)
PRES: The Very Reverend John Witcombe Today's Chapel of Reconciliation in Berlin not only bears the name of its predecessor built in 1894 but also contains rubble from its walls. The original church was inaccessible to the people of the East and the West from 1961 and was then destroyed by order of the GDR government in 1985.  Following the reunification of Germany, a new chapel was built on the site. It was consecrated in 2000, on the eleventh anniversary of the fall of the Berlin Wall. We hear now from Thomas Jeutner the parish priest:"The chapel is situated exactly in the former death strip - that means the main part of the wall is over there and the church was really inside of the wall, it was actually walled in.  We describe it sometimes like an imprisoned person or an imprisoned symbol.
The community of the cross of the nails worldwide is situated at wounded places, at dictatorship's somewhere, where you could see the shadows of this, what happened there.  We have daily two or three thousand visitors in the chapter and they often don't plan to go in the church and they became aware of not only of the history but of the spirit of this place maybe a spiritual power and this makes with the visitors special things to, maybe to remember or to think of what happened here in 28 years of the wall. And this reflection is not only based on these events on the German division. I meet people here telling me their stories of their wounded histories somewhere in the world.This prayer, of reconciliation, it links you, every time when you read it to the deepest failing humanity, but we do it as a as a duty every week, we belong to the community." (Prayer – Litany of Reconciliation tucked under in German…fade out and into English).
PRAYER – LITANY OF RECONCILIATION (LED BY Kathryn Fleming, Canon Pastor)All have sinned and fallen short of the glory of God.
The hatred which divides nation from nation, race from race, class from class,Father, forgive.
The covetous desires of people and nations to possess what is not their own,Father, forgive.
The greed which exploits the work of human hands and lays waste the earth,Father, forgive.
Our envy of the welfare and happiness of others, Father, forgive.
Our indifference to the plight of the imprisoned, the homeless, the refugee,Father, forgive.
The lust which dishonours the bodies of men, women and children, Father, forgive.
The pride which leads us to trust in ourselves and not in God,Father, forgive.
Be kind to one another, tender-hearted, forgiving one another, as God in Christ forgave you. 

PRES: The Very Reverend John Witcombe The Coventry Litany of Reconciliation there, prayed regularly by Cross of Nails members around the world.  We turn now to our first reading from the Bible, to a passage which continues to inspire and guide us about what we believe God calls us to be and to do here in Coventry. It's from chapter 5 of the Apostle Paul's second letter to the Corinthians.
READING: 2 Corinthians 5.16-21 – Read by Richard Parker16From now on, therefore, we regard no one from a human point of view; even though we once knew Christ from a human point of view, we know him no longer in that way. 17So if anyone is in Christ, there is a new creation: everything old has passed away; see, everything has become new! 18All this is from God, who reconciled us to himself through Christ, and has given us the ministry of reconciliation; 19that is, in Christ God was reconciling the world to himself, not counting their trespasses against them, and entrusting the message of reconciliation to us. 20So we are ambassadors for Christ, since God is making his appeal through us; we entreat you on behalf of Christ, be reconciled to God. 21For our sake he made him to be sin who knew no sin, so that in him we might become the righteousness of God.2 Corinthians 5.16-21
This is the word of the Lord.ALL: Thanks be to God.

MUSIC (HYMN 2): God! As with silent hearts we bring to mind
God! As with silent hearts we bring to mindhow hate and war diminish humankind,we pause – and seek in worship to increaseour knowledge of the things that make for peace.
Hallow our will as humbly we recallthe lives of those who gave and give their all.We thank you, Lord, for women, children, menwho seek to serve in love, today as then.
So, Prince of Peace, disarm our trust in power,teach us to coax the plant of peace to flower.May we, impassioned by your living Word,remember forward to a world restored.
Words by Fred Kaan (1929-2009)commissioned by Coventry CathedralTune The Supreme Sacrifice Charles Harris (1865-1936)
PRES: The Very Reverend John Witcombe From Fred Kaan's hymn, written especially for us here at Coventry Cathedral, to Charles Harris' tune of "The Supreme Sacrifice", which will be also be heard at the Cenotaph later this morning.   We listen now to our second reading – from chapter 15 of the Gospel according to John, read today by Antoinette van Schaik one of our Cross of Nails Pilgrims from Wageningen in Holland.

READING: John 15.9-17 – Read by Antoinette van SchaikA reading from the Gospel according to John.
9As the Father has loved me, so I have loved you; abide in my love. 10If you keep my commandments, you will abide in my love, just as I have kept my Father's commandments and abide in his love. 11I have said these things to you so that my joy may be in you, and that your joy may be complete.12'This is my commandment, that you love one another as I have loved you. 13No one has greater love than this, to lay down one's life for one's friends. 14You are my friends if you do what I command you. 15I do not call you servants any longer, because the servant does not know what the master is doing; but I have called you friends, because I have made known to you everything that I have heard from my Father. 16You did not choose me but I chose you. And I appointed you to go and bear fruit, fruit that will last, so that the Father will give you whatever you ask him in my name. 17I am giving you these commands so that you may love one another. 
This is the word of the Lord.ALL: Thanks be to God.


MUSIC CHOIR (ANTHEM 2): The voice of joy and health is in the dwelling of the righteous.The right hand of the Lord bringeth mighty things to pass.
from Psalm 118.15Music by James Nares (1715-1783)

SERMONThe Very Reverend John Witcombe What most people know about Coventry is that we were destroyed. It's a funny thing to be famous for.  I suppose we might think in a similar way of Dresden, and in World War 1, of Ypres, and the Somme, or in this 75th anniversary year of D Day, Monte Cassino, Kohima, Arnhem. There are other places forever associated in our minds with tragedy which might sit just slightly apart during this season of Remembrance only because they do not have the direct association with the seismic upheaval of war:  - a litany of peace time tragedies – Hungerford, Dunblane, Hillsborough - the World Trade Centre, Bataclan, the Manchester Arena, and other places so sadly associated with terrorism.
These are all places for remembering … remembering brokenness, shock, loss, even despair. But when you visit them, you will almost always find inspiration, too. The same is true of Coventry. 
We have heard this morning some remarkable stories of goodness and hope springing from despair and destruction. In Coventry, we know that Jesus' grace is found especially in those broken places - they are where we meet, at the foot of the cross. Brokenness in our own lives, in the lives of those we love, in the life of the world. In these places of brokenness we are invited to discover afresh the reality of reconciliation, which God has won in Christ. 
The church looks in such tragedy to the cross of Jesus Christ: as the greatest tragedy in the whole history of the human race. A terrible event - the betrayal and murder of the Word of life himself, the one "whose hands flung stars into space, now to cruel nails surrendered."
So, would it have better if Jesus had not died? How can we answer that question? Yet we know that somehow out of that death came the end of death's power to separate us from the love of God. Jesus, carrying the weight of the world's sin on his shoulders, abandoned himself into the loving embrace of the Father, and in so doing tore open the bars of hell and opened wide the gates of heaven.
The significance of that act, and Jesus' resurrection, unleashed a new power into the world - the power to find hope in the midst of death.
As we heard earlier, the most famous sermon broadcast from Coventry was on Christmas Day 1940. I wonder sometimes how that message fell on the ears of the people of Coventry. As a city, we have embraced it over the years, and indeed today we are known as the 'city of peace and reconciliation'. But how hard it must have been to respond with reconciliation rather than revenge. Reconciliation means turning enemies into friends. And that's costly. 
Reconciliation is always a journey - a journey of learning how to live with, even embrace our differences, and be enriched by them. It's always challenging to share with those whose backgrounds or beliefs are quite different to our own. Indeed, there can sometimes seem insurmountable barriers between us. Yet our gospel is that Jesus has broken every barrier down - that those who are called to be his people in the world, those who accept the calling to be peacemakers, will be blessed with God's grace to success precisely because they are stepping into God's own work, his purpose for the world. 
On Remembrance Sunday we remember with thanksgiving all those who have given their lives for the service of peace.  War and destruction is a terrible thing. But in the midst of the stories of horror are always stories of courage, of faith, of love. 
As early as 1946, people from Coventry were forming close friendships with the citizens of Kiel, an industrial German city which had suffered a similar fate to Coventry, and who in 1947 received an official delegation from this city and the gift of a cross of nails for their church of St. Nicholas' Church. And in the same year, a Catholic priest from Hamburg with his choir joined the Provost for the Christmas broadcast which came again from Coventry, reinforcing the message of reconciliation and renewal. 
Jesus Christ died through violence on the cross, and as he died he used those words, Father Forgive. His death was a tragedy, a disgrace, a complete abrogation even of the roughest Roman justice.
But out of it came hope for a broken world: hope that we can find reconciliation, that we can find hope and forgiveness because that is God's desire for the world. Jesus was laying down his life for his friends - and his invitation to friendship extends to everyone who has ever lived, and who ever will.  This is Jesus' love, a love made most real in sacrifice, a love which we are called to share. 

MUSIC (ANTHEM 3): My hope is in the everlasting, that he will save you:and joy is come unto me from the Holy One,because of the mercy which shall soon come unto youfrom the Everlasting, our Saviour.  The Daughter of JairusJohn Stainer (1840-1901)
PRAYERS – Led by Alice Farnhill:
God of all new things, God of hope and new life, bless us, we pray.
Loving God, we offer up these prayers of concern this day –for those struggling to build friendship where there is alienation and anger,for those struggling to make peace where there is violence and warfare,for those struggling to live their daily lives where there is conflict and disruption,for those struggling to rebuild their lives in the wake of natural disaster, and for those struggling to find healing from pain and illness.
Hear us as we pray.  Incline your ear to our words, silent shouting cries,mournful whispers, stunned wordlessness.
Be gentle with our suffering, with our sorrows and losses,and especially when our hard hearts close us off to you.Anoint us with your touch so that the softness of your lovecan break into our hardness and open us anew.
In you, in your resurrection, in your life and love, everything becomes new!Amen.
Adapted from a prayer written by the Rev. Terri C. Pilarski and posted on WordsMatter. http://expansivelanguage.blogspot.ca/
The Lord's Prayer 
ALL: Our Father in heaven,hallowed be your name,your kingdom come,your will be done,on earth as in heaven.Give us today our daily bread.Forgive us our sinsas we forgive those who sin against us.Lead us not into temptationbut deliver us from evil.For the kingdom, the power,and the glory are yoursnow and for ever.Amen.
PRES: The Very Reverend John Witcombe Our closing hymn this morning is a prayer that God will be with us and strengthen us.  We sing with the confidence that, through Jesus Christ, there is nothing that can separate us from the love of God.

MUSIC (HYMN 3):  Abide with me
Abide with me; fast falls the eventide:the darkness deepens;  Lord, with me abide:when other helpers fail, and comforts flee,help of the helpless, O abide with me.
I fear no foe with thee at hand to bless;ills have no weight, and tears no bitterness.Where is death's sting?  Where, grave, thy victory?I triumph still, if thou abide with me.
Hold thou thy cross before my closing eyes;shine through the gloom, and point me to the skies:heaven's morning breaks, and earth's vain shadows flee;in life, in death, O Lord, abide with me.
Words by H.F. Lyte (1793-1847)Tune CP 10 Eventide W.H. Monk (1823-1889)



PRES: The Very Reverend John Witcombe Blessing 
May you know the blessing of the God the Father,who calls us to peace and justice;
May you know the blessing of God the Son, who weeps with us the tears of the world's suffering;
May you know the blessing of God the Holy Spirit,who inspires us to reconciliation and hope from now into all eternity.Amen.Adapted from material posted on the World Council of Churches website.  http://www.oikoumene.org/en/home.html
ORGAN VOLUNTARY:Ich ruf zu dir Herr Jesu Christ, BWV 639 by J. S. Bach
RADIO 4 CLOSING ANNOUNCEMENT:  Sunday Worship was recorded in Coventry Cathedral.  The service was led by the Dean of Coventry, the Very Reverend John Witcombe.  The choir was directed by Kerry Beaumont and the organist was Corinne Hepburn.  The producer was Alexa Good.  Sunday Worship next week comes from Highfields Church, Cardiff.