Main content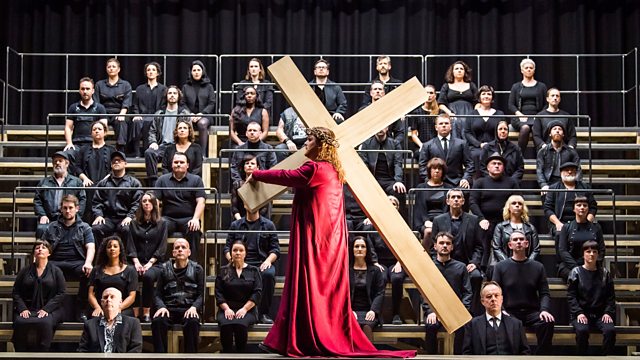 The Greek Passion
Flora Willson and Nigel Simeone are at the Leeds Grand Theatre to introduce Opera North's production of Martinu's opera The Greek Passion in its rarely heard original version.
Flora Willson and Nigel Simeone are at the Leeds Grand Theatre to introduce Opera North's production of Martinu's opera The Greek Passion given in its rarely heard original version. It is a tale of prejudice and moral conviction set in a small Greek village as the villagers prepare to present their annual staging of Christ's Passion. The impact that the passion play has on the performers leads them to question attitudes to a group of refugees who have sought asylum in the neighbourhood, which in turn brings the village in conflict with its church elders.
Martinu composed the opera at the end of his life for London, but perhaps for political reasons the opera was never presented. He later recreated another version for Vienna, but Opera North, in a co-production with Den Norske Opera, have returned to the original and created a startling and topical telling, directed by Christopher Alden, which has garnered enthusiastic reviews. Sung in English, this is an chance to hear a vibrant and colourful work, full of folk inspired elements and impassioned drama.
CAST
MANOLIOS ........ Nicky Spence (tenor)
KATERINA ......Magdalena Molendowska (soprano)
YANNAKOS ......Paul Nilon (tenor)
PANAIT......Jeffrey Lloyd-Roberts (tenor)
PRIEST GRIGORIS......Stephen Gadd (baritone)
PRIEST FOTIS......John Savournin (bass-baritone)
KOSTANDIS......Richard Mosley-Evans (baritone)
LENIO......Lorna James (soprano)
CAPTAIN......Steven Page (baritone)
ARCHON......Jonathan Best (bass-baritone)
MICHELIS......Alexander Robin Baker (tenor)
NIKOLIO.......Alex Banfield (tenor)
SCHOOLMASTER......Ivan Sharpe (tenor)
FATHER LADAS......Jeremy Peaker (baritone)
Opera North Chorus
Opera North Orchestra conducted by Garry Walker.
Synopsis
Act I
In a remote Greek settlement, the villagers are casting roles for the upcoming Passion Play. Manolios, a shepherd, is cast as Christ, the widow Katerina is chosen to play Mary Magdalene and her lover Panait is given the role of Judas.
Shortly after, a group of desperate refugees arrive. The village leader, Father Grigoris does not trust the outsiders, and when one of the refugees dies from hunger, he blames the death on cholera and uses this lie to expel them from the village. Manolios and Katerina decide to help the refugees and lead them to a place nearby where they can find shelter.
Act II
As the refugees begin to build their camp on a nearby mountainside, Katerina realises that she has fallen in love with Manolios. One of the villagers, Yannakos is convinced that he can profit from the refugees and sets off to con them out of their possessions. However, upon witnessing the abject poverty in which they live, he feels shamed and vows to help them. Manolios and Katerina come to accept their mutual attraction toward each other, but Manolios decides he cannot act upon it. Katerina is distraught.
Act III
Manolios dreams of Katerina as the holy virgin but is awoken by Lenio, his fiancée, with whom he has grown increasingly distant. She asks about their wedding and unsatisfied with Manolios' answer finds herself drawn to the shepherd Nikolios instead.
Manolios becomes ever more consumed by his role as Christ and appeals to the villagers to help the refugees. Seeing that his authority is growing, the village elders decide that Manolios must be expelled from the village.
Act IV
Lenio and Nikolios are to be married. During the celebrations, Father Grigoris condemns Manolios and excommunicates him. Manolios delivers a passionate sermon, calling for the villagers to be compassionate but Father Grigoris rallies the villagers behind him, inciting them against Manolios, until Panait finally closes in on him and kills him.