Main content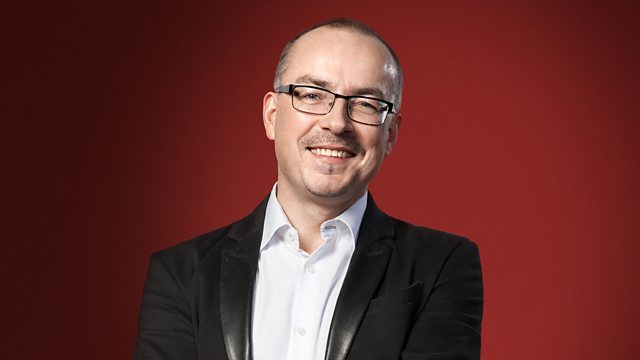 Andrew McGregor with William Mival and Anna Lapwood
The best new classical and choral releases and, in Building a Library, William Mival compares recordings of Mahler's Symphony No 3 and picks a favourite.
9.30
Building a Library: William Mival compares recordings of Mahler's 3rd Symphony - and picks a favourite.
Mahler's monumental 3rd Symphony, completed in 1896, remains to this day the longest symphony in the standard repertory, and one of the most powerful, taking around 90 minutes to perform all six movements. Composed largely in Mahler's hut on the edge of the Attersee in Austria, his 3rd Symphony is a musical embodiment of nature and the 6 movements together depict what Mahler wrote to his friend Max Marschalk as 'A Summer's Midday Dream. There are traces of subtitles to each movement, although they were dropped before publication, and the whole symphony opens as 'Pan Awakes' and 'Summer Marches In'. The first movement takes 30 minutes alone and forms Part 1 of the symphony, while the remaining five movements form Part 2. The fourth movement sets words from Nietzsche's 'Thus Spoke Zarathustra', to be sung by mezzo-soprano, and the fifth movement sets words from Das Knaben Wunderhorn.
10.50
Conductor and organist, Anna Lapwood, joins Andrew to discuss new and recent releases of choral music.
11.25
Andrew chooses an outstanding new release as his Recording of the Week.
Record Review
9.00am
Royal Fireworks: music by Bach, Handel, Purcell and Telemann
Alison Balsom (trumpet)
Balsom Ensemble
Warner Classics 9029537006
https://www.warnerclassics.com/release/royal-fireworks
Beethoven: Piano Sonatas, Vol. 9
Op.10 No.3, Op.31 No.3, Op.111
Jonathan Biss (piano)
Orchid Classics ORC100109
http://www.orchidclassics.com/releases/orc100109-jonathan-biss/
Facce d'Amore: arias by Cavalli, Boretti, Bononcini, Handel etc.
Jakub Józef Orliński (countertenor)
Il Pomo d'Oro
Maxim Emelyanychev (conductor)
Erato 9029542338
https://www.warnerclassics.com/release/facce-damore
Brahms: String Quartet Op. 67 and Piano Quintet Op. 34
Kirill Gerstein (piano)
Hagen Quartett
Myrios MYR021
https://myriosmusic.com/products/myr021-brahms-string-quartet-piano-quintet
#CelloUnlimited: music for solo cello by Kodály, Hindemith, Prokofiev, Casals, Henze and Crumb
Daniel Müller-Schott (cello)
Orfeo C984191


9.30am – Building a Library – William Mival on Mahler's Symphony No. 3
Composer: Gustav Mahler
Reviewer: William Mival
Recommended Recording:

Jessye Norman (soprano)
Wiener Staatsoper
Wiener Sängerknaben
Vienna Philharmonic Orchestra
Claudio Abbado (conductor)
Deutsche Grammophon 410 7152 (2CDs) or 447 0232 (12CDs)
Other Recommended Recordings:
Christa Ludwig (mezzo-soprano)
New York Choral Artists
Brooklyn Boys Chorus
New York Philharmonic
Leonard Bernstein (conductor)
Deutsche Grammophon E4273282 (2CDs)
Martha Lipton (mezzo-soprano)
Women's Chorus of The Schola Cantorum
Boys' Choir of The Church of The Transfiguration
Leonard Bernstein (conductor)
New York Philharmonic
SONY  88697943332 (download only)
10.20am – New Releases
Ouvertures for Orchestra: music by Johann Sebastian Bach, Johann Bernhard Bach and Johann Ludwig Bach
Concerto Italiano
Rinaldo Alessandrini (conductor)
Naïve OP30578 (2CDs)
In Nomine II
Fretwork
Signum SIGCD576
https://signumrecords.com/product/il-nomine-ii/SIGCD576/
Avet Rubeni Terterian: Symphony Nos. 3 and 4
Bournemouth Symphony Orchestra
Kirill Karabits (conductor)
Chandos CHSA5241 (Hybrid SACD)
https://www.chandos.net/products/catalogue/CHSA%205241
10.45am – New Releases – Anna Lapwood on new choral discs
Horizons: choral music by Palestrina, Rossi, Pfingst, Fairouz etc.
Singer Pur
Oehms OC1714
https://www.oehmsclassics.de/artikel/21842/Singer_Pur_Horizons
Juris Karlsons: Oremus - Sacred Choral Works
The Latvian Radio Choir
Sigvards Kļava (conductor)
Ondine ODE13422
https://www.ondine.net/?lid=en&cid=2.2&oid=6360
Palestrina: Lamentations Book 2
Cinquecento
Hyperion CDA68284
https://www.hyperion-records.co.uk/dc.asp?dc=D_CDA68284
Palestrina Vol. 8: Missa fratres ego enim accepi etc.
The Sixteen
Harry Christophers (conductor)
Coro COR16175
https://thesixteenshop.com/products/palestrina-volume-8


11.15am – Disc of the Week
I, Clara - Clara Schumann - A Life in Music
Lucy Parham (piano)
Harriet Walter (narrator)
BBC Concert Orchestra
Barry Wordsworth (conductor)
Deux-Elles DXL1179 (2CDs)
https://deux-elles.co.uk/product/i-clara-clara-schumann-a-life-in-music-dxl-1179/