Main content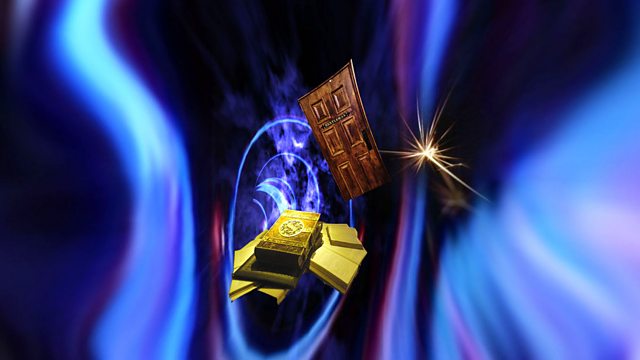 Grimm & Co
Delightful, charming and full of laughs. A fusion of five fantastical tales written by nine- to eleven-year-olds from Rotherham.
It is late afternoon in Rotherham town centre. Grimm & Co, the magical shop where children meet to write stories and stock up on potions, is just about to close. Dr Martin Never-Ending Door – or Ned, for short – is having a moan, while Michael Stopper the potion bottle is sleeping.
Escape into the unfettered imaginations of Rotherham's young writers as Grimm & Co takes you on a spectacular journey through five linked stories.
A fusion of five fantastical tales. Delightfully charming and full of laughs, written by a group of nine- to eleven-year-olds.
DR MARTIN NEVER-ENDING DOOR ….. David Fleeshman
MICHAEL STOPPER/HUMPHREY CREAKER ….. Christopher Chung
GALAXY PORTAL/TT WHITEY-REDDY/TERRY ….. Verity Henry
KEVIN/COLIN ….. Luke Dale
STUMPY SIR STUMPERSON ….. Paul Clayton
NICHOLAS MONEYGRABBER ..... John Henshaw
CRUNCH ORIGAMI ….. Stephen Hoyle
PERRYIUS FIDINKYLY ….. Eric Potts
CAT SNIFFLES ….. Christine Cox
Characters created and written by Finley Blackwell, Muhammad Caine, Rylan Charnock, Noah Dimond, Emily Hannan, Connor Hewitt, Kip Homerski, Elizabeth McGarty, Haris Quddoos, Florence Roadhouse, Alex Rogers, Joseph Thomson, and Ryan Turner-Wall
A unique BBC Radio Drama North Production in collaboration with Grimm & Co of Rotherham.
Produced and directed in Salford by Sharon Sephton
Playful "INSTRUCTIONS TO SHARON" - an extract from the script by young writers Alex (created Dr Martin Never-Ending-Door) and Connor (created Martin Stopper, a potion bottle)
"Not allowed to change Bob the Painter Decorator to Sean the Painter Decorator, because Alex does not want Sean Connery (or Sean Bean) to voice him.
When Michael the Dragon roars hello, it's a roar, but you can hear 'hello' in the roar.
When they mention Quazar the alien there is a bit of dance music and some alien language and sounds of lasers zapping.
Not allowed to change Jonathan the Dragon's name to Daniel because Alex does not want Daniel Craig to voice it. Alex does not want anyone who has ever played James Bond to be involved in this project.
When Michael Stopper goes 'Nooo-oooo-OOO', make sure it's like a wolf howling crossed with a chicken being strangled. Use the Dead Room at Media City to make the elongated 'Nooooo'."