Main content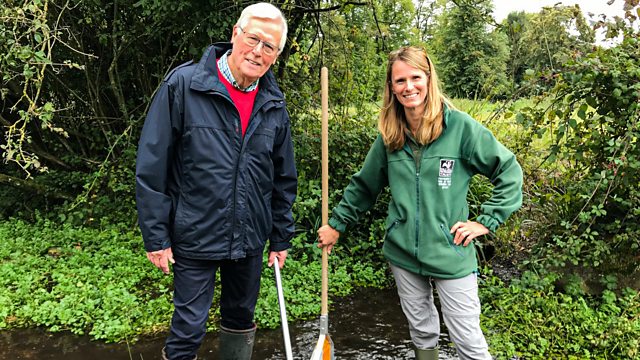 Autumn Special
John Craven takes a walk in the footsteps of the poet John Keats and explores the landscape that inspired his poem To Autumn, written 200 years ago this autumn.
In this special programme, the team are looking at all things autumn. Ellie is on Alderney, where autumn storms have washed up seaweed that's providing a seasonal feast for an unexpected animal. She also takes part in a survey of gannets' nests, now that the birds have left for the winter. Steve is in North Yorkshire exploring the colours of autumn and finding out what causes this seasonal display. John takes a walk in the footsteps of the poet John Keats and explores the landscape that inspired his famous poem To Autumn, written 200 years ago this autumn. Anita is on the farm of Michelin-starred chef Tommy Banks, getting some hints on pickling and preserving autumn produce. And Adam is in Herefordshire, meeting some farmers turning their seasonal crop of spuds into vodka.
'To Autumn'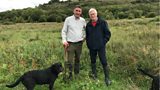 In the autumn of 1819, inspired by a walk he took in the countryside surrounding Winchester, the English Romantic poet John Keats wrote his famous poem 'To Autumn'. Now, two hundred years later, John is following in his footsteps.John is joined by Keats expert and headmaster of Winchester College Dr Tim Hands who reveals more about Keats' life as they follow the same walk. John heads off to the St Cross Allotments to see if their harvest this year has been as fruitful as the one Keats admired 200 years ago. And he meets up with head river-keeper Mark Sankey to learn how the water meadows have been managed over the centuries and Susan Simmonds, from the Hampshire and Isle of Wight Wildlife Trust, to see how things are looking for the local wildlife.
Gannets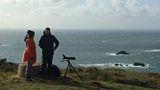 Ellie's in the Channel Islands where the milder climate means animals that should be settling down or moving on for the winter are active for much longer than elsewhere in the British Isles.On Alderney, Ellie sees the island in all its seasonal glory - and catches sight of the gannets that have yet to migrate and are still populating its rocky outreaches.Two islets - Les Etacs and neighbouring Ortac - are important gannet breeding grounds and Ellie meets seabird ecologist Justin Hart who is keeping an eye on the stragglers late to leave this autumn.But she also discovers the threat posed to the birds from the plastic pollution in the surrounding waters that makes its way into their nests.
Autumn's Hoard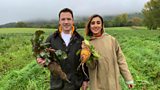 Autumn is the time of year when gardeners and allotment holders have a glut of fruit and vegetables that they need to figure out how best to store. 
Anita is in North Yorkshire picking up some top preservation pointers from Michelin-starred chef Tommy Banks. 
Tommy uses his own home-grown fruit and vegetables as the basis for the tasting menu in his restaurant. 
And he has a variety of ways of storing his harvest to make it last through the winter, from freezing to pickling and fermenting. 
Anita gets hands on in the kitchen to help knock up a batch of fermented Kimchi made from mangel-wurzels.
Golden Hedgehogs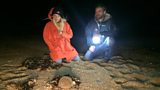 Ellie sets out to see one of the more unusual mammals on Alderney that should be hibernating, but because of these warm climes, doesn't.At this time of year, hedgehogs are still spotted on the island - even on the beaches, snuffling through the seaweed brought in by the autumnal tides and snacking on the invertebrates it contains.And they are unusual in another way too - they're blonde!These hedgehogs aren't albino, they are leucistic. It's a rare condition that results from recessive genes. Their different colour is similar to us humans having different hair colour.
Autumn Colour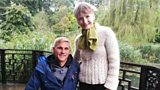 For many, Autumn is a season of colour. 
And Steve sees for himself the most dazzling displays of colour at Thorp Perrow Arboretum in Bedale, where whole areas have been planted specifically for their autumn colour. 
Steve finds out from Tom Bennet, a lecturer in plant sciences, how and why our woodlands turn from the lushest green to glittering golds and to the deepest of reds.
He then joins botanical illustrator Bridget Gillespie for a masterclass in capturing this autumnal spectacle.
Credits
| Role | Contributor |
| --- | --- |
| Presenter | Ellie Harrison |
| Presenter | Steve Brown |
| Presenter | John Craven |
| Presenter | Anita Rani |
| Presenter | Adam Henson |
| Series Producer | Joanna Brame |
| Executive Producer | Bill Lyons |