Main content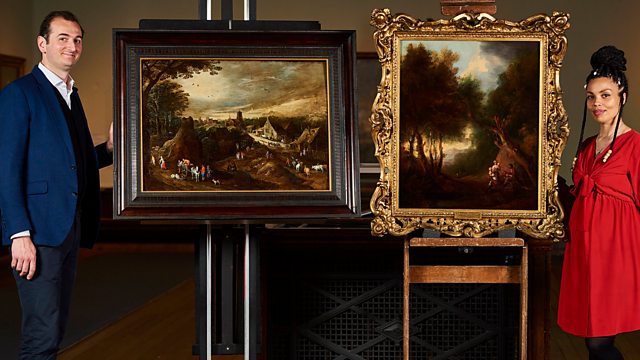 Bendor Grosvenor finds two anonymous planks in a drawer at Birmingham Art Gallery. Put together, they show a scene of village life. Is he right in detecting the hand of Flemish master Brueghel?
Could two anonymous landscape paintings, discovered at Birmingham Art Gallery, be by artists whose work profoundly influenced the development of European landscape painting in the 17th and 18th centuries?
The first, a very badly damaged picture whose panel has spilt into two pieces is currently just attributed to the Flemish School rather than any single artist. The second is a forest scene thought to be a copy of a famous painting by Gainsborough.
Dr Bendor Grosvenor believes the damaged painting is by Jan Breughel the Elder, a seminal figure in Antwerp during the 16th century. He believes the second painting is good enough to be by Gainsborough himself. The Flemish landscape tradition was a source of inspiration to Thomas Gainsborough. If these works are, as Bendor suspects, by these two eminent artists, they provide a fascinating, and previously missing, episode in the story of the development of landscape painting in European art.
Clips

Credits
| Role | Contributor |
| --- | --- |
| Presenter | Bendor Grosvenor |
| Presenter | Emma Dabiri |
| Series Producer | Spike Geilinger |
| Executive Producer | Harry Bell |