Main content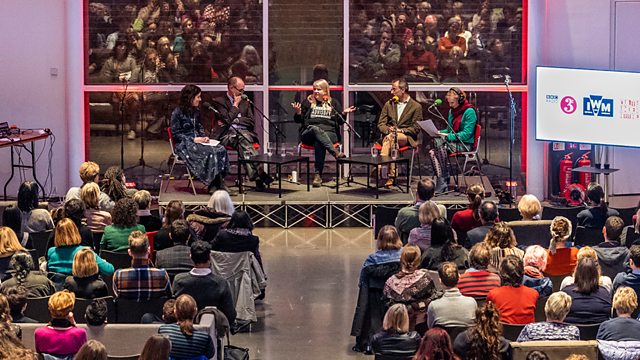 The 2019 Free Thinking Imperial War Museum Remembrance Debate
Who decides what's worth saving? What is culturally significant to protect in war? Anne McElvoy is joined by Carrie Riechardt, Peter Bazalgette, Zahed Tajeddin and Rebecca Newall.
Who decides what's worth saving and what is culturally significant to protect in wartimes and war zones? The panel, hosted by Anne McElvoy, are:
Sir Peter Bazalgette - Chairman of ITV and former Chairman of Arts Council England
Carrie Reichardt - International Artist and grassroots activist
Zahed Tajeddin - Syrian-born Artist and Archaeologist
Rebecca Newell - IWM's Head of Art
Recorded with an audience at the Imperial War Museum, London on Weds November 6th.
What Remains, an exhibition with over 50 photographs, oral histories, objects and artworks, created in partnership with Historic England, explores why cultural heritage is attacked during war and the ways we save, protect and restore what is targeted. It runs until 5 Jan 2020. As does Art in Exile which puts on display for the first time documents revealing IWM's plan for evacuating our art collection during the Second World War.
The 2018 Imperial War Museum Free Thinking Lecture looked at how we remember war and asked Why are we silent when conflict is loud?
Peter Hitchens; Rector Lucy Winkett; Neil Bartlett and Professor Steve Brown joined Anne McElvoy and an audience. https://bbc.in/2odyOUM
and on our website you can find a collection of Free Thinking on War https://bbc.in/32EK0bI which includes discussions about Trees, Catch 22, a conversation between an ex marine and a Gulf war government advisor and analysis of writing by Wilfred Owen, Celine, David Jones, Robert Musil and John Buchan.
Producer: Torquil MacLeod.