Main content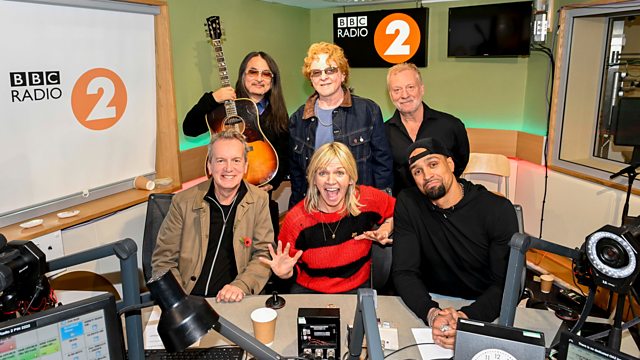 Simply Red, Frank Skinner, Ashley Banjo & Rockin' In The USA - Elton John
Wake up to a star-studded breakfast with Zoe. She's joined by comedian Frank Skinner and Flirty Dancing host Ashley Banjo, with live music from Simply Red.
Wake up to a star-studded breakfast with Zoe Ball and a whole host of celebrity guests, including Frank Skinner and Ashley Banjo with live music in the studio from Simply Red. Frank tells us about his stand up show Showbiz, Ashley chats Flirty Dancing and Mick Hucknell has track's from the band's 12th album Blue Eyed Soul.
Plus Zoe calls back the winner of the Rockin' In the USA to see Taylor Swift in LA and had another massive prize for Children In Need.
Radio 2 will be sending one lucky listener to see the incredible Elton John in New York as part of his final tour, Farewell Yellow Brick Road. His concert in Madison Square Garden's is the hottest ticket in town and our winner will be flying to New York this April to see him live, best of all, raise money for Children in Need with BBC Radio 2.
Along with Tina Daheley on news, Richie Anderson on travel and Mike Williams on sport, Zoe and the team have the best start to your morning. With celeb guests, quizzes, headlines, tunes chosen by listeners and more music than you can shake a glitterball at!
There's also weather with Matt Taylor, a Pause For Thought from comedian and writer Paul Kerensa and listeners on the line as Zoe entertains the nation with fun for the family!
Pause For Thought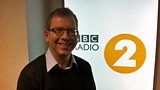 From comedian & writer Paul Kerensa:
Years ago, I read something, written by someone here, that helped kickstart my stand-up career. Was it the CD in-lay to Simply Red's Stars? Well, something got me started, but no – Frank Skinner's book 'Frank Skinner' was released in 2001, just as I took my first Bambi-like steps onto the comedy circuit. Between gigs, I'd read how Frank started. His book even pondered, as I was then, questions of faith and language, what's appropriate, what's honest.
18 years on, I'm gigging half in comedy clubs, but half in churches. The heckling's kinder there. "We forgive you!" etc. But recently, one vicar surprised me. All robes and Gandalf beard, he greeted me pre-show in the vestry-slash-green-room, saying: "Well, we're all looking forward to a 'flipping' good night." Only he didn't say 'flipping'. His words continued like stilton: strong, cheesy, with a blue vein to it.
I think he was trying to fit in, using what he thought was 'comedian-speak'. I explained I'd be more family-friendly, given the gig included, well, families. But to be honest, offstage, I'm not all holier-than-thou. You know, I eff and/or jeff, when I've dropped a jar on my foot, or turned on the news.
Generally when the Bible talks about swearing, it's swearing oaths. "Don't swear by heaven or earth or any other oath," it says, "Just let your 'yes' be 'yes' and your 'no' be 'no'." Alright, elsewhere "crude joking" and "irreverent babble" is advised against. I am imperfect, I'm prone to both, and I'll aim to improve.
But we're all perfectly imperfect. Yet I've met some who feel they don't fit with church, because of their language. Who blush on swearing in front of me, a Christian, as if I'm one to judge. That vicar didn't blush – in fact he kept on going. I'm not condoning it, but I'm not judging it.
Today more than ever, I'd focus on our 'yes's being 'yes', our 'no's being 'no', our words being genuine, rather than worry if they're too salty, too earthy – when 'salt of the earth' is perhaps what we're meant to be. I'd rather a church, a community, a world – with a good honest welcome for all, even if – perhaps especially if – some words we use are... simply... frank.