Main content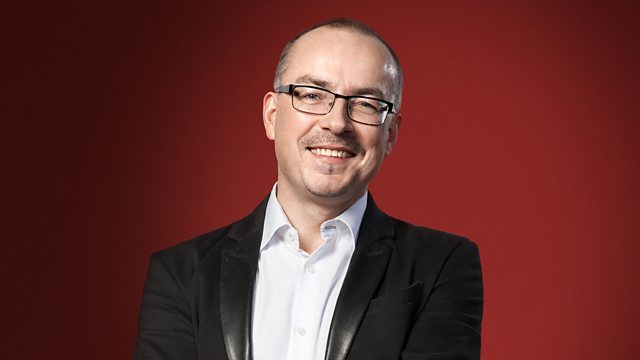 Andrew McGregor with Mark Lowther and Kate Kennedy
New recordings with Andrew McGregor and Building a Library on Bach's Violin Concerto in E with Mark Lowther. Kate Kennedy reviews recordings of string quartets by Haydn and Mozart
with Andrew McGregor.
09.30
Building a Library: Bach's Violin Concerto in E, BWV 1042 with Mark Lowther
Johann Sebastian Bach's E Major Concerto is one of the evergreen concertos of the violin repertoire. It's in three movements and based on the Venetian concerto model. It's written for violin, strings, and continuo. Bach later re-used the concerto as the model for his Harpsichord Concerto in D major, BWV 1054.
10.45
Andrew McGregor talks Kate Kennedy about new recordings of string quartets by Haydn, Mozart and Shostakovich
11.25
Andrew chooses an outstanding new release as his Recording of the Week.
Record Review
9.00am
Benjamin Bernheim: arias by Massenet, Donizetti, Gounod, Verdi, Tchaikovsky, Godard, Berlioz and Puccini
Benjamin Bernheim (tenor)
PKF - Prague Philharmonia
Emmanuel Villaume (conductor)
Deutsche Grammophon 483 6078
https://www.deutschegrammophon.com/us/cat/4836078
Routes du café: music by Nâyi Osman Dede, Bernier, Marais, Kajioka, Locke, Tanburi Cemil Bey and J. S. Bach
Hana Blažiková (soprano)
Reinoud Van Mechelen (tenor)
Lisandro Abadie (bass)
Ensemble Masques
Olivier Fortin (director)
Alpha 543
https://outhere-music.com/en/albums/routes-du-cafe-alpha543
Josquin: Missa Mater Patris - Bauldeweyn: Missa Da pacem
The Tallis Scholars
Peter Phillips (director)
Gimell CDGIM 052
https://www.gimell.com/cdgim052-josquin-missa-mater-patris
Arcadi Volodos - Schubert: Piano Sonata D959 – Minuets D334, D335, D600
Arcadi Volodos (piano)
Sony 19075868292
George Antheil: Symphony No. 1 and other works
BBC Philharmonic
John Storgårds (conductor)
Chandos CHAN 20080
https://www.chandos.net/products/catalogue/CHAN%2020080
9.30am – Building a Library – Mark Lowther on J. S. Bach's Violin Concerto in E BWV 1042
Composer: Johann Sebastian Bach
Reviewer: Mark Lowther
Recommended Recording:
Rachel Podger (violin/director)
Brecon Baroque
Channel Classics CCSSA30910 [Hybrid SACD]
Other Recommended Recordings:
Pablo Valetti (violin)
Café Zimmermann
ALPHA ALPHA 013
Janine Jansen (violin / director)
Janine Jansen and Friends
DECCA 4785362
Renaud Capucon (violin / director)
Chamber Orchestra of Europe
ERATO 4632322 
Isabelle Faust (violin / director)
Akademie für Alte Musik Berlin
HARMONIA MUNDI HMM90233536
10.20am – New Releases
Offenbach: Le Royaume de Neptune, Musique symphonique et ballets d'Orphée aux Enfers
Deutsches Symphonie-Orchester Berlin
Howard Griffiths (conductor)
CPO 555 301-2
https://www.jpc.de/jpcng/cpo/detail/-/art/jacques-offenbach-orchesterstuecke-aus-orphee-aux-enfers/hnum/9254310
Offenbach: Fables De La Fontaine
Karine Deshayes (mezzo soprano)
Orchestre de L'Opéra de Rouen Normandie
Jean-Pierre Haeck (conductor)
Alpha 553
https://outhere-music.com/en/albums/fables-de-la-fontaine-alpha553
Beethoven Violin Sonatas Op. 12
James Ehnes (violin)
Andrew Armstrong (piano)
Onyx 4177
http://www.onyxclassics.com/comingsoon.php
Dobrinka Tabakova: Kynance Cove, On the South Downs, and Works for Choir
Truro Cathedral Choir
Joseph Wicks (organ)
Christopher Gray (director)
Regent Records REGCD530
https://www.regent-records.co.uk/product_details_368.htm
Apollo et Hyacinthus
Klara Ek (soprano)
Andrew Kennedy (tenor)
Sophie Bevan (soprano)
Lawrene Zazzo (countertenor)
Christophe Ainslie (countertenor)
Marcus Farnsworth (baritone)
David Shipley (bass)
The Mozartists
Ian Page (conductor)
https://signumrecords.com/product/apollo-et-hyacinthus/SIGCD577/
10.45am – New Releases – Kate Kennedy on new string quartet discs
Haydn: String Quartets, Op. 20, Volume 1, Nos. 2, 3 & 5
Dudok Quartet
Resonus RES10248
https://www.resonusclassics.com/haydn-string-quartets-op-20-volume-1-dudok-quartet-amsterdam-res10248
All Shall Not Die – Haydn: String Quartets
Quatuor Hanson
Aparte Music AP213 (2 CDs)
http://www.apartemusic.com/discography/all-shall-not-die-haydn-string-quartets/
Haydn: String Quartets Opp 71 & 74
The London Haydn Quartet
Hyperion CDA68230 (2 CDs)
https://www.hyperion-records.co.uk/dc.asp?dc=D_CDA68230
Mozart: Quartets K.387 & 421 , Divertimento K.138
Quatuor Van Kuijk
Alpha Classics ALPH551
https://outhere-music.com/en/albums/quartets-k-387-421-divertimento-k-138-alpha551
Shostakovich: String Quartets Nos. 2, 7, 8
Pavel Haas Quartet
Supraphon SU 4271-2
https://www.supraphon.com/album/509310-shostakovich-string-quartets-nos-2-7-8
11.15am – Disc of the Week
Berlioz: Symphonie fantastique
Les Siècles
François-Xavier Roth (conductor)
Harmonia Mundi HMM 902644
http://www.harmoniamundi.com/pdf/Album.php?lang=uk&id=2552