Main content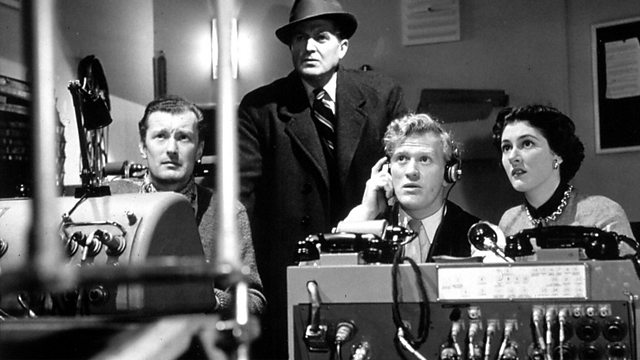 Quatermass
Matthew Sweet celebrates Nigel Kneale's groundbreaking 1950s TV sci-fi series with Mark Gatiss, Steven Moffat, Una McCormack , Claire Langhamer and Matthew Kneale
Dr Who collaborators Mark Gatiss and Stephen Moffat, academics Una McCormack and Claire Langhamer and Matthew Kneale join Matthew Sweet to celebrate Nigel Kneale's groundbreaking 1953 BBC TV sci-fi serial The Quatermass Experiment, which spawned two late 1950s sequels and an ITV final run in autumn 1979.
You can find more sci-fi discussions on the Free Thinking website and available as BBC Arts & Ideas podcasts:
The re-release of Blade Runner debated by Sarah Churchwell, Roger Luckhurst and Max de Gaynesford https://bbc.in/33YCYz7
New Generation Thinker Sarah Dillon watched the Blade Runner film sequel 2049 https://bbc.in/2BxVan1
Sarah Dillon on Wombs on Legs, Women and reproduction in sci fi https://bit.ly/31zaCd6
An exploration of Surveillance and Yevgeny Zamyatin's 1920s novel We https://bbc.in/2BCiWxS
Ursula Le Guin's The Word for World is Forest discussed https://bbc.in/2t9ZZ11
What do you Do if you are Manically Depressed Robot - an Essay from New Generation Thinker Simon Beard https://bbc.in/2HVOAaM
Naomi Alderman and Margaret Atwood in conversation https://bbc.in/2MC8SLT
Stephen Baxter on his sequel to HG Wells Massacre of Mankind https://bbc.in/31D5jcy
A discussion of HG Wells with Louisa Treger, Mark Blacklock, Joanna Kavenna and Christopher Priest https://bbc.in/32yjvEZ
Producer Torquil MacLeod.
Last on
Broadcast

Featured in...
Creativity, performance, debate

Key films, books, TV, plays, art: 1001 Nights – 2001 A Space Odyssey, Jane Austen - Jaws