Main content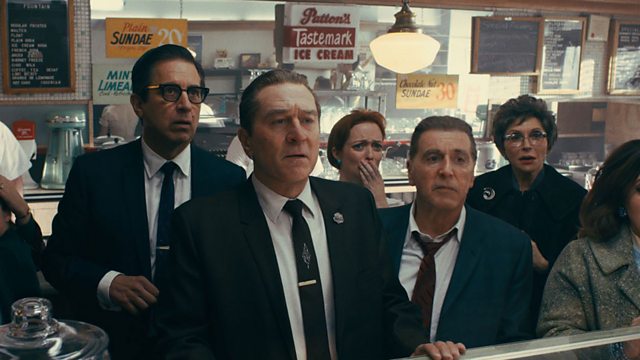 The Irishman, Abomination opera, Murder In The Cathedral, The joy or blight of fireworks
Scorsese's new film The Irishman; Abomination: an opera about the DUP's attitude to homosexuality; Murder In The Cathedral in a cathedral; the joy or blight of fireworks
With a reported budget of $160m, Martin Scorsese returns to the familiar territory of The Mob and organised crime in America in his new Netflix film The Irishman. The three-and-a-half-hour-long drama spans 50 years and reunites Scorsese with Robert De Niro and Joe Pesci for the first time in 24 years, alongside Harvey Keitel and Al Pacino. Briony Hanson has been to see if for Front Row and can tell us whether or not it's vintage Scorsese.
Abomination: A DUP Opera, which opens Belfast's Outburst Queer Arts Festival at the Lyric Theatre this week, is an incendiary composition. For the libretto, composer Conor Mitchell uses verbatim statements about homosexuality made by DUP MPs. Front Row talks to Conor and Ben Lowry, Deputy Editor of the Belfast News Letter.
The Scena Mundi Theatre Company is marking the 850th anniversary of the murder of Thomas Becket in Canterbury Cathedral with a new production of TS Eliot's verse drama, Murder In The Cathedral, that tells the story. They will perform it in cathedrals, starting in Southwark and Guildford, with plans to take it all around the country next year. We visited a rehearsal and spoke with director Cecilia Dorland, Jasper Britton, who plays Becket, and the chorus of the women of Canterbury all reflecting on the significance of the story - the clash of strong men, political violence and martyrdom - today.
Fireworks: good or bad? We help you to decide. Are they noisy, dangerous, frightening, and a waste of time and money? Or are they egalitarian free beautiful art – gorgeous to look at, taking place in the open, anyone can see them and they're a communal experience.
Presenter: Stig Abell
Producer: Oliver Jones
The Irishman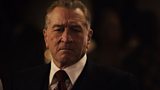 Robert De Niro
Photo credit: Netflix

The Irishman is in selected cinemas, cert 15 




Main image: Robert de Niro and Al Pacino and cast
Photo credit: Netflix
Abomination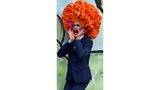 Actor Matthew Cavan as his drag character Cherrie Ontop
Abomination
is at the Lyric Theatre Belfast from
7 - 10 Nov and then on tour
Murder in the Cathedral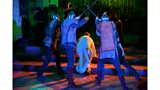 Photo credit:
Richard Hubert Smith
Scena Mundi'
s 
Murder in the Cathedral
plays at Southwark Cathedral  on 5, 12 and 13 Nov and then at University Church of St Mary The Virgin, Oxford and Guildford Cathedral