Main content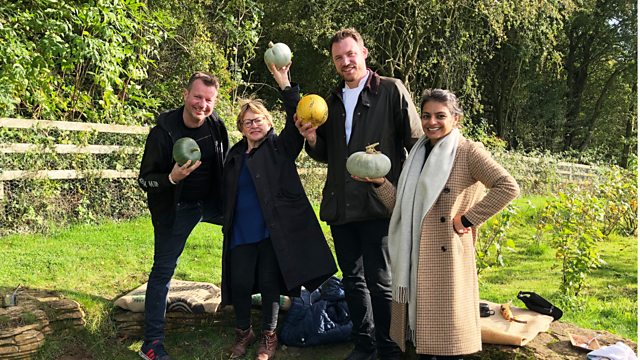 Smoke and Celebration: Exploring Bonfire Night food traditions
Sheila Dillon joins a team of cooks, to explore regional and personal Bonfire Night favourites - and consider why autumn is such a special time of year for ingredients and eating.
Autumn is the season of mists and mellow fruitfulness – when the air is perfumed with bonfire smoke, sweet crisp apples are weighing down orchard branches, and root vegetables are plump and ready for picking beneath the soil.
It's a time of year when a whole new palette of British produce is ripe and ready to turn into pies, pickles, chutneys, cakes, jams and stews: hearty comfort food to warm and nourish as the weather turns colder.
Autumn is also a season for festive gatherings: with Halloween and Guy Fawkes Night leading swiftly into the frenzied run-up to Christmas, providing plenty of opportunity to eat, drink and be merry - and on November 5th in particular, food traditions abound across the UK; from regional specialities to family favourites.
In this programme, Sheila Dillon heads to North Yorkshire, to gather round a fire with Michelin-starred chef Tommy Bank; cook and food writer Meera Sodha; and chef and restaurateur Andrew Nutter. Together, they keep the autumn chill at bay with a bonfire feast – whilst sharing stories of their seasonal food memories.