Main content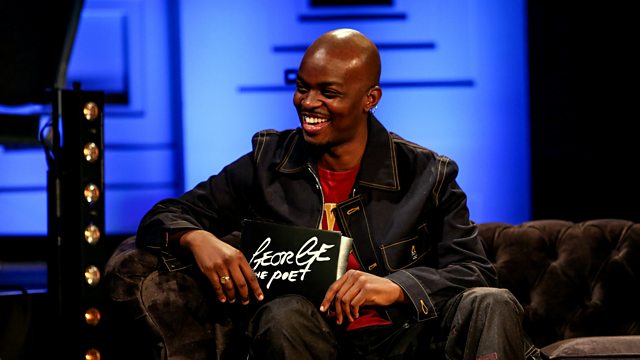 Special: Welcome to the World of George the Poet
A mix of poetry, music and conversation exploring what rap can teach us about education, from the BBC's own Radio Theatre.
Award-winning podcaster and spoken word artist George the Poet comes to the BBC's own Radio Theatre for a one-off live show exploring what rap can teach us about education.
For George, rap was always a vehicle for knowledge. But it isn't always taken seriously by an establishment that often sees it as unconstructive. Rap was an essential part of George's own development as a poet, and studying Sociology at Cambridge University allowed him to look more closely at what rap can do for marginalised communities. This show charts George's own story of education – his evolution from Grime MC to Cambridge student to spoken word artist – and pays homage to the rap music that shaped him and his peers.
George brings a number of friends to the stage to explore what rap can teach us about education.
DJ Target is a 1Xtra DJ and a founding member of UK Grime collective Roll Deep. In his book Grime Kids he charts the creation of the groundbreaking music genre that gave voice to a generation.
Neuroscientist Dr Becky Inkster and psychiatrist Dr Akeem Sule are co-founders of Hip Hop Psych. Hip Hop Psych dissects hip hop lyrics to analyse the mechanisms of mental health problems, signals which are sometimes overlooked because of their mode of communication.
Temi Mwale has been committed to the fight against youth violence since her childhood friend Marvin Henry was murdered. At 17, Temi founded the 4Front Project, a grassroots organisation based in the estate she grew up in, which delivers specialist programmes that support personal development, legal empowerment and social action across vulnerable communities.
Holly Branson joined the Virgin Group as an active member of the Leadership team in 2008, after achieving medical and physiology degrees from University College London and realising her dream of working as a doctor. She is Chair of Virgin Unite, a Founder and trustee of education charity Big Change and Co-Chair of WE Day UK. In 2018, Holly published her first book, co-authored with Marc and Craig Kielburger: WEconomy: You can find meaning, make a living, and change the world.
Sonita Alleyne OBE is the new Master of Jesus College, Cambridge. She is the first woman to be the Master of Jesus College and the first black person to lead any Oxbridge college. Sonita is the co-founder and former CEO of media production company Somethin' Else. Alleyne's board roles have included the National Employment Panel and the London Skills and Employment Board, chair of the Radio Sector Skills Council and non-executive director of the Department for Culture, Media and Sport.
Featuring an exclusive poem from Chapter Two of the podcast with music written by Benbrick.
With performances from the BBC Concert Orchestra and Maverick Sabre.
An extended version of this programme is available as a podcast on BBC Sounds, and on iPlayer.
Produced by Anne Isger
Last on
George the Poet explores what rap can teach us about education.
Broadcasts

Podcast
The award-winning podcast from George the Poet delivers a fresh take on inner city life.