Main content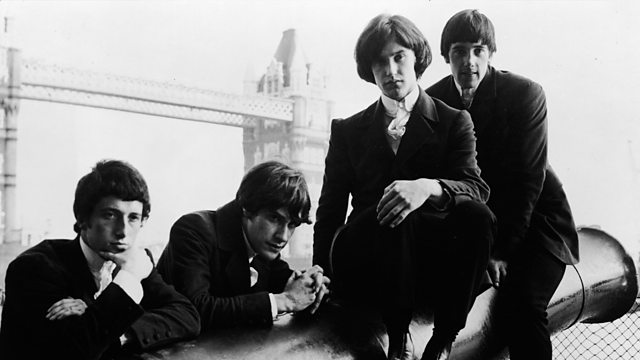 Arthur (or the Decline and Fall of the British Empire)
A study in song of what it means to be British by The Kinks' singer/songwriter Ray Davies and Paul Sirett.
Arthur (Or the Decline and Fall Of The British Empire) is an album by The Kinks, originally released in October 1969. The songs feature autobiographical stories and characters from Ray Davies' early life and offer a fascinating snapshot of this period in British history - a period of upheaval that resonates strongly with the present.
The story is simple - a close-knit, working-class family is torn apart when Ray's brother-in-law, Arthur, decides to move his family half way around the world to Australia. The whole family is trying to come to terms with what it means to live in post-war Britain - the lost empire, the lack of respect, the broken institutions, a country in flux, a country split over whether or not to join the European Economic Community and a country struggling to come to terms with its own identity.
The drama has plenty of music - with songs written at that pivotal time in British culture re-versioned especially for BBC Radio 4, 50 years later. The songs have special resonance for Ray Davies, who was devastated when his older sister Rose emigrated to Australia in 1964 with her husband Arthur Anning. It inspired him to write the song Rosy Won't You Please Come Home, included on the 1966 album Face to Face.
Arthur (Or the Decline and Fall of the British Empire) is a study in song of what it means to be British - then and now.
THE KINKS are recognised as one of the most important and influential British rock groups of all time. From their explosive beginnings as part of the British Beat movement to forays into concept albums, The Kinks have a legacy of classic songs, many of which form the building blocks of popular music as we know it today.
SIR RAY DAVIES is the iconic founder member and presiding genius of The Kinks. As his songwriting developed, he emerged as a witty, compassionate social commentator chronicling the aspirations and absurdities of English life. He is the Olivier award-winning writer of the musical plays Sunny Afternoon (4 Oliviers, Pinter Theatre, West End), Come Dancing (Stratford East) and 80 Days (La Jolla Playhouse). This is his first radio play.
PAUL SIRETT (co-writer) is a multi-award-winning writer of The Big Life (Apollo Theatre, West End and BBC World Service), Come Dancing (with Ray Davies, Theatre Stratford East) and Reasons to be Cheerful (Graeae Theatre Company).
THE SONGS:
VICTORIA
Performed by The Kinks
THE FUTURE
Performed by Arthur & The Emigrants
THE VILLAGE GREEN
Performed by Rosie Cavaliero
ARTHUR version 1
Performed by Arthur & The Emigrants
ARTHUR version 2
Performed by The Kinks
SOME MOTHER'S SON
Performed by The Kinks
THE FUTURE
Performed by Mark Newnham
YES SIR, NO SIR version 1
Performed by The Kinks
YES SIR, NO SIR version 2
Performed by Lee Ross
DRIVIN'
Performed by The Kinks, Lee Ross and Rosie Cavaliero
MR CHURCHILL SAYS
Performed by The Kinks
BRAINWASHED
Performed by Ben Norris, Mark Newnham, Stephen Lloyd and Arthur Hughes
WATERLOO SUNSET
Performed by Mark Newnham
AUSTRALIA
Performed by Lee Ross and The Kinks
PICTURES IN THE SAND
Performed by Lee Ross
YOUNG AND INNOCENT DAYS
Performed by Rosie Cavaliero
NOTHING TO SAY
Performed by Ben Norris
POSTCARD FROM LONDON
Performed by Rosie Cavaliero and Ray Davies
YOU REALLY GOT ME
Performed by The Kinks
SHANGRI-LA
Performed by The Kinks
Guitar by Bill Shanley
CAST AND CREW:
Arthur……....……...LEE ROSS
Rose…………….......ROSIE CAVALIERO
Ray…….................STEPHEN LLOYD
Dave………….........MARK NEWNHAM
Terry………….........BEN NORRIS
Bobby…...............ARTHUR HUGHES
Julie/Sally…….......EMERALD O'HANRAHAN
Mr Henderson…...DAVID HOLT
Mum…………….......KAREN SPICER
Dad/Jones……......WAYNE NORMAN
Writers: Ray Davies and Paul Sirett
Sound Engineers: David Thomas and Matt Jaggar
Production Coordinator: Sarah Tombling
Musical Director: Harvey Brough
Director: Karen Rose
Producers: Karen Rose and Ray Davies
A Sweet Talk production for BBC Radio 4
Last on