Main content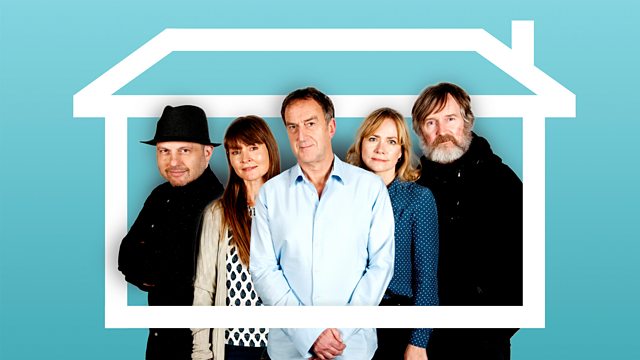 Bad parking, naked neighbours and stolen bay trees. It's all go out front as the neighbours stake out their garden to protect their precious pot plants. Stars Angus Deayton.
Written by Moray Hunter and starring Angus Deayton. A sitcom about five single, middle aged neighbours living in flats in a converted house in North London - with Abigail Cruttenden, Pearce Quigley, Kate Isitt and Bennett Arron.
Mitch (Angus Deayton) is a widower and part-time therapist, looking to put his life back together now that he is single and living with Will (Pearce Quigley), his younger, more volatile and unhappily divorced half-brother. Elsewhere in the building is schoolteacher Ellie (Abigail Cruttenden) who is shy, nervous and holds a secret candle for Mitch. Overly honest, frustrated actress Louisa (Kate Isitt), and socially inept IT nerd Morris (Bennett Arron) complete the line-up of mis-matched neighbours.
In this fourth episode, Front Window, the neighbours become obsessed with various goings-on at the front of the house. There's bad parking to contend with, naked neighbours at night and, worst of all, someone keeps stealing the expensive bay tree plants that sit on the porch. An exasperated Ellie has had enough and suggests everyone gathers together on a stake out to protect their precious plants.
Cast
Mitch - Angus Deayton
Will - Pearce Quigley
Ellie - Abigail Cruttenden
Louisa - Kate Isitt
Morris - Bennett Arron
Connor - Fred Haig
Written and created By Moray Hunter
Directed by Moray Hunter and Gordon Kennedy
Sound Engineer and Editor Jerry Peal
Production Manager: Sarah Tombling
Based on an original idea developed in association with Dandy Productions
Recorded live at RADA Studios London
Produced by Gordon Kennedy
An Absolutely production for BBC Radio 4