Main content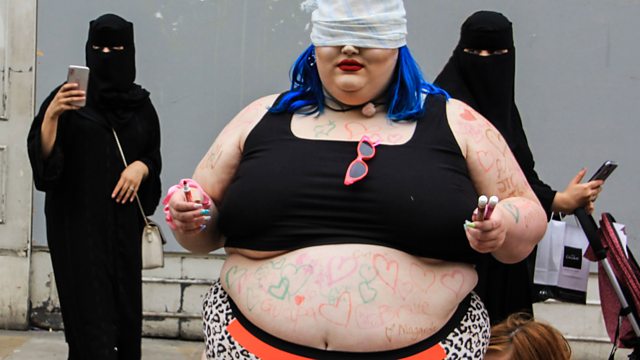 Nine people who live with obesity, or who choose to call themselves fat, move in together to explore what it means to be larger bodied in Britain today.
Over a quarter of British adults are now obese. We are regularly told that obesity is one of the leading causes of health problems and premature death, and that the impact on the NHS is growing. So what is life like for those whose appearance is, increasingly, the subject of public scrutiny?
In a thought-provoking series, nine people who live with obesity, or who choose to call themselves fat, move in together to explore what it means to be larger bodied in Britain today. For nine days they confront each other with their own truth about being big. What, if anything, should they do about their weight? Should they love their bodies and embrace their size, or should they strive to get healthy and lose weight?
The housemates have starkly differing views - and even agreeing appropriate language to describe themselves causes friction. The growing Body Positivity movement encourages plus-size people to be proud of their bodies, and has reclaimed the word fat. They believe that people need to love themselves to be happy and that dieting is doomed to fail. Others are concerned about the risks of developing serious health problems and believe that weight loss is the main path to health and happiness.
In the first episode, the group meet and settle in a house in the Oxfordshire countryside and begin to share their personal stories. As Del starts to tell them about the bariatric surgery that he feels has saved his life, Victoria accuses him of having stomach amputation surgery and the battle lines are drawn.
Sarah, the director of Obesity UK, campaigns to end stigma and increase access to services for people living with obesity. But 'fat activist' Victoria wants to fight stigma her own way, on the streets. She challenges the group to join her in a public stand for self-love in a busy city centre. She strips off to her bikini and encourages passers-by to draw hearts and write supportive messages on her body. Babs, who struggles to accept her body, is horrified at the idea of revealing herself in public. Courtney thinks it is one of the best things she has ever done in her life, but what will the passers-by think?
Lorry driver Jack has recently put his own Type 2 diabetes into remission with a regime of diet and exercise. He wants the rest of the group to understand the seriousness of the disease and invites guest Colin to the house. Former night club manager Colin recently had a leg amputated as a result of Type 2 diabetes. He says 'I inflicted diabetes on myself. I love eating, it's my downfall. I found it difficult not to eat all the chips.' But Victoria says she found his language was food shaming. She says 'Crisps, chips and chocolate are morally equivalent to salad'. As a result of Colin's warnings, stand-up comedian Jed, who has not been to see a doctor for six years, decides to go and get a health check.
As the first half of their week draws to a close, Miranda organizes a Fatty Olympics in the garden. As Jed, Sarah and Jack look on, the household has become increasingly divided.
More episodes
Previous
You are at the first episode
Music Played
Timings (where shown) are from the start of the programme in hours and minutes
00:34

La Oreja de Van Gogh

Vestido Azul
Credits
| Role | Contributor |
| --- | --- |
| Narrator | Ewen MacIntosh |
| Composer | Tim Atack |
| Production Manager | Helen Alsop |
| Producer | Clare Johns |
| Producer | Adam Perkins |
| Producer | Emma Pentecost |
| Producer | Alex Scott |
| Producer | Alex Thomas |
| Series Editor | Oliver Manley |
| Series Producer | Charlotte Armstrong |
| Executive Producer | Sara Ramsden |
| Production Company | Love Productions |
Featured in...
A collection of programmes for a healthy mind and body.

Geting Your Year Off, to the Right Start!

A collection of programmes looking at our amazing bodies