Main content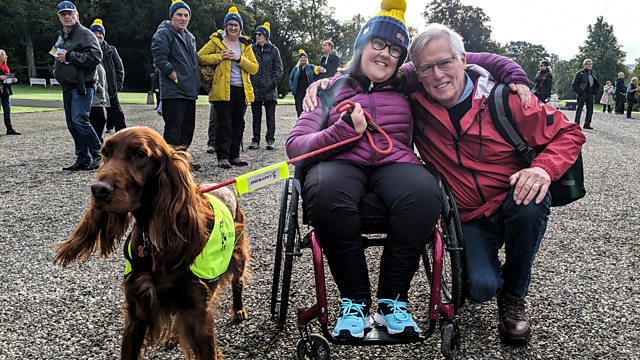 Countryfile Ramble for BBC Children In Need
Matt Baker leads the fifth annual Countryfile Ramble for BBC Children in Need.
For the fifth annual Countryfile Ramble for BBC Children in Need, the team head out across the UK joined by viewers and some inspirational youngsters who've been helped by the charity. They celebrate the beauty of our countryside while raising vital funds for the cause.
Matt Baker takes on the challenge of completing our longest ramble ever, laid down his ramble partner, 14-year-old Ethan, who was born with cerebral palsy.
Ellie Harrison and Steve Brown lead the biggest ramble of all along the city of Worcester's riverside, joined by 16-year-old Aaliyah who suffers from the heart condition cardiomyopathy, while John Craven leads a regal ramble through the grounds of Perthshire's Scone Palace alongside 13-year-old Lucy, who was born with spina bifida hydrocephalus.
Walking with Anita Rani on Cornwall's north coast is 11-year-old Cara, who benefited from Children in Need-funded bereavement counselling, after losing her older sister 18 months ago. Adam Henson heads to Northern Ireland's Glenariff Forest Park, taking in the area's famous waterfalls with children from the Eco Warriors group. And Tom Heap heads to south Wales to catch up with some of the many hundreds of rambles put on by members of the public across the country.
Music Played
Timings (where shown) are from the start of the programme in hours and minutes
Longest-ever Ramble!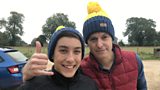 Matt and his ramble partner, 14-year-old Ethan, are walking the longest ramble Countryfile has ever attempted.
At more than six miles along Wiltshire's Ridgeway, this will be no easy feat for Ethan who has diplegic cerebral palsy, which means his legs cannot weight bear and he needs a frame to help him walk.
Children in Need has helped fund a charity called Surfability that has given Ethan the opportunity to achieve more than he could have ever dreamed of.
Trevose Head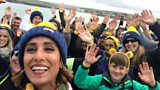 Anita rambles the picturesque Trevose Head heritage coastline in Cornwall, which takes in the awe-inspiring views of Trevose Lighthouse.
Anita joins Cara, who has been helped by BBC Children In Need through the funding it gives to the Donna Louise Trust.
Cara receives bereavement counselling to help her deal with the loss of her sister Elle, who sadly died from cystic fibrosis 18 months ago, aged just 11.
Anita also  takes a break from the ramble to find out more about the life of a lighthouse keeper on this remote windswept headland.
Worcester Ramble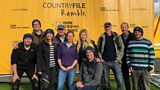 Ellie and Steve host the biggest ramble of the year in the cathedral city of Worcester where hundreds have gathered to walk a circular route in the heart of the city along the River Severn.
Ellie joins 16-year-old Aaliyah on the ramble who suffers from cardiomyopathy, a life-limiting condition in which her heart is damaged and isn't pumping blood around the body effectively.
It means she will eventually need a heart transplant.
Aaliyah wants to help raise money because she is supported by two BBC Children in Need-funded charities, which help her come to terms with her condition and offer care and advice.
Cake, Community... and Truck-Racing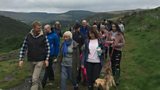 Tom heads to a south Wales village to join one of our viewers' rambles - just in time for the final leg and ready to enjoy a cup of tea and a slice of cake or two!
Tom ends his day in Pembrey, near Llanelli, for a spot of truck-racing... a first for one of our rambles!
Waterfall Ramble
Adam joins Northern Ireland's ramblers in the Glenariff Forrest Park for a trek amongst the waterfalls.
Adam is walking with the Eco Warriors, a group set up by local charity Focus on Family that is funded by BBC Children in Need.  
The Eco Warriors group is for the children of two local council estates to encourage them to learn about the great outdoors.  
Adam also learns more about the little-known history of a once-bustling railway that serviced the remote Forrest Park
In the Footsteps of Kings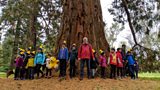 John joins our Scottish ramblers at the royal Scone Palace in Perthshire as they take a walk through its historic pinetum and abundant kitchen garden before finishing with a party at the palace.
John is joined by 13-year-old Lucy and her family. Lucy has spina bifida and hydrocephalus, a rare condition that has left Lucy paralysed from the waist down and which also affects the way her brain processes information.
Lucy receives support from the charity, Spina Bifida Hydrocephalus Scotland, which provides a support worker to visit her at home and enables her to participate in recreational weekends designed specifically for her needs.
John also takes a break from the ramble to meet Scone's head gardener to find out about the history of the Douglas Fir Tree.
Credits
| Role | Contributor |
| --- | --- |
| Presenter | Matt Baker |
| Presenter | Ellie Harrison |
| Presenter | Steve Brown |
| Presenter | Anita Rani |
| Presenter | John Craven |
| Presenter | Adam Henson |
| Presenter | Tom Heap |
| Series Producer | Joanna Brame |
| Executive Producer | Bill Lyons |