Main content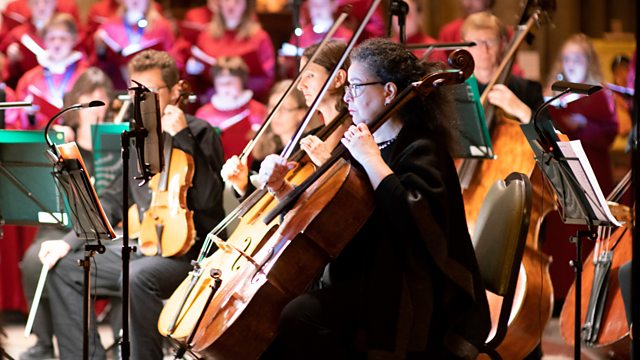 The Fruit of Silence at Truro Cathedral
The City of London Sinfonia and Truro Cathedral Choir perform contemporary choral music at Truro Cathedral by MacMillan, Whitacre and Vasks.
'The Fruit of Silence' is City of London Sinfonia's nationwide tour of cathedrals encouraging audiences to explore the acoustics and spaces of some of the UK's most beautiful buildings. Tonight they reach Truro Cathedral where members of the Cathedral Choir, directed by Christopher Gray, join forces with the City of London Sinfonia to perform a selection of contemporary works ranging from Tavener to Tabakova. The music is performed in different locations around the building, varying from the High Altar to the Boar Chapel, and is an opportunity for listeners and audience members to enjoy the alternating spaces and sounds emanating from this Gothic Revival-style cathedral in the heart of Cornwall.
Recorded earlier this month and presented by Nicola Heywood Thomas.
James MacMillan: A Child's Prayer
Peteris Vasks: The Fruit of Silence
John Tavener: Mother of God here I stand
Arvo Pärt: Summa
Russell Pascoe: Threnody for Jowan
Dobrinka Tabakova: Organum Light
Eric Whitacre: The Seal Lullaby
Arvo Pärt: Fratres
Peteris Vasks: The Fruit of Silence
Dobrinka Tabakov: Centuries of Meditations
Katherine Gregory (soprano)
Helena Paish (soprano)
Truro Cathedral Choir
City of London Sinfonia
Manuel Piazza (piano)
Christopher Gray (director)
Photo © John Jones for City of London Sinfonia and Truro Cathedral, 2019