Main content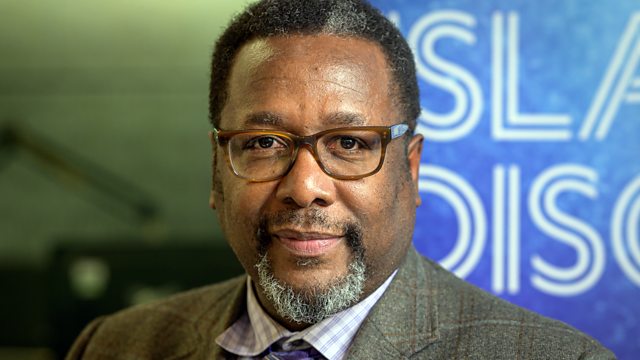 Wendell Pierce, actor
Wendell Pierce, actor, shares the eight tracks, book and luxury he would want to take with him if cast away to a desert island. With Lauren Laverne.
Wendell Pierce is an American actor best known for his role as Bunk Moreland in the television series The Wire. Since the series ended in 2008, he has made around 40 film and television appearances, including Treme, Selma and the legal drama Suits, in which he played Robert Zane, the father of Rachel Zane, played by Meghan Markle. His theatre credits range from The Cherry Orchard to Death of a Salesman.
Born in 1963, the youngest of three sons, Wendell grew up in the Pontchartrain Park area of New Orleans, which was the first middle-class African-American suburban-style development in the city. He graduated from the prestigious Juilliard School in New York and his career got off to a flying start with a small part opposite Tom Hanks in a film called The Money Pit. He hasn't been out of work since.
In 2005, Hurricane Katrina destroyed Wendell's childhood home in New Orleans and he was instrumental in rebuilding his parents' house in Pontchartrain Park. He also built 40 new homes and staged a production of Waiting for Godot on an empty street corner in one of the most devastated districts of the city.
He is currently reprising his role as Willy Loman in Death of a Salesman on stage in London.
DISC ONE: Jim Henson - Bein' Green (Featuring Kermit The Frog)
DISC TWO: Wynton Marsalis - Green Chimneys
DISC THREE: Funkadelic - One Nation Under a Groove (Part 1)
DISC FOUR: Mahalia Jackson - Take My Hand, Precious Lord
DISC FIVE: Joni Mitchell - Both Sides Now
DISC SIX: Solomon Burke - Don't Give Up on Me
DISC SEVEN: Aaron Copland - Appalachian Spring (Doppio Movimento), performed by New York Philharmonic
DISC EIGHT: John Coltrane - A Love Supreme Part I: Acknowledgement
BOOK CHOICE: The Omni-americans: Black Experience And American Culture by Albert Murray.
LUXURY ITEM: A multi-burner barbecue grill
CASTAWAY'S CHOICE: Take My Hand, Precious Lord by Mahalia Jackson
Presenter: Lauren Laverne
Producer: Cathy Drysdale
Last on
Music Played
Jim Henson

Bein' Green

The Muppet Show: Music, Mayhem, And More (The 25th Anniversary Collection).
Rhino Records.
7.

Wynton Marsalis

Green Chimneys

Marsalis Plays Monk - Standard Time, Vol. 4.
Columbia.
14.

Funkadelic

One Nation Under a Groove (Part 1)

One Nation Under a Groove (Part 1).
Westbound.
4.

Mahalia Jackson

Take My Hand, Precious Lord

Gospels, Spirituals And Hymns.
Sony Music Entertainment UK Ltd.
7.

Joni Mitchell

Both Sides Now

Solomon Burke

Don't Give Up on Me

Don't Give Up on Me.
Fat Possum Records.
1.

Aaron Copland

Appalachian Spring Doppio Movimento

Conductor: Leonard Bernstein. Orchestra: New York Philharmonic.

Copland: Appalachian Spring; Rodeo; Billy the Kid; Fanfare for the Common Man.
Sony Classical.
1-8.

John Coltrane

A Love Supreme Part I: Acknowledgement

The Best Of John Coltrane.
Universal-Island Records Limited.
11.
Broadcasts