Main content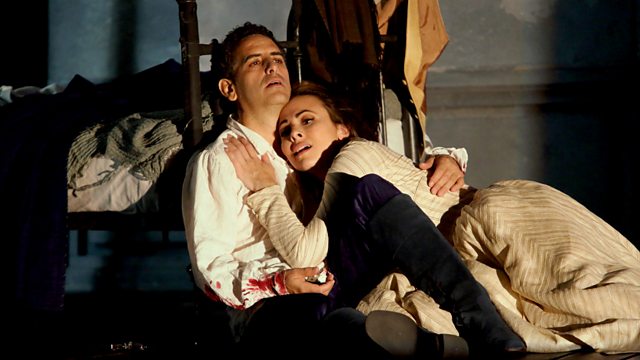 Massenet's Werther from the Royal Opera House
Juan Diego Florez takes the title role of Werther by Massenet, with Isabel Leonard as his love interest Charlotte, conducted by Edward Gardner in a tragic drama inspired in Goethe.
From the Royal Opera House, Covent Garden, Massenet's Werther, recorded earlier this month. The superstar tenor Juan Diego Flórez takes the title role as the doomed, iconic romantic hero, with the mezzo-soprano Isabel Leonard as his love interest Charlotte, in a tragic drama by Jules Massenet, inspired in Goethe's ground-breaking masterpiece 'The Sorrows of Young Werther'. The Royal Opera House orchestra is conducted by Edward Gardner.
Presented by Flora Willson.
Werther.....Juan Diego Flórez (Tenor)
Albert.....Jacques Imbrailo (Baritone)
Charlotte.....Isabel Leonard (Mezzo-soprano)
Sophie.....Heather Engebretson (Soprano)
The Bailli.....Alastair Miles (Bass)
Schmidt.....Vincent Ordonneau (Tenor)
Johann.....Michael Mofidian (Bass Baritone)
Kathchen.....Stephanie Wake-edwards (Mezzo-soprano)
Bruhlmann.....Byeongmin Gil (Bass Baritone)
Royal Opera House Orchestra
Edward Gardner (Conductor)
Last on
Music Played
Jules Massenet

Le Cid

Orchestra: Israel Philharmonic Orchestra. Conductor: Jean Martinon.

Jules Massenet

Fantaisie for cello and orchestra

Performer: Truls Mørk. Orchestra: Orchestre de la Suisse Romande. Conductor: Neeme Järvi.
Synopsis
A village near Frankfurt towards the end of the 18th century
Act I
The garden of the Bailli's house; an evening in July
The Bailli is rehearsing his children in a Christmas carol. Two friends, Johann and Schmidt, arrive and congratulate the children. Sophie, the second daughter of the Bailli, appears and they all discuss the ball set for that evening. Mention is made of Werther, a young poet staying in the neighbourhood, and Schmidt asks after Albert, fiance to the Bailli's eldest daughter Charlotte, and who is soon to return to Wetzlar. Johann and Schmidt leave in anticipation of the evening's drinking, the Bailli ushers his children indoors and Sophie goes to find Charlotte.
Werther arrives, overcome by the beauty and tranquillity of the surroundings; hearing the rehearsal indoors he muses on the children's innocent happiness. Charlotte enters, and Werther watches unobserved as she gives the children their tea. The Bailli notices Werther and presents the children and Charlotte to him. Werther is moved by Charlotte's devotion to the children. Charlotte and Werther leave for the ball; Albert arrives and is greeted by Sophie. He asks if he is still remembered after six months' absence.
Orchestral interlude: Moonlight
Charlotte and Werther return from the dance. He declares his love for her, and she tells him how her mother's early death has left her to take care of the family. Werther becomes increasingly passionate until the Bailli calls from the house that Albert is back. Charlotte tells Werther of her promise to her dying mother to marry Albert. Werther is plunged into despair.
Act II
A Sunday in October, outside a church in Wetzlar
Three months have passed and Charlotte is now settled in her marriage to Albert. As usual, Johann and Schmidt are drinking, while the organ can be heard from inside the church. Charlotte and Albert walk together to the Sunday service, observed by Werther who imagines the happiness with Charlotte that he has lost. When Albert comes out of the church, he speaks kindly to Werther, acknowledging that he may have been in love with Charlotte before her marriage. Sophie interrupts the conversation by bringing a bunch of flowers for the Pastor, who is celebrating his golden wedding anniversary that day. Albert suggests to Werther that he think of marrying Sophie. Charlotte arrives from the church. Werther's obvious infatuation leads her to insist he leave and not return until Christmas. Werther's immediate reaction is to think of suicide. He leaves. Albert, returning, sees Charlotte's sadness at Werther's departure. He understands that Werther is still in love with her.
Act III
Albert's house on Christmas Eve
Missing Werther deeply, Charlotte rereads his letters to her and fears he might not return at Christmas. Sophie interrupts and tries in vain to console Charlotte. Left alone, Charlotte fervently prays to God for help. Werther appears in the doorway. Depite  Charlotte's  efforts to resist, their meeting turns increasingly to one of passion. Overcome by guilt, she bids Werther a final farewell and rushes from the room. Albert returns, aware that Werther has been there. He summons Charlotte and notices her distress. A message arrives from Werther requesting the loan of Albert's  pistols. Albert commands Charlotte to give them to the messenger. Realizing Werther's intention, Charlotte rushes after him.
Orchestral interlude: Christmas Eve
Act IV
Werther's study later the same evening
Werther has shot himself. Charlotte arrives to find him dying, and confesses her love for him. Before he dies, he tells her where he wishes to be buried.
Broadcast