Main content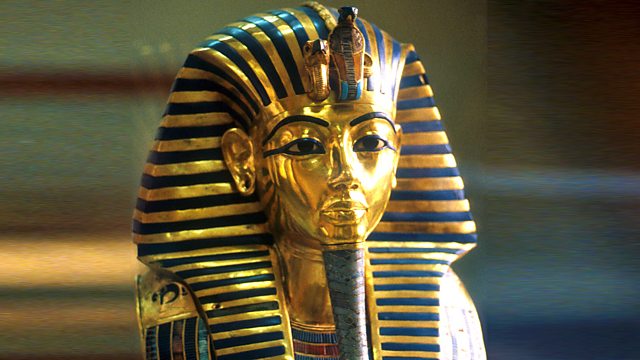 The Cult of King Tut
Patricia Clavin explores the cult of Egyptomania following the opening of King Tutankhamun's Tomb in 1922.
As the largest collection of Tutankhamun's treasures to travel outside of Egypt goes on display in London, Patricia Clavin, Professor of International History at the University of Oxford, explores the cult of Egyptomania following the opening of King Tutankhamun's Tomb in 1922.
Patricia visits the Griffith Institute in Oxford to view the original glass plate negatives of Harry Burton, who meticulously documented Howard Carter and Lord Carnarvon's archaeological excavations of the tomb of Tutankhamun. She notes how Burton set up and staged his photos to make them as dramatic as possible and how these images then flashed around the world in the new mass circulation newspapers, so that "everybody could have a bit of King Tut".
At the Clothworkers' Centre in London, Patricia looks at the V&A's stunning hand-beaded gold lamé evening jacket, made in Paris in 1923, which uses generic Egyptian motifs of birds, snakes and lotus flowers: imagery that appeared everywhere in 1920s art deco design, as well as in mass-produced consumer goods, available to all.
The four statues of the goddess Isis, who guarded Tutankhamun's canopic shrine, are notably modern-looking. Their bobbed hair and shift dresses chimed with the style of the new 1920s modern girl, embodied in the "Jazz Cleopatra", Josephine Baker. From outside Baker's haunt, the Folies Bergère in Paris, Patricia speaks to the musicologist Martin Guerpin about how her styling as a Garçonne and her dancing of the Charleston struck people as the epitome of the liberated woman after the First World War.
When Tutankhamun's mummy was unwrapped in 1925, he was discovered to be a boy king, whose body carried multiple injuries. Patricia talks to Roger Luckhurst about how this captured the imagination of people after the First World War, many of whom were mourning their war dead. This culture of mourning and death also fed the King Tut curse stories which flooded through the Western press at the time.
Patricia concludes that Tut-mania was as much a global project of the imagination as it was about the history of the objects themselves. It connected people to an ancient place and to one another, including the ones they had lost. Through consumption of the past they were able to re-imagine themselves in a different and possibly better world.
Produced by Melissa FitzGerald
A Blakeway production for BBC Radio 4