Main content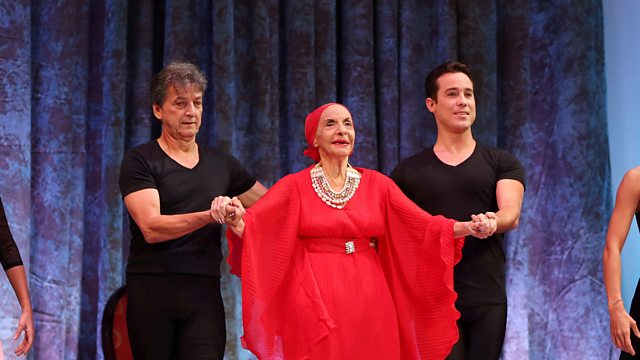 Alicia Alonso, Deborah Orr, Joyce Cansfield, Clora Bryant
Matthew Bannister on ballerina Alicia Alonso, journalist Deborah Orr, crossword setter Joyce Cansfield, trumpeter Clora Bryant.
Pictured: Alicia Alonso
Matthew Bannister on
Alicia Alonso, the Cuban ballerina who went on dancing when her sight began to fail. She also set up the National Ballet Company of Cuba.
Deborah Orr, the witty columnist who also edited the Guardian Weekend magazine.
Joyce Cansfield, the British Scrabble champion and 1983 Brain of Mensa who set more than a thousand crossword puzzles for the Times.
Clora Bryant, the American trumpeter who overcame sexism to forge a career in jazz.
Interviewed guest: Mike Lanchin
Interviewed guest: Sarah Crompton
Interviewed guest: Louisa Young
Interviewed guest: Nigel Williamson
Interviewed guest: Alyn Shipton
Producer: Neil George
Archive clips from: Witness: The First Lady of Cuban Ballet, BBC World Service 28/10/2015; Off the Page, Radio 4 19/07/2010; Carrie Fisher: Guardian column by Deborah Orr, 04/01/2017; Motherwell by Deborah Orr, Orion January 2020; Woman's Hour, Radio 4 26/12/2017; Catchword, BBC Two 02/02/1988; Cross Talk, Radio 4 07/01/2001; Countdown, Channel 4 1982; Central Avenue Sounds Part 3, Radio 3 24/02/2001.
Last on
Alicia Alonso
Born 21 December 1920; died 17 October 2019, aged 98.
Last Word spoke to BBC journalist Mike Lanchin and ballet critic Sarah Crompton. 
Deborah Orr
Born 23 September 1962; died 19 October 2019, aged 57.
Last Word spoke to her friend, writer Louisa Young.
Joyce Cansfield
Born 8 October 1929; died 12 October 2019, aged 90.
Last Word spoke to journalist Nigel Williamson.
Clora Bryant
Born 30 May 1927; died 25 August 2019, aged 92.
Last Word spoke to Alyn Shipton, BBC presenter.
Broadcasts