Main content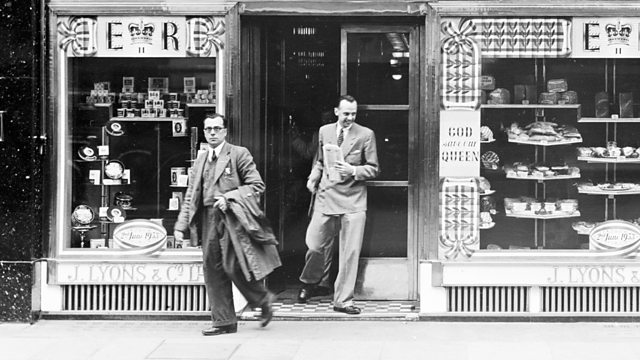 Breaking bread together
Kirsty Wark with Shamil Thakrar, Priya Basil, Joanna Blythman and Thomas Harding.
Hospitality and hostility come from a common root, according to the writer Priya Basil. In her latest book, Be My Guest, she explores the diverse meaning of the Indo-European word 'ghos-ti' which combines host, guest and stranger. She tells Kirsty Wark how breaking bread together is a way of breaking down barriers.
Shamil Thakrar is the co-founder of the award-winning restaurant chain, Dishoom. He traces the roots of the restaurant's success, looking back to the sights, sounds and tastes of the much-loved cosmopolitan Bombay of his childhood.
While Thakrar's father and uncle established the food company, Tilda Rice, when they arrived in London in the 1970s, Thomas Harding's relatives came to Britain in the early 1800s and went on to create the largest catering company in the world: J. Lyons. In Legacy, Harding, looks at how Lyons tea rooms became a fixture on every high street in the country, transforming the way we eat and drink, and democratising eating out.
Lyons pioneered different processed foods, from coffee to ice cream. Food writer Joanna Blythman sees processed food as the biggest peril to our health today. She worries that in the rush to adopt a plant-based diet, we will swap nutritious red meat for meat substitutes full of gum and other additives. Blythman also challenges the idea that only by giving up meat can we save our planet from climate change,
Producer: Katy Hickman
Priya Basil
Priya Basil is a novelist and essay-writer whose previous books include Ishq and Mushq, The Obscure Logic of the Heart and Strangers on the 16:02. She is the co-founder of Authors for Peace, a political platform for writers and artists.
Be My Guest: Reflections on Food, Community and the Meaning of Generosity is published by Canongate.
Shamil Thakrar
Shamil Thakrar is the co-founder of the award-winning restaurant chain, Dishoom.
Dishoom: "From Bombay With Love", co-authored with Kavi Thakrar and Naved Nasir, is published by Bloomsbury.
Thomas Harding
Thomas Harding is an author and journalist who has written for the Sunday Times, Financial Times and the Guardian, among other publications.
Legacy: One Family, a Cup of Tea and the Company that Took on the World is published by William Heinemann.
Joanna Blythman
Joanna Blythman is an award-winning investigative journalist, the author of seven landmark books on food issues, and one of the most authoritative, influential commentators on the British food chain.