Main content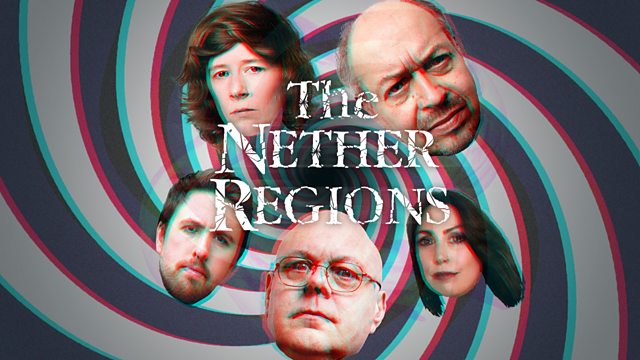 The Nether Regions
Sketches dredged from the Nether Regions of Grant and Marshall's fermented brains. Scream in terror. Then listen to the show. Then scream in terror again.
Wander through the rickety side garden gate of reality, that leads round to the seeping miasma of nightmares we call - The Nether Regions. A place where the laws of physics and even time itself take a day off, put their feet up and watch daytime television in their underpants.
This is our world today, though not quite the today we know. A different today. But almost the same. Only not.
Your guides through this madness - Rob Grant and Andrew Marshall, together with young performers, new to radio, but familiar to the Job Centre.
Gaze now into the swirling vortex that's just appeared before you, courtesy of the Radio 4 Cheap Optical Effects department, and see some sketches from another dimension.
Visit Mrs Amazon's Corner Grocery Shop. From before the internet.
Come with us to a land where nobody wears any underwear, even though it's permanently winter. No, not Newcastle, it's Throne of Forks.
Take a dizzying journey through Nether Regions' speedy box sets and enjoy the entire series of The Crown in 90 seconds.
Meet the tortured souls who are addicted to being Alan Bennett.
These and other mind-munching experiences await the unwary listener. Make sure you book a return ticket.
Created and Written by Rob Grant and Andrew Marshall
Performed by Rob Grant, Andrew Marshall, Helen Cripps, Edward Rowett and Holly Morgan
Studio Engineered and Edited by Jerry Peal
Programme Managed by Sarah Tombling
Recorded at Stratford Circus
Produced and Directed by Gordon Kennedy, Rob Grant and Andrew Marshall
An Absolutely production for BBC Radio 4
Last on
Broadcast