Main content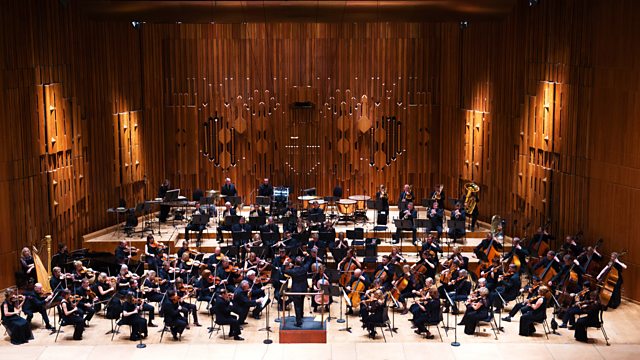 BBC Symphony Orchestra on tour
The BBC Symphony Orchestra performs Huang Ruo, Tchaikovsky and Elgar, with Sir Andrew Davis, in Shanghai and Stravinsky, with Andrei Feher, in London.
From the BBC Symphony Orchestra's recent trip to China, a concert featuring music by Huang Ruo alongside Tchaikovsky's Piano Concerto No.1 and Elgar's Enigma Variations. Also, featuring choral music by Joanna Marsh performed by the BBC Singers and Stravinsky from the BBC Symphony Orchestra.
Presented by Kate Molleson.
Starting a week with material from the BBC Symhony Orchestra's 2019 tour of China, plus other material recorded recently at the Edinburgh Festival and pieces recorded by The BBC Singers, today we feature a concert given in Shanghai by the BBC SO with Radio 3 New Generation Artist Pavel Kolesnikov. The concert - given at the Shanghai Symphony Orchestra Hall - begins with the world premiere of Chinese-born composer Huang Ruo's Folk Songs for Orchestra. Also in the programme were two well-known and much-loved pieces: Tchaikovsky's First Piano Concerto and Elgar's Enigma Variations, all conducted by Sir Andrew Davis.
The afternoon continues with a recent recording of choral music by Joanna Marsh - Arabesques - made by The BBC Singers under Owain Park. And we end at the Maida Vale Studios, and a further concert given by the BBC Symphony Orchestra and conductor Andrei Feher, with the Divertimento from Stravinsky's "The Fairy's Kiss".
2.00pm
Huang Ruo: Folk Songs for Orchestra (world premiere of complete set)
Piotr Ilyich Tchaikovsky: Piano Concerto No.1 in B flat minor, Op.23
Edward Elgar: Variations on an original theme "Enigma", Op.36
BBC Symphony Orchestra
Pavel Kolesnikov, piano
Sir Andrew Davis, conductor
3.40pm
Joanna Marsh: Arabesques
The BBC Singers
Owain Park, conductor
4.00pm
Igor Stravinsky: Divertimento from "The Fairy's Kiss"
BBC Symphony Orchestra
Andrei Feher, conductor