Main content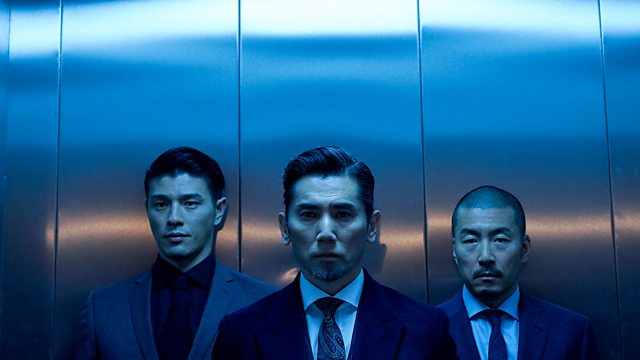 Tokyo detective Kenzo Mori is sent to London to find the brother he thought was dead, now reappeared and wanted for a vicious killing that threatens to tear both cities apart.
Kenzo Mori is a good detective and an adequate husband. He lives in a tiny Tokyo apartment with his constrained wife Rei, insubordinate teenage daughter Taki and elderly, bickering parents Hotaka and Natsuko. It is a dutiful, safe existence overshadowed by the recent death of his impulsive and much-beloved younger brother Yuto.
When Kenzo and his wise-cracking partner Toshio are called in on their day off to investigate a mass shooting, it looks like an attempt to take down reigning Yakuza boss Fukuhara – defying the city's long-held peace treaty. Now, Fukuhara is missing and his enemies are tight-lipped. This could mean war. However, with the exception of a photograph found at the scene – a businessman gruesomely skewered by a wakizashi sword – Tokyo PD have no leads.
That is until Fukuhara turns up at Kenzo's door in the dead of night. Fukuhara reveals the real reason he is under attack – he is being framed for the murder of the man in the photograph. The victim, Saburo Endo, was a civilian living in London and, more importantly, the nephew of Fukuhara's rival Shin Endo. Saburo's killing was a dishonourable act, a violation of the peace treaty and a good cause for retribution, but while Fukuhara is the obvious suspect, he knows who the actual culprit is - his former protege and Kenzo's disgraced brother Yuto.
This is impossible. Yuto is dead. Kenzo witnessed his car being pulled from the ocean. The family grieved. And – even if he were alive – why would Yuto be in London orchestrating a murder?
Kenzo doesn't trust Fukuhara, but he can't deny that Yuto was the last person to be seen with the distinctive Fukuhara family sword that was used to kill Saburo. Even Kenzo's boss Hayashi is prepared to work covertly with Fukuhara to arrest Yuto if it prevents more bloodshed. Kenzo has no choice, he must travel to London, and – if Fukuhara's suspicions are true – bring Yuto home to face justice. The Mori family's honour and the city's fragile peace treaty depend on it.
Flashing back to the news that Yuto might be alive brings Kenzo's memories rushing to the surface - Yuto in the pouring rain, crying that he may have accidentally killed a man during a botched robbery on a bookmaker's, begging for Kenzo's help and Kenzo's assurance that he will fix it.
More episodes
Previous
You are at the first episode
Music Played
Timings (where shown) are from the start of the programme in hours and minutes
00:48

Fat White Family

Who's The Whitest Boy On The Beach?

00:56

The Zombies

Time Of The Season

00:57

Charles Bradley

Where Do We Go From Here

00:58

Gaz Coombes

To The Wire
Credits
| Role | Contributor |
| --- | --- |
| Kenzo | Takehiro Hira |
| Sarah | Kelly Macdonald |
| Yuto | Yosuke Kubozuka |
| Rodney | Will Sharpe |
| Taki | Aoi Okuyama |
| Fukuhara | Masahiro Motoki |
| Rei | Yuko Nakamura |
| Natsuko | Mitsuko Oka |
| Donna | Sophia Brown |
| Toshio | Katsuya |
| Angling | Tony Pitts |
| Roy | Tony Way |
| Saburo | Masaya Mimura |
| Goro Eda | Yoshi Sakou |
| Hotaka | Togo Igawa |
| Shin Endo | Katsuya Kobayashi |
| Jiro | Yoshiki Minato |
| Chief Inspector Hayashi | Kazuyuki Tsumura |
| Tiff | John Mccrea |
| Eiji | Ken Yamamura |
| Newsreader | Yasuna Mizobata |
| Uniformed Cop | Daikan Morishima |
| Shin Endo Heavy | Kazuto Shimamoto |
| Takashi | Jozef Aoki |
| Gangster | Takahiro Kameoka |
| Bill | Andrew Joshi |
| Beth | Hannah Isherwood |
| Alex | Alex Gok |
| Dan | Joseph Kennedy |
| Suzume | Haruka Abe |
| Japanese Bartender | Yojiro Ichikawa |
| Hisateru | Eiji Mihara |
| Sora | Burger Hasegawa |
| Writer | Joe Barton |
| Director | Julian Farino |
| Producer | Susie Liggat |
| Executive Producer | Jane Featherstone |
| Executive Producer | Chris Fry |
| Executive Producer | Joe Barton |
| Executive Producer | Julian Farino |
| Production Company | Sister Pictures |
Featured in...
Once you watch you just can't stop with these gripping shows.

Thrillingly tense drama, belly-laugh funny comedy, and stories to break your heart.