Main content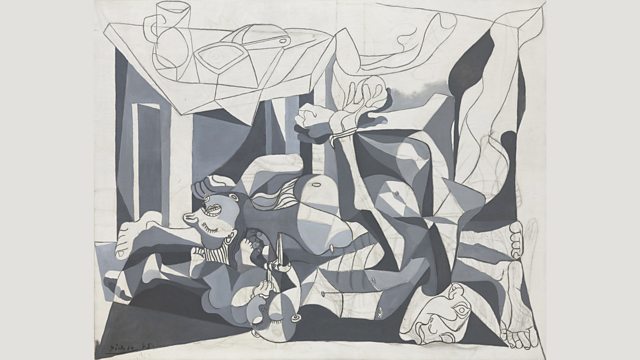 Steven Pinker and Picasso
Radio 3 presents a radiophonic art exhibition, as 30 of the world's most creative minds choose a favourite work from the Museum of Modern Art in New York. Ep5 Pinker and Picasso.
Art critic Alastair Sooke, in the company of some of the leading creatives of our age, continues his deep dive into the stunning works in the Museum of Modern Art's collection, whilst exploring what it really means "to see" art.
Today's edition features Harvard professor Steven Pinker. As an experimental psychologist, Steven has written extensively about violence - and for his choice from the gallery's collection he has selected two of Pablo Picasso's most gruesome depictions of man's inhumanity, Charnel House and Guernica, now housed in Madrid.
Producer: Tom Alban
"The Way I See It" is a co-production of the BBC and the Museum of Modern Art, New York
Main Image: Pablo Picasso, The Charnel House, 1944-45. Oil and charcoal on canvas, 6' 6 5/8" x 8' 2 1/2" (199.8 x 250.1 cm). Mrs. Sam A. Lewisohn Bequest (by exchange), and Mrs. Marya Bernard Fund in memory of her husband Dr. Bernard Bernard, and anonymous funds, The Museum of Modern Art, New York, 93.1971. © 2019 Estate of Pablo Picasso / Artists Rights Society (ARS), New York
Last on

Selected by Professor Steven Pinker from Harvard University.
Broadcasts

What did we find out when a cosmologist looked at Van Gogh's The Starry Night?
Podcast
Leading creative thinkers choose an artwork from MoMA and talk about how it inspires them.