Main content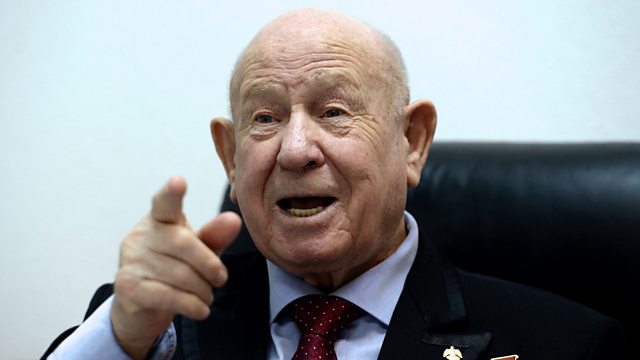 Alexei Leonov, Sally Soames, Kary Mullis, Reg Watson
Matthew Bannister on cosmonaut Alexei Leonov, photographer Sally Soames, biochemist Kary Mullis and producer Reg Watson.
Pictured: Alexei Leonov
Matthew Bannister on
The Soviet cosmonaut Alexei Leonov who was the first person to walk in space.
Sally Soames, the photographer who made portraits of many leading politicians and celebrities as well as working in war zones. Her niece Claudia Winkleman and sister in law Eve Pollard pay tribute.
Kary Mullis, the Nobel Prize-winning biochemist who invented PCR - a revolutionary technique for speeding up the process of analysing DNA. He also enjoyed surfing and experimented with LSD.
Reg Watson, the TV producer behind the successful soap operas Crossroads and Neighbours.
Interviewed guest: Doug Millard
Interviewed guest: Claudia Winkleman
Interviewed guest: Eve Pollard
Interviewed guest: Nancy Mullis
Interviewed guest: Anthony Liversidge
Interviewed guest: Anthony Hayward
Producer: Neil George
Archive clips from: Soviet Astronaut Leaves Spacecraft During Flight, BBC Sound Archive 21/03/1965; Two Sides of the Moon, Radio 4 13/04/2004; Today, Radio 4 12/10/2019; South East At Six, BBC One 30/09/1983; Kary Mullis: Google Tech Talk 17/09/2010; Horizon: Psychedelic Science, BBC Two 27/02/1997; The Kary Mullis Nobel Prize, Bonhams Auctioneers 19/01/2016; Crossroads, ITV 1985; Eyewitness with Reg Watson, Daily Motion; Neighbours, BBC One 1987; Harry Enfield and Chums, BBC One 1997; The Hitchhiker's Guide to the Galaxy, Radio 4 September 2004.
Alexei Leonov
Born 30 May 1934, died 11 October 2019; aged 85.
Last Word spoke to curator and editor Doug Millard.
Sally Soames
Born 21 January 1937, died 5 October 2019; aged 82.
Last Word spoke to her niece Claudia Winkleman and her sister in law Eve Pollard.
Kary Mullis
Born 28 December 1944, died 7 August 2019; aged 74.
Last Word spoke to his wife Nancy Mullis, and science writer Anthony Liversidge.
Reg Watson
Born 27 August 1926, died 8 October 2019; aged 93.
Last Word spoke to writer and historian Anthony Hayward.