Main content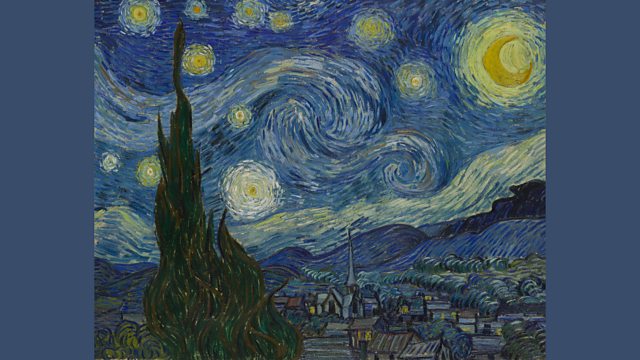 Starry Night and Janna Levin
Radio 3 presents a radiophonic art exhibition, as 30 of the world's most creative minds choose their favourite work from the Museum of Modern Art in New York. Ep 1 Starry Night.
Art critic Alastair Sooke, in the company of some of the leading creatives of our age, takes us on a deep dive into the stunning works in the Museum of Modern Art's collection, whilst exploring what it really means "to see" art.
Leading cultural figures in the series include Grammy- and Emmy-award-winning Hollywood actor and comedian Steve Martin, the author of the New York Times best-selling essay collection Roxane Gay, one of the founders of minimalism – composer Steve Reich and stand-up comedian Margaret Cho. Each episode introduces us to an important art work in the collection, but asks how our own perspective affects our appreciation of the piece.
So, how does a jazz pianist see Mondrian's Broadway Boogie Woogie? How does one of the first black women to write for Marvel comics see the difficult truths in Kara Walker's sweeping image of African-American history? What does a top fashion designer decode from the clothes painted by an artist in Harlem in the 1930s?
But we start with possibly the most iconic piece in MoMA's collection - Starry Night by Vincent Van Gogh. Professor Janna Levin is one of America's leading cosmologists; her specialism is understanding black holes. How does she see Van Gogh's night sky, painted from inside an asylum as he battled mental illness?
Producer: Paul Kobrak
"The Way I See It" is a co-production of the BBC and the Museum of Modern Art, New York
Image Credit: Vincent van Gogh, The Starry Night, June 1889. Oil on canvas, 29 x 36 1/4" (73.7 x 92.1 cm). Acquired through the Lillie P. Bliss Bequest (by exchange). The Museum of Modern Art, New York, 472.1941
More episodes
Previous
You are at the first episode
Selected by Professor Janna Levin, one of America's leading cosmologists.
What did we find out when a cosmologist looked at Van Gogh's The Starry Night?
Podcast
Leading creative thinkers choose an artwork from MoMA and talk about how it inspires them.