Main content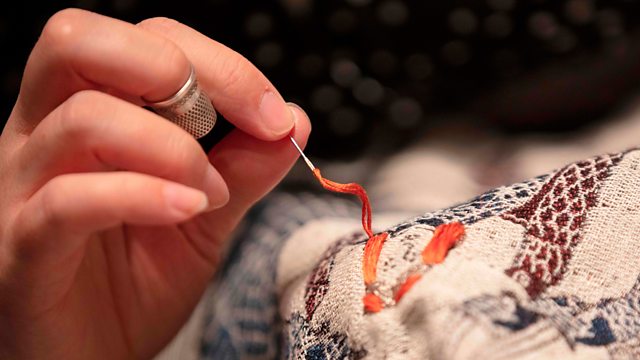 Embroidering the Truth
Comedy by Abigail Youngman. Armed only with a needle, ex-queen Edith fights to save her skin and create a masterpiece of PR and embroidery. Stars Katy Brand and Charlie Anson.
Comedy-drama by Abigail Youngman, starring Katy Brand and Charlie Anson.
Rapacious Bishop Odo meets his match in Anglo-Saxon ex-queen, Edith. He wants her wealth: she wants to survive. Armed only with a needle, she leads a group of women in a bid to outwit their violent Norman oppressors. Her plan? To save her skin, and in the process to create a masterpiece and a message that will last a thousand years: the Bayeux Tapestry.
The year is 1070. England is occupied by the Normans. They use any means necessary to suppress English rebels. A group of disparate women fleeing for their lives find themselves living, almost imprisoned, in Wilton Abbey. They include former Queen of England, Edith of Wessex. She has been allowed to keep her lands and wealth because she has paid tribute to the new King, William. But William's cruel and powerful half-brother Bishop Odo has other ideas.
English needle work was the best in the Western World. Edith persuades Odo that she can set out the definitive story of William's conquest in the form of an embroidery. So he must keep them alive. But first Edith has to convince women traumatised by the invasion to work for the enemy while they find ways to stitch their secrets into the embroidery, risking their lives to tell the truth. Will Odo discover their hidden messages and take revenge? And why does Wulgyth like embroidering willies so much (there are ninety-three altogether)?
This needle-sharp comedy takes inspiration from real scenes found in the borders of the Bayeux Tapestry.
Queen Edith...Katy Brand
Bishop Odo...Charlie Anson
Gunnhilda...Katy Sobey
Edeva...Lisa Zahra
Wadard...Jonny Holden
Wulfgyth...Rosie Cavaliero
Mathilde...Tracy Wiles
Producer...Mary Ward-Lowery