Main content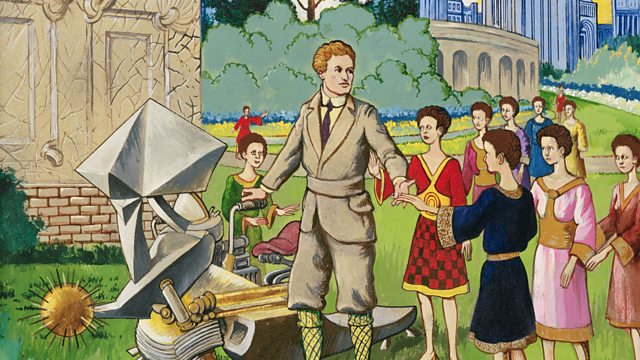 The Time Machine
Melvyn Bragg and guests discuss the ideas and anxieties in late Victorian London, explored by HG Wells in his story of time travel, evolution and a planet unfit for humans.
Melvyn Bragg and guests discuss the ideas explored in HG Wells' novella, published in 1895, in which the Time Traveller moves forward to 802,701 AD. There he finds humanity has evolved into the Eloi and Morlocks, where the Eloi are small but leisured fruitarians and the Morlocks live below ground, carry out the work and have a different diet. Escaping the Morlocks, he travels millions of years into the future, where the environment no longer supports humanity.
The image above is from a painting by Anton Brzezinski of a scene from The Time Machine, with the Time Traveller meeting the Eloi
With
Simon Schaffer
Professor of History of Science at Cambridge University
Amanda Rees
Historian of science at the University of York
And
Simon James
Professor in the Department of English Studies at Durham University
Producer: Simon Tillotson
Last on
LINKS AND FURTHER READING
Simon Schaffer at the University of Cambridge
Amanda Rees at the University of York
Simon James at Durham University
The Wellsian: The Journal of the H. G. Wells Society
READING LIST:
Stephen Baxter, Evolution (Gollancz, 2003)
Bernard Bergonzi, The Early H. G. Wells: A Study of the Scientific Romances (Manchester University Press, 1961)
Daniele Chatelaine, Patrick Parrinder and George Slusser (eds.), H. G. Wells' Perennial Time Machine (University of Georgia Press, 2016)
James Gleick, Time Travel: A History (Fourth Estate, 2017)
Mark Hillegas, The Future as Nightmare: HG Wells and the Anti-Utopians (Oxford University Press, 1967)
Steven McLean, The Early Fiction of H G Wells: Fantasies of Science (Palgrave Macmillan, 2009)
Patrick Parrinder, Shadows of the Future: H G Wells, Science Fiction and Prophecy (Syracuse University Press, 1996)
Amanda Rees and Iwan Rhys Morus, Presenting Futures Past: Science Fiction and the History of Science (University of Chicago Press, 2019)
Adam Roberts, A History of Science Fiction (Palgrave, 2005)
Michael Sherborne, H. G. Wells: Another Kind of Life (Peter Owen, 2010)
Ann and Jeff Vandermeer, The Time Traveller's Almanac: The Ultimate Treasury of Time Travel Fiction (Head of Zeus, 2018)
H. G. Wells, Experiment in Autobiography: Discoveries and Conclusions of a Very Ordinary Brain (first published 1934; H. G. Wells Library, 2016)
H. G. Wells (ed. Harry Geduld), The Definitive Time Machine: A Critical Edition of H.G.Wells' Scientific Romance with Introduction and Notes (Indiana University Press, 1987)
Broadcasts

Featured in...
Browse the Victorian era within the In Our Time archive.

Browse the 19th Century era within the In Our Time archive.

Popular culture, poetry, music and visual arts and the roles they play in our society.