Main content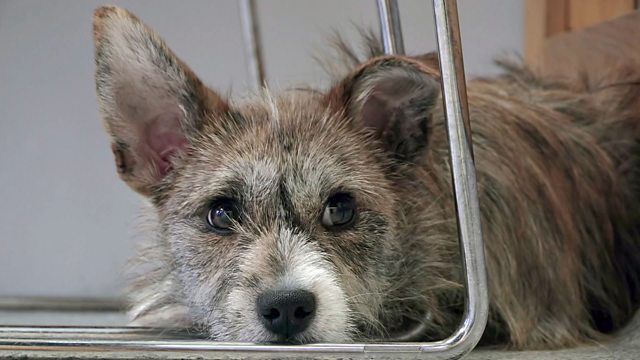 Surgery on a dog, lambing and Mo the gibbon
Obair lannsa toinnte air cù, àm breith nan uan ann an Leòdhas agus Mo an gibbon. Complex surgery on a dog, lambing time in Lewis and Mo the gibbon is poorly.
Anns an t-sreath seo coinnichidh sinn ri lighichean-sprèidh bho air feadh Alba is iad ri frithealadh iomadach seòrsa beathach beag is mòr, peatail agus fiadhaich. Bidh sgeulachdan toileachais agus bròin pailt agus sinn a' coinneachadh ris gach creutair beò.
An t-seachdain-sa, ann an ospadal nam beathaichean beaga aig Sgoil Lighichean Sprèidh Ghlaschu, tha Javier Rincon a' dèanamh obair lannsa air Poppy fo stiùir an t-Ollamh Dòmhnall Yool. Tha cuisle a bharrachd anns a chù agus cha robh cuid den fhuil aice a' dol tron adha, a' ciallachadh nach robh e ga ghlanadh ceart. Tha an lannsaireachd toinnte agus cunnartach.
Ann an Steòrnabhagh, tha Joanna Jackson trang le caoraich aig àm breith nan uan. Agus, aig Sù nan Còig Peathraichean tha Romain Pizzi an dòchas gun toir deuchainn fala fuasgladh dha air slàinte Mo an gibbon.
This series takes viewers on a journey across Scotland following vets as they tend to animals from small to large to very wild. Stories of joy and stories of sadness as we meet all creatures great and small.
In this programme, Javier Rincon performs complex surgery on a seven-month-old dog under the guidance of Professor Donald Yool at Glasgow Vet School. Poppy has a shunt – an extra blood vessel that bypasses her liver and the risky surgery is essential.
It's lambing season in Stornoway and Joanna Jackson is constantly on the road. At Five Sisters Zoo, the keepers have the challenge of catching Mo the gibbon so that Romain Pizzi can anaesthetise her. He wants to carry out some blood tests to find out why she's not been well.
In Gaelic English subtitles
Air a riochdachadh le Midas Media airson BBC ALBA
Aithris is Riochdachadh: Patricia NicLeòid
Stiùireadh is Camara: Scott Brown
Gearradh: Jonny Craigmile
Produced by Midas Media for BBC ALBA
Narrator & Producer: Patricia Macleod
Director & Cameraman: Scott Brown
Editor: Jonny Craigmile