Main content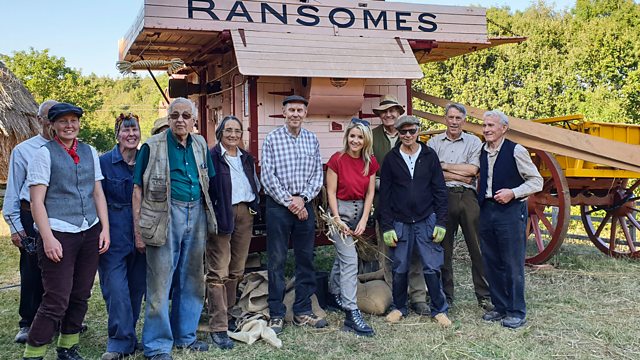 Nature's Bounty
Helen Skelton learns about the history and traditions of harvesting, and we revisit the times when our presenters got stuck in to help harvest this country's varied produce.
Helen Skelton is in Buckinghamshire reaping nature's bounty for a harvest festival and learning about the history of harvesting and the traditions surrounding it – from the introduction of the threshing machine to the origins of the corn dolly.
We'll also be digging into the Countryfile archive to revisit the times we've got stuck in to help harvest our country's varied produce - like the time Matt Baker discovered Jersey Royal potatoes are still unearthed in the same way they were 200 years ago, and when Adam Henson explored the newest techniques used to grow our fruit, meaning it's ripe and ready all year round.
Juicing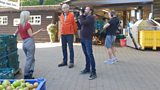 It's apples galore for Helen this harvest and is there anything to match the seasonal tang of their freshly squeezed juice?
Helen knows just what to do with the apples she's picked at the Chiltern Open Air Museum, where the orchards are bursting with fruit.
She visits Evert and Franker Donker to see how an enterprise that started as a way of raising money for a nearby school has now become a successful cottage – or garage - industry that squeezes apples to order.
Jersey Royals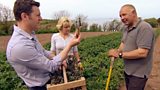 Matt's visiting Jersey as its annual potato harvest is in full swing. 
He discovers the history of the island's ties with the potato while digging up the earliest crop of Jersey Royals with farmers Christine and Didier Hellio. 
Elderflowers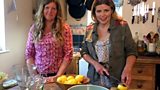 They're one of nature's sweetest treasures and the hedgerows in early summer are heaving with them.
Ellie joins the Rollett family as they handpick the harvest of elderflowers from the slopes of Bredon Hill. 
They've set up a cottage industry producing natural cordials and presses, using the elderflowers on their doorstep. And Worcestershire's got some whoppers!  
Just down the road lives horticultural wizard Edmund Brown. Ed holds the National Collection of Elderflowers and he explains to Ellie the science behind his crossbred varieties that can grow flowers as big as dustbin lids!
Mulberry Bush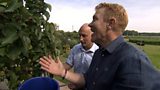 Adam's in Essex to see the latest innovations in strawberry growing.
But it's a lesser known fruit that really gets his interest, the mulberry. 
This delicate fruit has to be picked by hand and it's a messy job, but the juice they make from the mulberry more than makes up for it!
Walnuts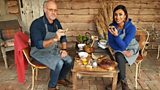 Anita heads to Somerset for a rare autumnal sight – cultivated walnut orchards ripe for harvesting. 
We meet farmer Roger Saul and the team as they attempt for the first time to harvest one of Somerset's newest crops, borrowing technology from one of the county's oldest.
Sea Berries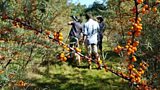 Steve is near Bodmin in Cornwall where he lends a hand in harvesting a berry which is notoriously hard to pick, 'sea berries' from the Sea Buckthorn tree.
Steve meets Sea Buckthorn enthusiast and grower Seth Pascoe, whose love of this fruit has earned him a Nuffield Scholarship.
It's a passion that has also taken him all over the world in a quest to learn more about this little-known superfood!
Now back in Cornwall, Seth is growing his own berries in a bid to spread the word about this amazing fruit and its health benefits.
Gleaning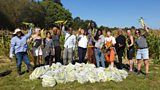 Helen heads to a farm that's taking a very modern spin on one of the oldest farming customs.
Gleaning is a practice that dates back to a time when farmers would let the poor gather scraps of leftover crops from their land.
Today it's being used to help teach people about food and nutrition. Helen meets Charmaine Fyffe and her team of volunteer pickers to find out more.
Credits
| Role | Contributor |
| --- | --- |
| Presenter | Helen Skelton |
| Presenter | Matt Baker |
| Presenter | Adam Henson |
| Series Producer | Joanna Brame |
| Executive Producer | William Lyons |