Main content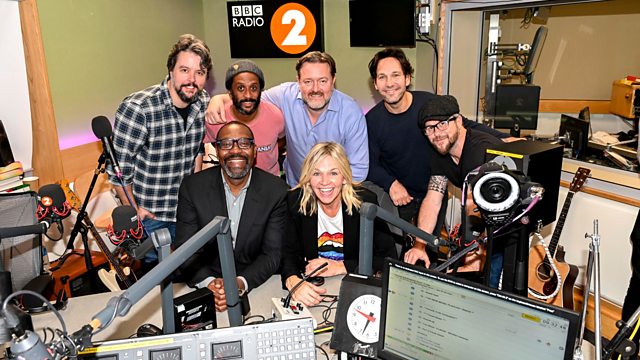 Sir Lenny Henry, Paul Rudd and Elbow
Wake up to a star-studded Friends Round Friday with Zoe Ball. She is joined by Sir Lenny Henry and Paul Rudd! Plus Elbow perform live in the studio.
Wake up to a star-studded Friends Round Friday with Zoe Ball and a whole host of celebrity guests, plus live music in the studio!
Sir Lenny Henry talks about his new book Who Am I, Again? Hollywood superstar Paul Rudd chats about his new Netflix series Living With Yourself. Plus Elbow talking about their brand new album and playing live.
Along with Jason K on news, Richie Anderson on travel and Mike Williams on sport, she and the team have the best start to your morning. With celeb guests, quizzes, headlines, tunes chosen by listeners, and more music that you can shake a glitterball at!
There's also weather with Carol Kirkwood, a daily Pause For Thought and listeners on the line, as Zoe entertains the nation with fun for the family!
Last on
Music Played
Ricky Martin

Livin' La Vida Loca

Emeli Sandé

You Are Not Alone

Real Life.
Virgin EMI.
03.

Daryl Hall

&

John Oates

Out Of Touch

Alesha Dixon

The Boy Does Nothing

The Foundations

Baby Now That I've Found You

Fifty Number Ones Of The 60's (Variou.
Global Television.

Bruce Springsteen

Dancing In The Dark

Bruce Springsteen - Greatest Hits.
Columbia.

Pet Shop Boys

Dreamland (feat. Years & Years)

(CD Single).
x2 Recordings.

Sia

Chandelier

Now That's What I Call Music! 88 (Various Artists).
Now.
1.

Tina Turner

The Best

Tina Turner - Simply The Best.
Capitol.

Madonna

Ray Of Light

Celebration.
Warner Bros.
10.

Ingrid Andress

Lady Like

Lady Like.
Warner Music Nashville.

Louise

Stuck In The Middle With You

(CD Single).
Emi:chrysalis.

The Everly Brothers

Wake Up Little Susie

Acuff-Rose Opryland Music: 50th Anniv.
Acuff-Rose Opryland.

Four Tops

Loco In Acapulco

Their Greatest Hits.
Telstar.

Kool & the Gang

Celebration

Kool & The Gang - The Singles Collect.
Phonogram.

Post Malone

Circles

(CD Single).
Republic Records.

Scouting for Girls

Dancing With You

The Trouble With Boys.
SonyCMGUK.

James Blunt

Cold

Once Upon A Mind.
Atlantic.
Pause For Thought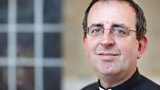 From the Reverend Richard Coles:
 I was in a restaurant the other day eating alone at a bar, sitting on a bar stool, a nice one, solid construction. Unfortunately, without me realising it, my belt had got stuck on the back, and when I got up to leave, the stool came with me, and I tripped over it and fell, taking with me most of my crockery, which smashed into pieces. It also, awkwardly, pulled my trousers down, and left me sprawling on the floor, my greyest M&S pants exposed to the whole restaurant. A horrified silence fell. It had taken fewer than five seconds to go from a state of nonchalant composure to total humiliation.
Good news: people were immediately, expertly, helpful, getting me up, allowing me to hoist aloft my trousers, brush the crumbs of quesadilla from my jumper, making light of my indignity. 

Two things I observed from this: first, that people are kinder than you'd think they might be. A vicar being de-trousered in a Mexican restaurant is of course comedy gold, but if people found it funny they managed to contain their guffaws. On the contrary, in that moment perhaps a different circuit fired up, not delight in another's misfortune, but a recognition that there, but for grace of God, go I. After all, who HASN'T lost their trousers in a Mexican restaurant?

Second, that just when everything in your life is going well, all your plans are coming to fruition, and success is assured, without warning something happens and it all comes crashing down. 

I thought of this talking to volunteers from the marvellous St Francis Hospice in Essex this week. All of them had been through that, being hit by unforeseen disaster; a cough which proved persistent, fatigue that didn't go away, and a diagnosis that led them, unprepared and undeserving, to a bedside and the loss of someone dear. 

And all of them had found, in their predicament, a purpose: to see that no-one's life should end like so much sand falling through an hourglass, but be filled with love and care. 

It is Hospice Care Week; and as someone who has reasons to be grateful for the work of hospices both personally and professionally, on behalf of everyone else who's been there too, a heartfelt thanks for the amazing work you do.
Broadcast