Main content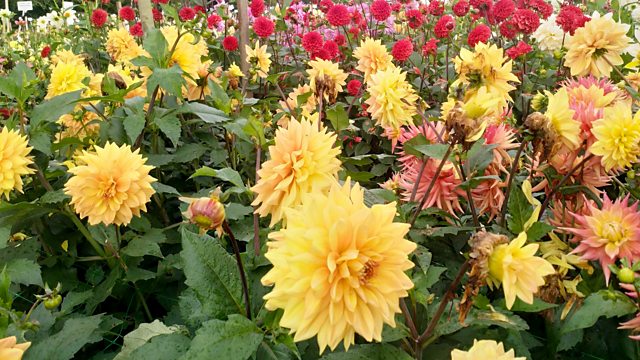 Chesham
Kathy Clugston and the panel are in Chesham.
Kathy Clugston is joined by Pippa Greenwood, Christine Walkden and Matt Biggs in Chesham.
This week the panel come up with alternative planting competitions, give suggestions for colourful hanging baskets through the winter months, and identify a pear tree pest. They also offer advice for growing on chalky soil.
Away from the questions, Pippa visits Nick Gilbert at Gilbert's Dahlia Nursery.
Producer: Hannah Newton
Assistant Producer: Rosie Merotra
A Somethin' Else production for BBC Radio 4
Plant List
Questions and time codes are below. Where applicable plant names are listed
Q – We run a spud in a bucket competition, but can you recommend any alternative competition ideas?
(1 minute 45 seconds)
Q – Can I grow fruit trees on solid chalk? If yes, why are mine doing so poorly?
(4 minutes 22 seconds)
Q – I've had slow worms in my wooden compost box for years and I'm afraid to turn the compost for fear of injuring them; do they dive down when you touch the compost?
(8 minutes 13 seconds)
Q – I'm trying to grow a yellow seed peony from seed without much luck; the outer skin of the seed is hard, so I've tried to grate it to help – can you offer me some advice?
(9 minutes 52 seconds)
Feature – Dahlias
(12 minutes 20 seconds)
'Apricot Desire'
Q – Is it possible to create hanging baskets and troughs that are as colourful as spring/summer, through the winter months?
(20 minutes 48 seconds)
Christine – Pansies, and violas
Pippa – Euonymus
Pernettya
Crocus
Iris reticulata
Matt – Cyclamen
Heathers
Carex – Sedges
Variegated ivy
Jerusalem cherry (Solanum pseudocapsicum)
Q – We have a four-year-old Crinodendron in a large pot on the patio which is now 10ft (3m) high. Can we replant it in open ground, given that we have lime, chalky soil?
(24 minutes 32 seconds)
Q – My pear tree has an infestation – could you tell me what it is, and how to stop it?
(27 minutes 58 seconds)      
Correspondence
(31 minutes)
Q – How would you suggest I plant a very narrow bed (1ft/30cm deep, 8ft/243cm wide), with poor stony soil at the foot of a 6ft/182cm wall?
(35 minutes 3 seconds)
Matt – Lavender
Artemisia
Cistus (Rock rose)
Sternbergia
Cyclamen
Crocus
Rosemary
Christine – Nandina domestica
Abelia
Spiraea
Variegated leaf Pittosporum
Q – I have been told you should never water the leaves of cucumbers but spray the flowers of a tomato to help them fruit – is this true?
(36 minutes 48 seconds)