Main content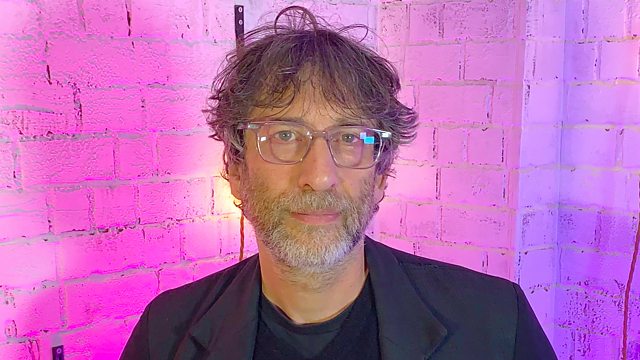 Neil Gaiman (Graphic Content)
The author of Sandman, Good Omens and American Gods among much else, picks some of the music that's shaped him. With tracks from Bowie, Dusty Springfield and Tori Amos.
The multi-award-winning author of Sandman, Good Omens & American Gods picks some of the music that's shaped him. With tracks from David Bowie, Dusty Springfield, Elvis Costello, Amanda Palmer and Tori Amos.
A writer of comics, graphic novels, fiction, films, and plenty in between, Neil talks about how music has influenced him over his long and varied career.
This is part of 6 Music's Paperback Writers: Graphic Content series, focussing on where the worlds of comics and music collide. Alan Moore kicks things off on the 4th October, with the legendary comic book writer sharing two hours of his favourite music. He talks to producer and writer Richard Norris about the important part it's played in his life. Hannah Berry, the UK's current Comics Laureate takes over the reins next Sunday 13th October, and Castlevania creator Warren Ellis completes the line up with an hour of his favourite music on 20th October.
Last on

Music Played
Elvis Costello

Waiting For The End Of The World

My Aim Is True.
Stiff Records.

Al Stewart

Soho (Needless To Say)

Past, Present & Future.
CBS.

Courtney Barnett

Avant Gardener

Amanda Palmer

Voicemail For Jill

There Will Be No Intermission.
8ft. Records.

Lou Reed

Walk On The Wild Side

Dusty Springfield

I Only Want To Be With You

Dusty- The Silver Collection.
Philips.

David Bowie

Rock 'n' Roll Suicide

Bob Dylan

Subterranean Homesick Blues

The Gothic Archies

How Do You Slow This Thing Down?

The Tragic Treasury: Songs From "A Series Of Unfortunate Events".
Nonesuch.

Tori Amos

A Nightingale Sang In Berkley Square

Good Omens (Original Soundtrack).
Silva Screen.
Broadcast