Main content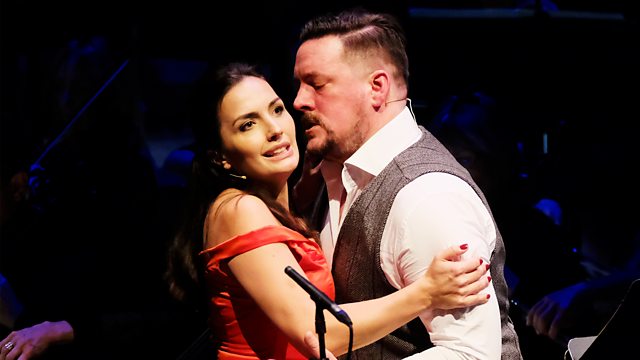 William Alwyn's Miss Julie
Sakari Oramo conducts the BBC Symphony Orchestra and cast in Alwyn's setting of Strindberg's naturalistic play. There's love, lust, despair and tragedy. Recorded at the Barbican.
Sakari Oramo conducts the BBC Symphony Orchestra and cast in Alwyn's setting of Strindberg's naturalistic play. There's love, lust, despair and tragedy.
Recorded at the Barbican Hall, London on Thursday 3rd October
Presented by Andrew McGregor
William Alwyn: Miss Julie:
Act 1
Interval 19.40
Andrew McGregor discusses Miss Julie with Alwyn specialist, Andrew Palmer, Sakari Oramo, and members of the cast.
Act 2
Miss Julie . . . . . Anna Patalong (Soprano)
Jean . . . . . Benedict Nelson (Bass-baritone)
Ulrik . . . . . Samuel Sakker (Tenor)
Kristin . . . . . Rosie Aldridge (Mezzo-soprano)
BBC Symphony Orchestra
Sakari Oramo (Conductor)
In the chilling intensity of August Strindberg's play Miss Julie, the composer William Alwyn found all he needed to write one of the most red-blooded operatic tragedies Britain has ever produced. Alwyn learned lessons from the movies and from Puccini in creating a tense and dramatic opera, known for its signature aria of sexual frenzy 'Midsummer Night'. The neglected composer's operatic tale of infatuation and class tension returns to the BBC for the first time since its premiere in 1977.
The BBC Symphony Orchestra and Chief Conductor Sakari Oramo are joined by an international cast for a landmark concert staging.
SYNOPSIS
The opera is set in the kitchen of a widowed Count's country house in Sweden at the end of the 19th century; the action takes place on Midsummer Night.
ACT 1 Scene 1
The Count's staff are celebrating at a dance in a nearby barn. He himself is spending the night at his sister's – having been driven there by his valet, Jean – and has left his daughter, Miss Julie, in charge of the house. Kristin, the cook, is romantically involved with Jean and is waiting for him to take her to the dance.
Meanwhile Kristin stirs the contents of a saucepan on the stove: a potion for Miss Julie's lapdog that will keep other dogs away. When Jean enters, he has already been to the barn and has danced with Miss Julie – whom he found in the arms of Ulrik, the gamekeeper. Jean and Kristin agree that Miss Julie has become 'crazy, utterly crazy' since her mother took her own life. Jean brazenly opens a bottle of the Count's special wine that he has stolen, then starts to make love to Kristin. Miss Julie enters, ostensibly to enquire about the potion but with the intention of enticing Jean back to the barn. She tells Kristin to go and change for the dance, then sings seductively to Jean about Midsummer Night and persuades him not to wait for Kristin.
Scene 2
It is after midnight when Jean and Miss Julie return from the barn. She taunts him about his peasant background and provokes him sexually. When he eventually kisses her, she slaps his face. His pride dented, he starts to polish the Count's boots sulkily. Miss Julie refuses to leave, and they eventually fall into each other's arms.
They are interrupted by the drunken Ulrik, singing an innuendo-laden song about them. Jean has just enough time to hide Miss Julie in his bedroom before Ulrik lurches in, demanding to have his own fun with her. He reveals that everyone knows she has fallen for Jean, and they are 'laughing their heads off'. When he has left, Miss Julie emerges angry, ashamed, and terrified of the Count's reaction. She has no option but to run away, and Jean sees an opportunity to put a long-cherished plan into action: they will go together, and open a hotel in Lugano. They must leave before daybreak, and meanwhile she can spend the night with him.
ACT 2
It is dawn, and Jean is triumphant. Miss Julie already regrets what has happened but feels that she must go along with Jean's plan – which, she now learns, is dependent on her stealing the Count's money. She eventually obeys and goes upstairs. Kristin enters and notices two glasses on the table. Disbelieving Jean's explanation that he was drinking with Ulrik, she announces that she will avoid the scandal by handing in her notice, after which she and Jean will get married. 'I've got more ambition than that!' he sneers.
Ulrik comes to apologise for his earlier behaviour but begins to fight with Jean. Miss Julie returns, dressed for travel and with a suitcase in one hand. Under her other arm is her dog, which Jean grabs and hands to Ulrik to dispose of outside. A gunshot is heard and Miss Julie collapses, distraught, while Jean and Kristin quarrel. The sudden, ominous ringing of a bell indicates that the Count has returned and Miss Julie watches helplessly as Jean begins to put on his uniform. 'That bell rules my life,' he apologises. As for their hotel in Lugano, it was simply a dream on Midsummer Night.
Half-crazed, she asks him what she should do. He suggests that there is a way out: the way that her mother took – suicide. The bell rings again, and Jean pushes her aside before climbing the stairs. She picks up Kristin's potion then walks slowly and steadily out into the park …