Main content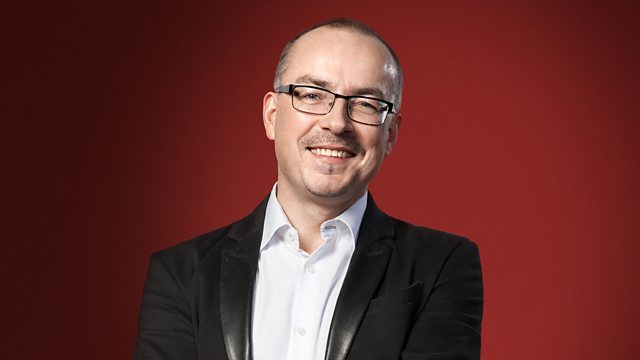 Andrew McGregor with Tom Service and Erica Jeal
The best new classical releases, and Tom Service compares recordings of Richard Strauss's orchestral epic Ein Heldenleben - A Hero's Life in Building a Library.
09.30
Building a Library: Tom Service compares recordings of Richard Strauss's orchestral epic Ein Heldenleben - A Hero's Life - and picks a favourite.
From the mid-1880s until 1915 Richard Strauss established his credentials as one of Europe's leading composers with a series of ten descriptive orchestral tone poems. His subjects ranged from a picture postcard of his Italian summer holidays, through to literary and folk characters and, by 1898, to his favourite subject of all (although he half-heartedly denied it): himself. Strauss's apparently boundless egotism and effrontery outraged contemporary critics, especially when they heard their carping lampooned and then brushed aside by The Hero on his way to more significant and hard-fought victories on life's journey. But it's difficult not to be seduced by the work's swagger and wonderful orchestration, including eight soaring and thrillingly heroic horns, which even today stretches every orchestral player's technique.
Recording Ein Heldenleben has been on every self-respecting Straussian's to-do list, ensuring a never-ending stream of recordings, many from some of the world's great orchestra-conductor partnerships.
10.50
Carnegie Hall, 9 May, 1965. After a 12-year absence from the concert platform, piano legend Vladimir Horowitz makes a triumphant return. The hotly-anticipated recital had been meticulously planned with a series of private concerts at the Hall in the preceding months, given before a handful of friends and family. Erica Jeal has been sifting through Sony's sumptuously presented box set documenting Horowitz's journey to Carnegie Hall, including never-previously-released recordings of the private recitals, to find out if it's worth its £100 price tag.
11.25
Andrew chooses an outstanding new release as his Recording of the Week.
Record Review
9.00am

Eric Coates: Orchestral Works Vol. 1
BBC Philharmonic
John Wilson (conductor)
Chandos CHAN20036
https://www.chandos.net/products/catalogue/CHAN%2020036
Shostakovich: Preludes Op. 31 & Piano Sonatas
Andrey Gugnin (piano)
Hyperion CDA68267
https://www.hyperion-records.co.uk/dc.asp?dc=D_CDA68267

KOTTOS: Songs & Dances – arrangements of works by Bartók, Grieg, Vivaldi et al inspired by songs and dances of European folk music
Kottos
Orchid Classics ORC100105
http://www.orchidclassics.com/releases/orc100105-kottos/
Haydn: Symphony No. 87 'L'Impatiente', plus arias and instrumental music by Grétry, Lemoyne, Ragué etc
Sophie Karthäuser (soprano)
Le Concert de la Loge
Julien Chauvin (violin and director)
Aparté AP210
http://www.apartemusic.com/discography/haydn-symphonie-parisienne-n-87/
9.30am – Building a Library – Tom Service on Richard Strauss' Ein Heldenleben
Composer: Richard Strauss
Reviewer: Tom Service
Recommended Recording:


Symphonieorchester des Bayerischen Rundfunks
Mariss Jansons (conductor)
BR Klassik 900127
Other Recommended Recordings:
Wiener Philharmoniker
Sir Georg Solti (conductor)
Decca 4406182
Berlin Philharmonic Orchestera
Simon Rattle (conductor)
Warner Classics 3393392
Bavarian State Orchestra
Richard Strauss (conductor)
DG 4299252
10.20am – New Releases


Chopin: Impromptus, waltzes & mazurkas
Pavel Kolesnikov (piano)
Hyperion CDA68273
https://www.hyperion-records.co.uk/dc.asp?dc=D_CDA68273
Barbara Strozzi: Virtuosa of Venice – works by Barbara Strozzi as well as Nicolò Fontei, Benedetto Ferrari, Giovanni Girolamo Kasperger and Claudio Monteverdi.
Fieri Consort
Fieri Records FIER003VOV
https://fiericonsort.co.uk/product/barbara-strozzi-virtuosa-venice/
Beethoven Transformed, Volume 1 – Beethoven's Septet in E-flat major, Op. 20 and Sextet in E-flat major, Op. 71 arranged for wind ensemble by Carl Czerny
Boxwood & Brass
Resonus Classics RES10249
https://www.resonusclassics.com/beethoven-transformed-volume-1-boxwood-brass-res10249
Evensong Live 2019: Anthems and Canticles - A celebration of British choral music including works by William Byrd, Nicholas Maw, Judith Weir etc
Choir of King's College Cambridge
Stephen Cleobury, Ben Parry and Christopher Robinson (conductor)
Kings College KGS0038
http://shop.kings.cam.ac.uk/product-p/30000158.htm
Heroine: Reimaginings of the Chaconne from J.S Bach's Partita in D minor BWV. 1004 and Ockeghem's Deo Gratias
Pauline Kim Harris (violin)
Spencer Topel (electronics)
Dorian Sono Luminus DSL92235
https://www.sonoluminus.com/store/heroine
Ernst von Dohnányi: Symphony No. 1 & Symphonic Minutes
Deutsche Staatsphilharmonie Rheinland-Pfalz
Roberto Paternostro (conductor)
Capriccio C5386
http://capriccio.at/ernst-von-dohnanyi-1877-1960

10.45am – New Releases – Erica Jeal on Vladimir Horowitz - The Great Comeback

Vladimir Horowitz - The Great Comeback
Vladimir Horowitz (piano)
Sony 19075935332 (15 CDs)
https://www.sonyclassical.com/releases/19075935332

11.30am – Disc of the Week
Dame Ethel Smyth: Mass in D & Overture to 'The Wreckers'
Susanna Hurrell (soprano)
Catriona Morison (mezzo)
Ben Johnson (tenor)
Duncan Rock (baritone)
BBC Symphony Orchestra and Chorus
Sakari Oramo (conductor)
Chandos CHSA5240 (Hybrid SACD)