Main content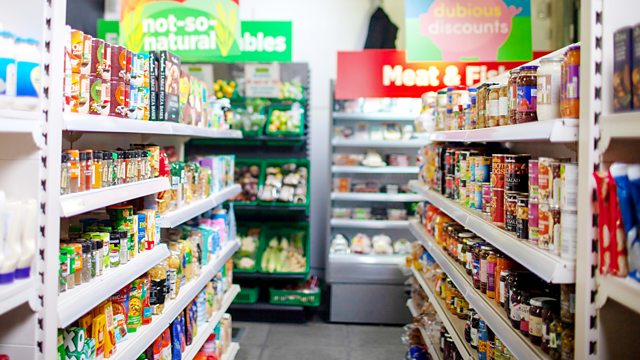 Finding a safe meal
Managing food allergies and dealing with unwanted help.
Burger King had to apologise after a staff member refused to read a brownie's ingredients list to a blind woman with a nut allergy. So how should visually impaired people go about finding safe meals when eating certain foods has serious consequences?
UK Hospitality safety advisor Dr Lisa Ackerley, and Philippa Lomas, a blind mum of two children with severe food allergies, share their thoughts.
Descent Into Darkness by Simon Mahoney tells his sight loss story and is, he hopes, a companion guide for those going through similar.
He explains why he thinks getting registered sight impaired is important, how he deals with unwanted help, and introduces the term gratitude burn-out.
www.wingingitblind.com
In Touch Transcript 08 October 2019
Downloaded from www.bbc.co.uk/radio4
THE ATTACHED TRANSCRIPT WAS TYPED FROM A RECORDING AND NOT COPIED FROM AN ORIGINAL SCRIPT.  BECAUSE OF THE RISK OF MISHEARING AND THE DIFFICULTY IN SOME CASES OF IDENTIFYING INDIVIDUAL SPEAKERS, THE BBC CANNOT VOUCH FOR ITS COMPLETE ACCURACY.
IN TOUCH – Finding a Safe Meal
TX:  08.10.2019  2040-2100
PRESENTER:          PETER WHITE
PRODUCER:            EMMA TRACEY
White
Good evening.  Tonight – who tells you how to cope with losing your sight?  Well according to our studio guest today nobody does.  So, having gone through the experience himself, over the past few years, he's taken on the job and written a book, it's called Descent into Darkness. 
Simon Mahoney, just explain what it was that prompted this book.
Mahoney
It was absolutely terrifying when I started to lose my sight and what was even more appalling was there was absolutely no information readily available to help me cope with it.
White
From no one?
Mahoney
From no one.  The NHS were fine dealing with the eyes but they didn't seem to understand sight loss and the issues involved.
White
Right.  Well more from Simon later.
But first, Burger King has apologised to a blind woman with a food allergy after she was told staff weren't allowed to read out a list of ingredients to her.  Medina Hall had made her nut allergy known but was told that while staff could give her a menu under company policy customers had to read it themselves.
Well Burger King subsequently said that there's no such policy, have offered Medina an apology and they say they're looking into it.  But it does raise the question – how can a visually impaired person with an allergy be certain that they're not eating something which could endanger their lives?
Dr Lisa Ackerley is the safety adviser for UK hospitality.
Lisa, what are the rules, at the moment, which people selling food have to obey?
Ackerley
Well basically, what they have to do is if they're asked to give some information about an allergen in food, they have to have that information available so that they can advise the customer about whether that allergen is an ingredient in any of the foods on their menu.
White
So, do you think the law, as it stands now, goes far enough?
Ackerley
What we have at the moment is a very difficult situation, in particular in relation to foods that are pre-packed for direct sale.  Businesses will have to label foods whether or not customers can actually see the label, it's a law that won't take into account cross contact, because it only looks at ingredients in food, it's going to reduce people actually asking about allergens and that's what we're really concerned about because we think that allergens are so important and the only way that a business will know that they've got someone who is allergic to something is if that person actually tells them.
White
And of course, that's the only way that a visually impaired person can be sure as well, isn't it?
Ackerley
Absolutely right.
White
In terms of the law what would put that right?
Ackerley
Well we actually feel that there should be more emphasis on training and guidance and where you've got a packaged food that doesn't have the full ingredients list what we actually wanted was for there to be a great big sticker on there saying:  Please ask about allergens.  And of course, if you're visually impaired that sticker's not going to help.  The other thing is for businesses to actually ask every guest:  Do we need to know about any allergens.  And one of the things that we found is that a lot of guests who are allergic don't actually make that clear to the business before eating, so they're sort of taking a risk and that's very dangerous for everybody.
White
I mean that rather sounds as if you think that quite a lot of responsibility actually does have to rest with the public.
Ackerley
Well if the business doesn't know that someone's got an allergy then they can't help them really.  And so, what we want is for people to engage in a dialogue and for this to be a partnership rather than a battle or a blame game or anything and then the business goes through the menu and the ingredients in the menu and also very critically, anything to do with cross contact.  So, for example, if someone's making a sandwich out of fish and they went on to making an egg sandwich there may be some potential for cross contamination if they don't know that they have to make sure that somebody with an egg allergy has to have no egg on the food.
White
Wouldn't you expect though that after tragic cases, such as the death of Natasha Ednan-Laperouse outlets would be super careful now?
Ackerley
Well in that particular case the packaging did not, at the time, need to have any full label on it in terms of ingredients or allergens.  And there was a label nearby saying:  Please ask about allergens, which is what the law requires.
White
And I gather in some cases you've seen people can almost be too careful, to the point where they create other kinds of potential dangers?
Ackerley
Well that can happen.  For example, I've seen recently people putting tongs out and saying please don't mix the tongs up on the buffet because it might put customers at risk.  But of course, that's really dangerous anyway, it would be much better for the allergic customer to say I'm allergic to whatever it is and the business to actually make them a meal that hasn't been on the buffet and subject to all sorts of cross contamination from other customers.
White
What advice specifically would you give to blind and partially sighted people who need to be sure that they're safe?
Ackerley
In a way it's the same for everybody but in particular I would say ring ahead, I've got a colleague who's severely allergic to nuts and she does ring ahead and check that the business can provide her with a safe meal.  And I would say also do some risk assessment, you know, if you go into a restaurant and someone says well, I think it's alright, then it probably isn't, that's not a good enough answer.  So, I think we actually need to sort of make sure that people are aware to look for the signs were the business perhaps isn't as well tuned in as it might be.
White
Dr Lisa Ackerley, thank you very much indeed.
Well also joining us is Philippa Lomaz, she's a blind mum of two children, with serious milk and soya allergies.
What was your reaction to the story?
Lomaz
It's actually, sadly, very common.  I've taken my children, sometimes, to cafes or bakeries, I'll say to them can we have a doughnut, for example, does your doughnut contain soya, contain milk and they'll say – I don't know, it wasn't baked on the premises.
White
And what happens if your children do eat or drink something with milk in it?
Lomaz
Well they have a milk and a soya allergy so if they're exposed to milk they have stomach ache and stomach problems and are very miserable because of it and they just get very mucusy and very generally run down.  And the effects can last a few days.  And with soya they projectile vomit and their joints ache.
White
I gather one of them had to take quite a lot of time off school.
Lomaz
Yes, when there was a mix up with the burger, which I specifically said can you make sure the burger doesn't contain any soya and it did, so she had a week off.
White
So, when you're eating out with them, how do you go about making sure that there's no milk in what they're served?
Lomaz
Usually I go to places that I know they can have some of the things and I either take somebody with me to check or I just give them, from this prescribed list of foods that I know other people with the same allergies have eaten and been okay with.
White
And what about parties, you know, where there are all sorts of people milling around, offering food, other children, it must be very hard to police?
Lomaz
Yeah, it is very, very hard.  My eldest is particularly good, she will ask.  But my youngest is only two and I'm having to say to parents, look they have a soya allergy, a milk allergy, do you want me to provide food for them.  It's very much my responsibility to make sure that what they're eating is okay.
White
Do you calculate how much time you have to spend on this, getting it right?
Lomaz
It definitely is time consuming, when you think about the fact that I need to make them their own bread because bread has soya and when I have to check lists of ingredients on my online shopping, tap on each product and make sure it's got no milk or soya.  I've clicked on a product and read the list of ingredients on the online shopping app and then I've got the product, fed it to my children, they were then poorly.  So, I then had to get a sighted person to look at what I'd fed them and they said oh, the packaging's changed, let's see if the ingredients have changed and they had and the online ingredients hadn't been updated.
White
What else could be done to make it safer for you?
Lomaz
Making sure that supermarkets keep up to date, that that list of ingredients on the apps and on the websites is kept completely up to date and also there are things like seeing AI and apps that you can scan barcodes with and making sure that under the barcode everything is registered, not just the cooking guidelines but the ingredients as well.  And restaurants, if they could put their menu online then you could read the ingredients before you go and pick what you want.
White
Philippa Lomaz thank you very much indeed.
Well still with us Simon Mahoney.  Now Simon you experienced rapid and complete sight loss three years ago, that was due to glaucoma and your book tells your story but I think you also see it as a kind of manual for those losing their eyesight.  But first of all, just give us a quick idea of what you did before you lost your sight.
Mahoney
Oh, good grief.  I was from a service family; I was lucky to go to a good school.  I went into the Royal Marines.  That proved to be a bit of disaster and after 15 months it was agreed that it was not for me.  I then did a number of different jobs and ended up working at an approved school in Blythe in Northumberland, which was a pretty tough place but absolutely fascinating. 
White
We don't use that phrase and we don't hear so much now – an approved school, do we, remind us what that was.
Mahoney
Well an approved school was – it was sort of pre-borstal, which I believe has also gone, hasn't it?
White
Yeah.
Mahoney
This was back in the 1970s.  The fact remains we were dealing with kids who were considered to be a danger to themselves and the public and needed some kind of controlling environment.  From there on I spent the next 20 odd years working in various community homes with education for young offenders or working with working boys, training them to leave care.
White
But you ended up running a day centre I think for disabled people.
Mahoney
Yes, I did, in Market Harborough and that was an absolute eye opener and a real joy, I did it for about seven years.
White
So, did that prepare you for what happened to you?
Mahoney
Not really.  I thought I knew about disability, it wasn't until I actually got my current impairment that I realised that I'd actually known very little about it at all.
White
Right, so, to go back to the book and your reasons for the book, where are the gaps in what you think people should be told and what should happen to them?
Mahoney
I think there's a huge gap between diagnosis and registration.  My own consultant, a lovely chap, but when I said to him – are my eyes bad enough to be registered – he said – oh, you want to be registered do you.  Well, when you look at what registration involves and what benefits it can bring, I just found that a little bizarre.
White
Why are you telling people they should?
Mahoney
Well, first of all, you get access to support for the first time and all the different groups, like Blind Veterans, which I happen to belong to, RNIB, Macular Society and so on and so forth, they will all not only give you information about where you can get help but also, for the first time, you realise you are not fighting a battle entirely on your own.
White
And are you saying that a lot of people are not getting this help simply because they're not registered?
Mahoney
I think that would be the case and I think also the onset of sight loss is so horrifying and demoralising, it's a bereavement, if you like, a lot of people, I feel, don't actually reach the point of acceptance and moving on.
White
So, what stopped that happening to you would you say?
Mahoney
Oh, sheer bloody mindedness, I think.  I think the fact that I spent some time in the marines gave me a certain attitude to life.
White
You also think one of the things that's important is contact with other blind and partially sighted people.
Mahoney
Very much so, sharing experiences, sharing tips, sharing information and generally having a good laugh together about it.
White
How did you get that kind of access because it isn't immediately provided, nobody comes and says to you – I think it would be a really good idea if you got to know some blind people.  So, what happened to you?
Mahoney
Once I was registered, I was referred to the hospital ECLO or eye…
White
Clinic Liaison Officer.
Mahoney
Yeah, liaison officer, thank you.  I was lucky, she said to me – did you serve?  I said – well yeah.  She said – ah, I know the people for you.  But I was immediately referred to Blind Veterans.  They were the saving of me.
White
What did you get from them, what happened?
Mahoney
What I got was a sense of proportion.  When you first bowl into a Blind Veterans centre and everybody's taking the mickey out of each other because they can't see, you suddenly feel very grounded.  And when you hear about a young soldier, in his teens, who has had a limb blown off and his eyes blown out, it sort of sobers you up and when you hear that he's actually making something of his life it makes you feel extremely humble.  In short, it gives you a sense of perspective and you realise well, actually, all that's wrong with me is I can't see, get a grip and get on with it.
White
You've also raised the idea of mentors, I mean how would that work?
Mahoney
Oh, absolutely.  I feel that having gone through the experience of losing my sight, I have unimpeachable authority to support someone else through it.  I know what they're feeling, I know what they're going through, I know what problems they're going to face.  In fact, I'm now in the process of starting a telephone support line for blind veterans.
White
It's a bold claim – unimpeachable qualification…
Mahoney
I think it is an unimpeachable qualification because as good as the professionals are…
White
But no one's the same Simon, all people will experience this differently won't they?
Mahoney
But – well I make that point in my book, that sight loss is a unique and extremely personal experience for everybody.
White
You talk a lot about knowing how to get help, how to actually have the confidence to ask for it and how to know when to turn it down.  What's your philosophy about help?
Mahoney
Oh, help is, if ever it was a poisoned chalice.  To begin with people were all over me like a rash – can we help, can we help – and I was saying – well actually I must try and do this for myself.  So, it's getting a balance between being independent and knowing when you're actually going to drop yourself in it and then being able to turn around and say – actually I could do with some help please.
White
You see I've always thought that possibly the most important thing, whether you lose your sight or you're born blind, is knowing how to have the confidence to ask for help but it's not taught, is it, as far as I know?
Mahoney
No, it's not.  I think when people ask for help, they fear that they're giving up their independence, they're giving over power and control to someone else.  And you have to get past that and realise that actually everybody has to ask for help in some form or another at some point in their lives.  So, in fact it's a very ordinary thing to do.  The main thing is know what kind of help you want and to have the confidence to outline it to the person who is offering that help.
White
So, how do you deal with unwanted help?  You know there's nothing worse than actually – because so often we aren't credited with being able to do things, when you're actually doing something in your terms really well and somebody comes up and tries to help you do it there isn't anything much more annoying than that.
Mahoney
Well yeah, that's the thing, isn't it, we're surrounded by two types of people – people who understand that we need to do things for ourselves and people who are appalled at us trying to do things.  And when people rush up to you and insist on helping, I've found the best way is to say to them – well, that's very kind of you, on this occasion I really do need to do this for myself but thank you very much anyway.  The problem is if you turn somebody away, a. it disrupts their expectations about what they were going to do; b. it makes them feel rejected and c. it makes them feel pretty hurt and hostile.  And anybody who's had the offer of help turned down will know what I'm talking about.  So, both manners and practicality indicate that you have to be extremely careful how you turn down help because the next time you meet that person you might actually need their help.
White
You talked about gratitude burnout, what do you mean by that?
Mahoney
I think there are times when you know you need help but you feel that if you have to say thank you to someone again and again and again you get to the point – oh god, just let me do this on my own.  You can never talk about it to other people, for the simple reason they think well, ungrateful sod, you know.  But you get to the point where the very thought of having to thank somebody else for helping you just – it just appals you, it's a kind of mental weariness, I think.
White
And the trouble is for the helper that may be the first time they've helped anybody for ages and you've told them to go away.
Mahoney
Absolutely, it's the most wonderful mine field you could ever wish to stray into.
White
You have described losing your sight as a big adventure, now given some of the things you've said about how difficult and terrible it has been in places, some people won't understand what you mean by that.
Mahoney
I find the whole thing absolutely fascinating, the way you have to alter your relationships with people, the way you have to relearn how to communicate, how you have to relearn how to do almost everything from taking a cup down from a shelf to finding your way out your own gate.  I find the whole thing absolutely fascinating – wearing but fascinating.
White
Simon Mahoney.  And his book Descent into Darkness is currently available in hardback and on kindle.  Do let us have your reactions and your experiences.  You can leave us a message on 0161 8361338.  You can email intouch@bbc.co.uk or go to our website bbc.co.uk/intouch.  And from there, as always, you can download tonight's and other editions of the programme.
One piece of stop press news:  We reported a few weeks back on the man who had sued the company Domino's Pizza over the inaccessibility of their website.  Domino's were arguing that because the Americans with Disabilities Act preceded the web it didn't apply to their online offering.  Well now the Supreme Court has rejected their petition to rule on this, which leaves the decision against them in a lower court as still the law.  So, a temporary victory for the disability movement but Domino's say they will continue to fight the case.  We'll keep you posted.
From me, Peter White, producer Emma Tracey and the team, goodbye.