Main content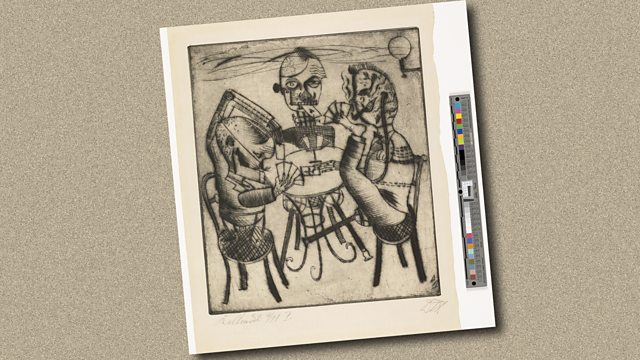 Art as Protest
Sir Ian Blatchford and Dr Tilly Blyth focus on the Dada art movement's furious reaction to the First World War technology that tore soldiers apart and then put them back together
Sir Ian Blatchford, Director of the Science Museum Group, and the Science Museum's Head of Collections, Dr Tilly Blyth, continue their series exploring how art and science have inspired each other from the Enlightenment to dark matter.
They focus on the anarchic and furious response to the devastation and trauma of the First World War by the 20th century's most extreme art movement - Dada. It used noise, cut ups and chaos to feign the irrational and repudiate mechanised warfare.
As Ian reveals, the outrage at the senseless slaughter led many Dadaists to opt for violent and fragmented depictions of a mechanised society, expressed potently in the work of Berlin based Dadaist Otto Dix. His Card Players in which disfigured war veterans have their limbs replaced with contorted versions of prosthetic limbs, amounts to one of the most significant anti-war works by a German artist.
With an urgent need to turn around the ailing post war German economy, new efficient instruments of work for the many physically injured war veterans became a priority. As artificial limbs held in the Science Museum Group's collection reveal, new multifunctional arms and legs literally plugged a worker into his work station like a semi optimised new part, leading many to question whether technological advance was a confinement, or a truly liberating force.
Producer Adrian Washbourne
Produced in partnership with The Science Museum Group
Photograph (C) Scottish National Gallery