Main content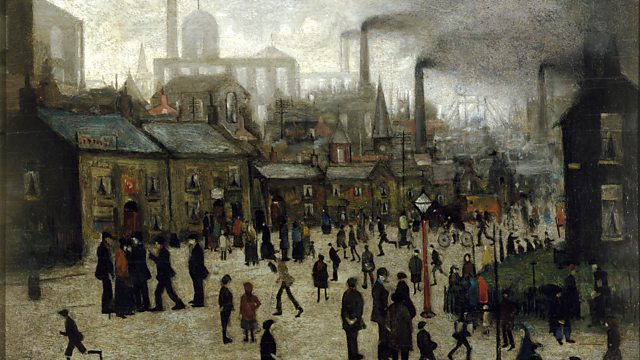 Humans in the Industrial Machine
Sir Ian Blatchford and Dr Tilly Blyth focus on mechanisation of time depicted in LS Lowry's A Manufacturing Town and the anxieties of treating the human as a unit of production
Sir Ian Blatchford and Dr Tilly Blyth continue their series exploring how art and science have inspired each other, focussing on anxieties of production control in the industrial age.
LS Lowry's A Manufacturing Town, along with his many other Lowryscapes, are famously ambiguous in his desire to put the Manchester industrial scene on the map. But the repetition, routine and the gaze of the factory clock is hard to escape.
Tilly examines an early 19th century attempt at production control – the Park Green silk mill clock, one of whose two clock dials dictated the worker's working hours by being directly tied to the line shaft of the mill's water wheel – offering relentless, structured repetitive control, much as Lowry's painting reflects.
But rather than pressing workers from behind, could industrial efficiency be improved by easing difficulties which might confront them? Tilly examines the impact of early psychological recruitment tests that were gaining traction at the time Lowry began his famous Lowryscapes. The tests may have acknowledged that humans weren't machines, but the ultimate goal was improved productivity.
Producer Adrian Washbourne
Produced in partnership with The Science Museum Group
Photograph (C) The Science Museum Group