Main content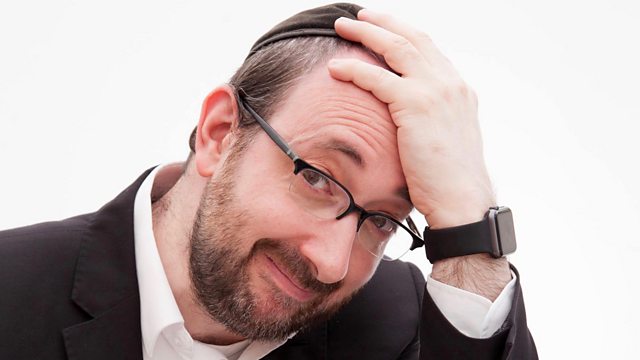 Ashley Blaker's Goyish Guide to Judaism - 2
The UK's only Orthodox Jewish comedian presents an insider's view of his traditionally closed world.
Ashley Blaker, Britain's only ultra-Orthodox stand up comedian, returns with an insider's view of his religion. Following the success of his first guide, this is another a whistle-stop tour of Jewish life and, in particular, a very rare glimpse into the normally inaccessible world of strict Orthodox Judaism.
Ashley is already a well-known name in the Jewish community, having undertaken a number of critically acclaimed UK tours as well as performing sell-out shows in Israel, South Africa, Canada and very recently in New York. The Jewish press has described him as "the haredi Michael McIntyre".
As well as being a popular and experienced live performer, Ashley is also a comedy writer and producer for radio and TV. He was responsible for unleashing Little Britain on an unsuspecting nation on Radio 4. But, being a strict orthodox Jew, he is surely the only person who works in TV without actually owning one.
The Jerusalem Post recently described Ashley as "a walking contradiction".
The Times of Israel pointed out the astonishment his appearance can provoke: "The astonishment, of course, is that with Blaker, what you see is what you get: a skinny bearded man wearing a black suit and kippah, and sporting peyot and tzitzit of the strictly Orthodox community to which he now belongs. But this is not a uniform which he dons only for his interfaces with Jewish audiences. No, he wears this in his day job too."
Written and Presented by Ashley Blaker
Special appearance: Jon Culshaw as Jeremy Corbyn
Producer: Steve Doherty
A Giddy Goat production for BBC Radio 4
Last on
Broadcasts