Main content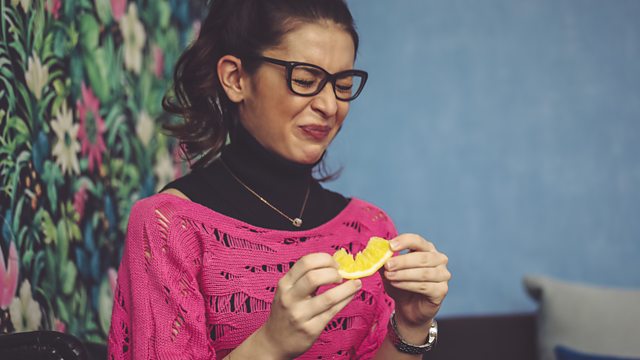 The Return of Zing: How to Get Sour Back into Your Life.
Dan Saladino explores the taste and temptations of sourness, from our evolution to the way we cook and eat. A story of puckering pickles, science, fermentation and edible ants.
Dan Saladino explores the taste and temptations of sourness, from our evolution to the way we cook and eat. A story of puckering pickles, science, fermentation and edible ants.
It's only in recent times that we have understood how and why we experience the sensation of sourness. The leader in the field is EMILY LIMAN, Professor of Biological Sciences at University of Southern California in the USA. She explains the recent discoveries about what happens when we put something sour in our mouths.
Forager Miles Irving takes Dan on a wild walk through a field in Kent in search of sources of sourness from insects to red berries.
Chinese food expert Fuchsia Dunlop whose new book Sichuan Cookery, focuses on the food of southern provinces explains the role of pickles and vinegars.
In the studio Mark Diacano gives a guide to bringing more sour back into your life with lessons in piccalilli making and a beginners guide to kombucha.
Produced and presented by Dan Saladino.
Some of the great ways we can bring more zing into our culinary lives.
Piccalilli
Of the many ways in which my father was peculiar, allowing certain delicious foods into the house only for a fortnight over Christmas may have taken the festive biscuit. Walnuts, After Eights, ginger cordial, dates, and – sadly – piccalilli, were no more likely to be in the house in February, August or November than Elvis. I refuse to bring any child of mine up in such appalling conditions.
There are few things to which this delightful preserve doesn't add a welcome sharp jolt: I've enjoyed it with pork pies, ham, cheese, a roast dinner; I'm not above dunking crisps into it. It is the last pickle I would be without, and homemade piccalilli is an extraordinary upgrade on the perfectly agreeable jars in the shops.
The basic method here owes much to Pam Corbin – whose preserving advice has been generously dispensed over the years from just a few miles along the road – though it evolves with every new batch I make. I made piccalilli once without onion and have preferred it like so ever since. I want crunch and bite, so I go for the ingredients below, but if you are the sort of heathen who thinks it better to include cucumbers, tomatoes, peppers and other unsuitables, be my guest.
Makes approx 1 x 1.5 litre (2½ pint) jar or 3 x 500ml/18fl oz jars
1kg (2lb 4oz) washed vegetables, cut into pieces no larger than 2cm (¾in) – I go for equal amounts of sugar snaps, mini courgettes (or usual size cut into quarters lengthways and sliced), cauliflower and carrots
50g (2oz) fine salt
600ml (1 pint) cider vinegar
80g (3oz) honey
120g (4oz) granulated sugar
25g (1oz) cornflour
4 tsp ground turmeric
4 tsp English mustard powder
3 tsp celery seeds
3 tsp fenugreek seeds
3 tsp yellow mustard seeds
1 tsp cumin seeds
1 tbsp crushed coriander seeds (or 1½ tbsp harissa for harissa piccalilli)
Ensure the vegetables are relatively dry. Place them in a large bowl and sprinkle with the salt. Turn the vegetables over to distribute the salt thoroughly, then cover and leave somewhere cool for 24 hours. Rinse with cold water and drain well.
Put 550ml (19fl oz) of the vinegar in a pan with the honey and sugar and bring to the boil. While that is happening, stir the cornflour in a bowl to ensure it is lump free, add the spices and combine well. Add a little of the remaining vinegar to the bowl and stir into the spicy cornflour to create a paste. Gradually add the remaining vinegar to thin the paste a little.
Once the pan of sweetened vinegar has reached the boil, reduce the heat a little and add the paste a little at a time, stirring constantly. Boil for a few minutes to thicken the sauce, stirring occasionally. Turn off the heat, put the vegetables in sterilized jar(s), pour the spicy vinegar over and seal immediately. To be honest, I tend to start eating this within a day or two, but some prefer the more mellow flavours that develop over the weeks and months.
Kimchi
There are two schools of kimchi - the very fishy and the not so: I belong to the latter.  It's not that I mind kimchi made with shrimp paste, but I much prefer it without - by all means add a teaspoon or two if you want. This is a halfway house with fish sauce: if you prefer to leave it out by all means do, adding kelp powder for a little salty umami if you fancy.
Fills a 1 litre (1¾ pint) jar
2 Chinese cabbages, about 1kg (2lb 4oz), shredded
5 tbsp fine sea salt
2 garlic cloves, finely chopped
5cm (2in) piece of fresh ginger, peeled and finely chopped
2 tbsp Korean chilli flakes
2 tsp fish sauce
2 carrots, grated
5 spring onions, thinly sliced
In a large bowl, rub the salt thoroughly through the cabbage and allow it to soften and form a little brine for an hour or so. In a small cup, make a paste by combining the garlic, ginger, chilli flakes and fish sauce.
Using a colander, drain the cabbage so that you retain some of the brine in a bowl. Combine the carrot and spring onions with the cabbage, and stir through the hot  fishy sauce. By all means add a little of the brine if you need to loosen the mix.
Spoon the kimchi into a jar, pressing down well to exclude air bubbles. Use a freezer bag part-filled with water to keep the vegetables submerged and seal the jar. Allow the kimchi to ferment for 5 days at room temperature. Taste it: it should be pleasingly sour and lovely, yet not what you'd call fizzy. If so, transfer it to the fridge to slow fermentation dramatically; leave it another few days (or weeks!) if you prefer it sourer.
Kombucha
This is almost as simple as letting tea go cold.  Order a SCOBY - Symbiotic Culture Of Bacteria and Yeast - plus a little starter kombucha (www.happykombucha.co.uk or others) and you are away. 
As with the first pancake in the pan, for reasons unknown but likely to be everything (including you) settling down into the process, your first batch or two might be just ok rather than extraordinary: you might get lucky, but if not, stay with it and you'll soon be making incredible kombucha.
One variation you absolutely must try is to use white tea and honey; its extraordinary.
Makes 2 litres (3½ pints)
2 litres (3½ pints) water, ideally filtered, as chlorine can inhibit fermentation
1 heaped tbsp tea of your choosing (green, black, white etc)
160g (5½oz) sugar
1 SCOBY
2 tbsp starter kombucha
Boil the water and pour over the tea, leaving it to brew for 15 minutes or so (less or
more will affect the flavour so experiment to your taste). Clean a large 2.5 litre (4¼ pint) jar with boiling water rather than antibacterial products as they can affect the fermentation process.
Once clean, pour the tea into the jar straining out the tea leaves. Add the sugar and stir until dissolved. Leave to cool completely before adding the SCOBY and starter kombucha. Cover the top of the jar with a muslin or clean tea towel and fix with an elastic band, leaving in a light place, but not direct sunlight, for about 10 days. The amount of time is dependent on how warm your room is and how sour you like the kombucha so keep tasting to find the right point. I find that two weeks is about right for us and I usually make this batch once a week so we have a constant supply.
Decant the kombucha into two 1 litre (1¾ pint) ceramic flip-top bottles.
At this point you can drink it or do a second fermentation to add more fizz and flavour. You will need something sweet to feed the fermentation process alongside any other ingredients such as herbs and spices; this can be juice or whatever fruit you fancy. A reasonable ratio of kombucha to juice/fruit is around 6:1. My favourite ingredients for second fermentation are raspberries, mulberries, apple, pear and quince, with herbs such as lemon verbena, star anise, fresh ginger or turmeric.
Most commonly, I add a handful of raspberries and a broken up sheriff's badge of star anise to the bottled kombucha and allow it to ferment for two or three more days. Pop the top to release some of the gas that is produced as the gentle fizz develops. Refrigerate to chill the kombucha and all but stop the fermentation process.
All recipes are taken from 'Sour - the magical element that will transform your cooking' by Mark Diacono. Published by Quadrille.