Main content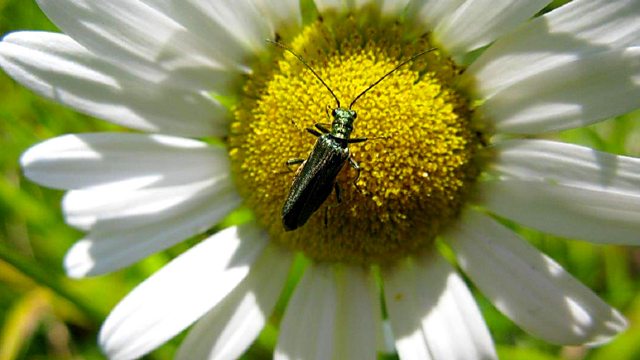 Winter Ladybirds
As ladybirds become dormant in winter, their struggle to survive is examined in this week's Living World as Joanna Pinnock joins Dr Helen Roy and Richard Comont in Oxfordshire.
Its autumn, the leaves are falling, the temperature dropping and as the nights lengthen, this is a time when many animals begin to slow down and prepare for the long winter months ahead. The gardener's friend, the ladybird is one such animal which in late autumn begins to move into many houses as a welcome guest. For this weeks Living World Joanna Pinnock heads to the Centre for Ecology and Hydrology in Oxfordshire where on a windy day, she joins Dr Helen Roy and PhD student Richard Comont to investigate what is happening as ladybirds come indoors.
Beginning inside Helens house Joanna notices ladybirds all around the windows. Ladybirds like pale walls, a reminder of their natural environment, rocky mountains with light coloured surfaces. But recently our native ladybirds have been joined by the harlequin ladybird, a species that is more likely to be seen in the house this year. Why this is the case remains a mystery.
There are over 40 species of ladybird in Britain, with the 7 spot the most familiar. However when they come into their dormant state, parasites and fungi begin to attack the 7 spot and other ladybirds, with the winter months being the time of greatest mortality. But new research is being carried out to see if this parasite is about to begin attacking the harlequin. Richard takes Joanna to see his experimental plots and explain why the ladybirds need a winter dormant state to survive.
Producer : Andrew Dawes