Main content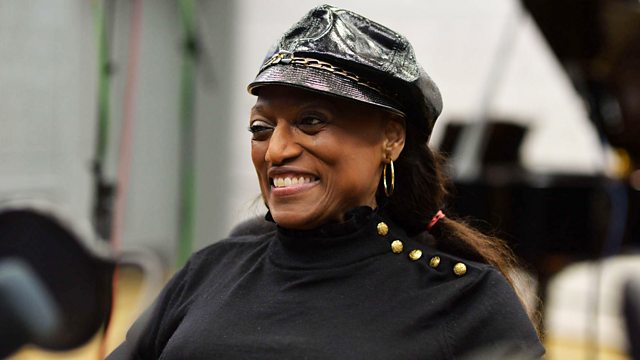 Jessye Norman, Peter Sissons, Al Alvarez, Marita Lorenz
Julian Worricker on the award-winning soprano Jessye Norman, the television journalist Peter Sissons, the author and poetry editor Al Alvarez, the CIA spy Marita Lorenz.
Pictured: Jessye Norman
Julian Worricker on:
The multiple award-winning American soprano, Jessye Norman, whose performances wowed audiences around the world....
Peter Sissons, the acclaimed television journalist, who moved from ITN to the BBC to present Question Time and the main evening news....
The author, Al Alvarez, poetry editor of the Observer newspaper, and renowned poker player....
And Marita Lorenz, who survived Bergen-Belsen as a child, and went on to become a spy involved in a near-assassination of Fidel Castro....
Interviewed guest: Sir Clive Gillinson CBE
Interviewed guest: Norman Lebrecht
Interviewed guest: Iain Dale
Interviewed guest: Alexandra Pringle
Interviewed guest: Michael Carlson
Producer: Neil George
Archive clips from: International Profile, Radio 4 29/07/1988; Jessye Norman Interview, Radio 3 06/08/2000; CD Review, Radio 3 23/08/2014; ITN News 21/11/84; Question Time, BBC One 09/12/1993; BBC News, BBC One 30/03/2002; Desert Island Discs, Radio 4 19/03/2000; The World Of Books, Radio 4 25/05/1978; Timewatch, BBC Two 07/10/1992; Geraldo Rivera interviews Marita Lorenz, 23 Sep 2013; Archive Hour: Something Is Terribly Wrong, Radio 4 22/11/2003.
Jessye Norman
Born 15 September 1945; died 30 September 2019; aged 74.
Last Word spoke to Sir Clive Gillinson CBE, Executive and Artistic Director of Carnegie Hall, and music critic Norman Lebrecht.
Peter Sissons
Born 17 July 1942; died 1 October 2019, aged 77.
Last Word spoke to presenter and publisher Iain Dale.
Al Alvarez
Born 5 August 1929; died 23 September 2019; aged 90.
Last Word spoke to Alexandra Pringle, editor-in-chief of Bloomsbury Publishing.
Marita Lorenz
Born 18 August 1939; died 31 August 2019, aged 80.
Last Word spoke to writer and commentator Michael Carlson.