Main content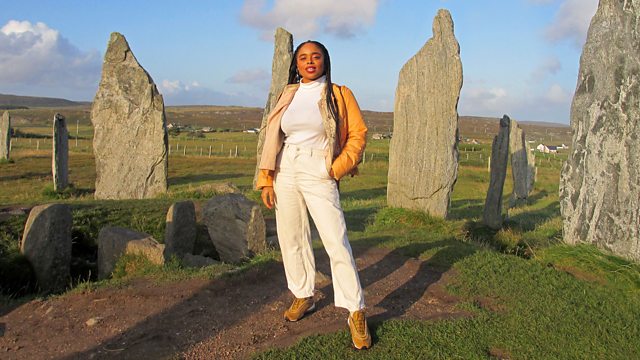 Roxanne Tataei on the Isle of Lewis
Roxanne Tataei travels to the Isle of Lewis in the Outer Hebrides for a Gaelic psalm singing collaboration.
Singer and composer Roxanne Tataei travels to Stornaway on the Isle of Lewis to collaborate with Calum Martin for a Gaelic psalm singing collaboration.
Based on the Isle of Lewis off the coast of Scotland, Calum has a special interest in Gaelic Psalm Singing, a unique acapella improvisatory singing style still practiced by congregations during their Sunday worship services, although the average age in the church is well over 50, and the Gaelic-speaking congregation is dwindling.
According to musicologists, Gaelic Psalms shouldn't really work harmonically, but they do. They come from the Presbyterian tradition, meaning they are very much word based. It's a beautiful and bleak sound, often compared to the landscape of the Hebrides and the rolling seas surrounding it.
Born and raised in Norbury, South London, Roxanne heritage is half-Jamaican and half-Iranian and she grew up learning psalms in church with her grandparents before being classically trained and establishing her career as a singer.
She will be learning this ancient song form as well as exploring if there are any similarities with Black American Church music and if the two sounds are able to combine to create a piece of music.
Presented by Gemma Cairney
Produced by Jax Coombes
A BBC 6 Music Production for BBC Radio 4
Last on
Broadcasts