Main content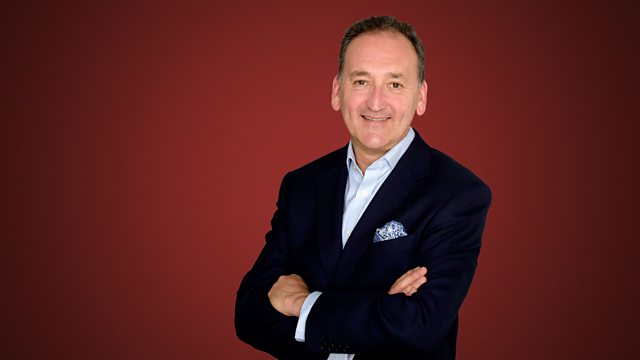 Essential Classics with Ian Skelly: Sir Alastair Cook, Singing Sam the Derbyshire minstrel, Dvorak's Dumky Trio
Refresh your morning with a great selection of classical music, presented by Ian Skelly.
Ian Skelly with Essential Classics - the best in classical music.
0930 Your ideas for companion pieces on the Essential Classics playlist.
1010 Musical Time Travellers – stories behind the music-making of the British Isles.
1050 Cultural inspirations from our guest of the week, the cricketer Sir Alastair Cook.
1130 Slow Moment - time to take a break for a moment's musical reflection,
Last on
Music Played
Johan Halvorsen

Intrata (Suite ancienne, Op 31)

Orchestra: Kringkastingsorkestret. Conductor: Ari Rasilainen.

HALVORSEN: Suite ancienne; Mascarade.
NKF.
1.

Antonio Vivaldi

Concerto for cello in D minor, RV.407

Performer: Christophe Coin. Ensemble: L'Onda Armonica.

Timothy Hamilton

Requiem: VIII. Agnus Dei

Performer: Ian Tindale. Choir: Cantoribus. Singer: Nicky Spence. Orchestra: Rosenau Sinfonia. Conductor: Timothy Hamilton. Singer: Jennifer Johnston.

Hamilton: Requiem.
Naxos.
8.

Gustav Holst

Jupiter, the Bringer of Jollity (The Planets)

Orchestra: Bergen Philharmonic Orchestra. Conductor: Andrew Litton.

Holst: The Planets, Op. 32 - Elgar: Enigma Variations, Op. 36.
BIS.
204.

Antonín Dvořák

Piano Trio No. 4 in E Minor, Op. 90, B. 166 "Dumky": II. Poco adagio - Vivace non troppo

Ensemble: Mori Trio.

Dvořák: Piano Trios Nos. 3 & 4.
haenssler CLASSIC.
2.

John Wilbye

Sweet hony-sucking bees

Choir: The Hilliard Ensemble.

English and Italian Renaissance Madrigals.
Virgin.
7-8.

Gabriel Pierné

Étude de concert, Op 13

Performer: Jean-Efflam Bavouzet.

Richard Strauss

Romanze in F Major, TrV 118 (Arr. for Violin & Orchestra)

Performer: Arabella Steinbacher. Orchestra: WDR Symphony Orchestra Cologne. Conductor: Lawrence Foster.

Aber der Richtige....
PENTATONE.
4.

Domenico Scarlatti

Keyboard Sonata in G Major, K. 477

Performer: Pierre Hantaï.

Scarlatti, Vol. 6.
Mirare.
17.

Maurice Ravel

La vallée des cloches (Miroirs)

Music Arranger: Percy Grainger. Orchestra: City of Birmingham Symphony Orchestra. Conductor: Sir Simon Rattle.

Anonymous

Tom Brigg's, a Jig

Performer: Jordi Savall.

John Playford

The Rover Reformed

Performer: Jordi Savall. Performer: Andrew Lawrence‐King. Performer: Frank McGuire.

Trad.

The Derby Ram

Performer: Alf Edwards. Performer: Al Jeffery. Singer: A. L. Lloyd.

Wolfgang Amadeus Mozart

Symphony No. 40 in G Minor, K. 550: II. Andante

Orchestra: Bavarian Radio Symphony Orchestra. Conductor: Herbert Blomstedt.

Mozart: Symphonies Nos. 40 & 41.
BR-Klassik.
102.

Pyotr Ilyich Tchaikovsky

Dumka - Russian Rustic Scene, Op 59

Performer: Lang Lang.

Johannes Brahms

Hungarian Dance No 4 in F sharp minor

Music Arranger: Iván Fischer. Orchestra: Budapest Festival Orchestra. Conductor: Iván Fischer.

Maria Xaveria Perucona

Gaude, plaude

Choir: Cappella Artemisia. Conductor: Candace Smith.

John Dowland

The Earl of Essex's Galliard

Performer: Jacob Heringman. Ensemble: Rose Consort of Viols.

Zoltán Kodály

Intermezzo (Hary Janos Suite, Op.35a)

Orchestra: Budapest Festival Orchestra. Conductor: Iván Fischer.

Kodaly: Hary Janos Suite - Dances of Galanta...: BFO, Fischer.
Philips.
11.

Reinhold Moritzevich Glière

Concerto for Coloratura Soprano, Op 82

Singer: Natalie Dessay. Orchestra: Berlin Symphony Orchestra. Conductor: Michael Schønwandt.

Vocalises.
EMI Classics.
009.

Franz Schubert

Impromptu in A flat major, D.899 no.4

Performer: Maria João Pires.

Le Voyage Magnifique - Schubert: Impromptus: MAria Joao Pires.
Deutsche Grammophon.

Thomas Adès

Les tours de passe-passe (Three Studies from Couperin)

Orchestra: Chamber Orchestra of Europe. Conductor: Thomas Adès.

Ades: Tevot; Violin Concerto etc..
EMI Classics.
6.

Jules Massenet

Under the lindens (from Alsatian scenes - suite No 7 for orchestra)

Orchestra: Monte-Carlo Philharmonic Orchestra. Conductor: Sir John Eliot Gardiner.

Massenet - Scenes Alsaciennes, Scenes Pittoresques, Don Quichotte.
Erato.
003.

Thomas Tomkins

Adieu, ye city-prisoning towers! - To the shady woods now wend we

Ensemble: I Fagiolini. Director: Robert Hollingworth.

Josef Suk

Love Song, Op 7 No 1

Performer: Margaret Fingerhut.

Suk: Piano Works: Margaret Fingerhut.
Chandos.
1.

Carl Nielsen

Helios Op.17

Orchestra: Gothenburg Symphony Orchestra. Conductor: Neeme Järvi.

Nielsen: Aladdin Suite etc: Gothenburg Symphony Orchestra/Jarvi.
Deutsche Grammophon.
5.
Broadcast

The Classical Companion Collection